Catherine Smith scours the season's cookbooks for yummy yet easy eat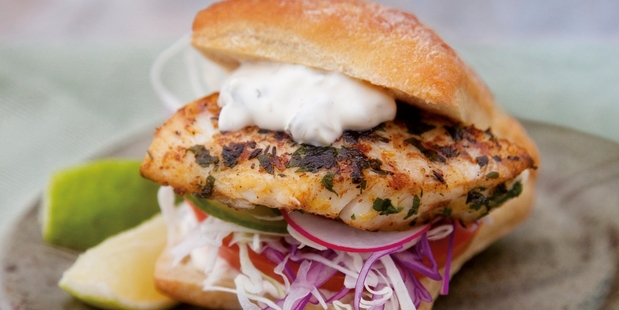 Summer holidays wouldn't be the same without a few leisurely hours in the kitchen: no time pressures, hopefully some fresh produce from a roadside stand or straight from the sea to turn into generous, relaxed feasts. We've combed our favourite summer cookbooks to bring you new ideas for holiday cooking.
Start with lunchtime sandwiches made with Alexa's pickles, or Jax's pate on french bread. Serve Annabel's fish sliders and Kim's herby fries with evening drinks, before sitting down to a wonderful seafood and lamb dinner from the Seafood School and Josh Emett, accompanied by Nadia's summery roasted eggplant. Finish with Karla's delightful friands, perhaps with a bowl of whatever fresh fruit you found at the stalls.
Ladies, A Plate: Jams & Preserves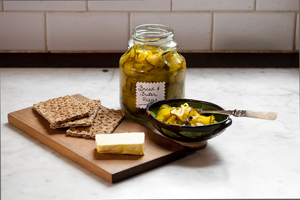 Summer, in our grandmothers' days, meant preserving all the bounty of produce from the kitchen garden and orchards to create treats for the winter months. Alexa Johnston spent two years delving into historic cookbooks - some dating as far back as the 1860s and plenty from the 40s and 50s - to find a trove of good Kiwi housewifely recipes, where nothing was wasted.
With an extremely comforting set of basic rules, wonderful notes from the original cooks, and even some stick-on labels so you can share your treasures.
Pickles are not your usual beach fare, but these can be used immediately and don't have to wait for weeks for the flavour to develop.
These cucumber and onion pickles are perfect with bread and butter but can be served with almost any cheese or cold meat or scattered through a simple green salad. Drain them and add to a sandwich, or put them on crackers to eat immediately. They have a crisp, sharp flavour, tempered with sweetness.
Bread and Butter Pickles
Ingredients:
2 telegraph cucumbers
450g onions
2 Tbsp sea salt
4 cups cider vinegar
2 cups/400g caster sugar
2 tsp white mustard seeds
1 tsp turmeric
1 tsp peppercorns
1 tsp fennel seeds
1 lemon (zest only)
3 bay leaves
Preparing the vegetables
1. Slice the cucumbers into 2mm-thick slices. I use a mandoline slicer, or you could use the slicing attachment on your food processor. Peel and halve the onions lengthwise and slice thinly.
2. Layer the vegetables in a colander, sprinkling them with the salt as you go, then cover with a wet cloth and stand for 3 hours. Drain, rinse well under cold water, and drain again.
Getting ready
Wash pickle jars and their lids in hot water, rinse them and put them in the oven set to 120C for about 30 minutes to drain and dry.
Making the pickle
1. Put the remaining ingredients in a large aluminium or stainless steel saucepan - not a copper preserving pan - and bring to the boil, stirring.
2. Add the drained vegetables and return the mixture to boiling point, stirring, then turn off the heat immediately.
3. Take the warmed jars out of the oven and place them on a board. A wide-mouthed funnel is a help for filling the jars. I use tongs to lift the cucumber and onion out of the pan and into the jars, then ladle out the pickle liquid, including the spices, and pour it on top of the vegetables, filling the jars to the top. Discard the remaining liquid.
4. Put on the lids and leave the jars until cool before labelling and storing in a cool, dark place. You can use these pickles immediately if you wish, but they keep well. Makes about 6 cups (1.5 litres).
Reprinted with permission from Ladies, A Plate : Jams & Preserves by Alexa Johnston (Penguin Group NZ $47). Copyright text and photographs Alexa Johnston, 2013
Union Jax: Back to Blighty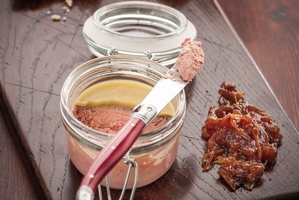 Londoner Jax Hamilton won our hearts in 2011's MasterChef with her Cockney accent and no-nonsense attitude. Here she returns to England to taste her way around old London favourites as well as regional fare (Cornish pasties, Yorkshire pudding, etc). She also did posh, developing this parfait after an evening at Heston Blumenthal's Mandarin Oriental restaurant at Hyde Park.
Chicken Liver Parfait with Orange and Date Chutney
Serves: 8
2 shallots, diced
1 clove garlic, roughly chopped
4 tsp port
4 tsp brandy
1 sprig thyme
250g chicken livers at room temperature, cleaned, sinews removed, roughly chopped
2 eggs at room temperature
250g butter, melted (not hot)
Salt and freshly ground black pepper
Clarified butter (optional)
200g butter
Large sprig thyme
Preheat the oven to 170C, and have 8 ramekins ready. Place your shallots, garlic, port, brandy and 1 sprig of thyme in a small saucepan. Bring to the boil, simmer and reduce until almost syrupy (4-5 minutes). Remove from the heat and cool to room temperature. Discard the sprig of thyme.
Blend (in batches if needs be) the chicken livers, eggs, shallot sauce and 250g of melted butter to a thick puree. Season with salt and freshly ground black pepper.Press through a sieve, scraping all the goodness from the bottom of the sieve, then pour into the ramekins. Place a square of aluminium foil over the tops and put in a roasting dish. Half fill the dish with hot water and bake for 30 minutes. Remove from the oven and allow to cool completely before popping in the refrigerator. If you like, cover the parfaits with a little clarified butter. Melt the 200g of butter in a saucepan. When it has separated, with clear butter at the top and cloudy at the bottom, spoon the clear butter over the parfaits. Decorate each with a sprig of thyme. Once the butter has set, put the parfaits back in the fridge to chill.
Orange and Date Chutney
Any leftover chutney will last for at least a month in the fridge and is fab with cheese.
Makes: 900ml
250g oranges
375g sugar
3 Tbsp golden syrup
1 Tbsp salt
Pinch of dried chilli flakes
625ml malt vinegar
250g onions, chopped
250g dates, stoned, snipped into quarters with scissors
Finely grate the skin of half the oranges, and use a zester for the rest, so you have curly thicker pieces and fine zest. Peel the oranges then remove the pith, working over a bowl to catch the juice. Remove the flesh segments and chop roughly. Discard any seeds. Pop the sugar, syrup, salt, chilli flakes and vinegar into a large saucepan. Bring to the boil, stirring to dissolve the sugar. Pour in your oranges and any juice, onion, dates and fine zest. Reduce the heat and simmer until thick (about 1 hour). Remove from the heat and stir in the remaining zest. When completely cool, pour into airtight sterilised jars and serve with the chicken parfait.
Reprinted with permission from Union Jax: Back to Blighty by Jax Hamilton (David Bateman $47). Copyright Jax Hamilton, photography Stephen Goodenough, 2013.
Little and Friday Celebrations
Kim Evans has reason to celebrate. Her modest bakery in North Shore's Belmont has grown like topsy, with a queues-out-the-door branch in Newmarket. Her second book features great parties from summer picnics to birthday lunches to weddings and high teas, all just an excuse to bake and give people plenty of summer-loving food.
Parmesan and Herb Fries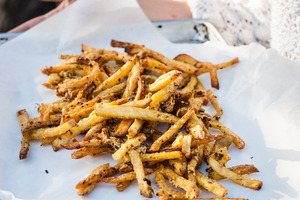 My deliciously herby and cheesy version of oven-baked fries.
Serves: 4
1kg agria potatoes, peeled
2 Tbsp extra virgin olive oil
3 Tbsp finely chopped rosemary
2 Tbsp finely chopped fresh thyme or oregano
1 cup grated parmesan
Salt and freshly ground pepper
1. Preheat oven to 220C. Line two trays with baking paper.
2. Cut potatoes into 1cm-wide fries. Ensure they are a similar thickness so they cook evenly. Place fries in a large bowl and toss with olive oil to coat.
3. Arrange fries in a single layer on prepared baking trays. It is best that they don't touch, to ensure even cooking. Bake for 20 minutes.
4. Remove trays from oven and sprinkle chopped herbs and parmesan over fries. Season with salt and pepper and toss using a fish slice to coat.
5. Return to oven for a further 15 minutes or until golden. Serve with lashings of your favourite sauce.
Reproduced with permission from Little and Friday Celebrations by Kim Evans (Penguin Group NZ $45). Copyright Kim Evans, photography Tamara West, 2013.
Annabel Langbein A Free Range Life
Kiwis almost feel like they have a sense of what Annabel Langbein's summer holidays are like, after the huge success of her A Free Range Life TV show. Now she's brought out a collection of 150 of her most popular recipes, for easy summer eating. If you're lucky, you can make these sliders with your own catch of the day, otherwise fresh store-bought fillet will do the trick. The word sliders is just a fashionable tag for small, soft filled rolls - any baps or small buns will do.
Fish Sliders
Makes 6-8 sliders
4 fillets firm white fish
2 Tbsp olive oil
Finely grated zest of 1 lemon
1 Tbsp finely chopped parsley
Salt and ground black pepper, to taste
Tartare Sauce
1 cup good quality home-made or store-bought mayonnaise
1 Tbsp finely chopped gherkins
1 tsp finely chopped capers
1 spring onion, finely chopped
1 Tbsp lemon juice
Salt and ground black pepper, to taste
To serve
6-8 small baps or slider buns
Tomato, cucumber and/or radish slices
Finely shredded purple and/or white cabbage or salad leaves
To make tartare sauce, shake or stir together all ingredients.
To prepare the fish, combine oil, lemon zest, parsley, salt and pepper in a shallow dish or tray, add fish fillets and turn to coat. Heat barbecue hotplate and grill, turning once, until just cooked through (2-3 minutes each side).
To serve, slice slider buns in half horizontally, leaving a little attached at the back as a hinge. Spread with tartare sauce and layer with tomato, cucumber, radish, cabbage or lettuce, if using. Divide fish between buns, top with a little more tartare sauce and serve immediately.
Extracted from Annabel's summer annual Annabel Langbein A Free Range Life (Annabel Langbein Media $19.95). For more Annabel Langbein recipes see here
Cut
Josh Emett's handsome cookbook Cut was probably on every meat-eating person's Santa list this Christmas. With photos that resemble old Flemish masters' paintings, this former farmboy's book is a celebration of respecting all parts of the animal, and knowing where your food comes from. You could be treating yourself to dinner at his Rata in Queenstown or Ostro Restaurant in Britomart, or whip up this easy summer lamb salad.
Great for a crowd as it doubles or triples easily, this dish is great served on a large platter for a holiday feast.
Lamb fillet salad with squash, pumpkin seeds and buffalo mozzarella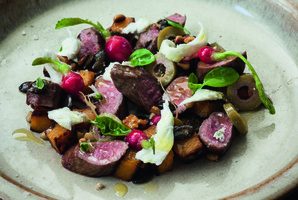 I eat more and more warm salads like this one where there is a good meat and vegetable component; perhaps this stems from the sort of dishes my mum used to cook on the farm, where there was always plenty of meat available. Don't hold back with the pine nuts and if you can't be bothered with the fancy plating just pack it all inside a wrap and eat it like that.
4 little lamb fillets, sinew removed
Sea salt
Olive oil for cooking
1/2 butternut squash, cut into 1cm dice
20 small breakfast radishes, washed
1/2 cup pine nuts, toasted
1/2 cup pumpkin seeds, toasted
20 pitted green olives, sliced
Classic vinaigrette (2 tsp Dijon mustard, 4 tbsp red wine vinegar, 4 tbsp oil) pumpkin seed oil for drizzling
150-200g buffalo mozzarella
Small basil leaves to garnish
Season the lamb fillets with salt. Seal the fillets in a little oil in a hot frying pan for a few minutes until cooked to medium-rare - this won't take long. Remove and rest while you cook the squash.
In a frying pan, saute the diced squash in oil until golden on all sides and tender.
In a bowl, toss together the cooked squash, radishes, pine nuts, pumpkin seeds and green olives. Dress the salad with the classic vinaigrette and pumpkin seed oil.
Slice the lamb fillet and lay on a plate. Arrange the vegetables neatly around the lamb. Tear off some mozzarella and place on top. Scatter with basil leaves to garnish.
Reprinted with permission from Cut by Josh Emett (Random House $65). Photographs by Kieran Scott, 2013.
The Complete New Zealand Seafood Cookbook
Summer cooking wouldn't be complete without seafood - preferably caught fresh that day and carried home by your very own fisher folk. Chefs from the Auckland Seafood School have collaborated to teach the fundamentals of handling your own fish, with some interesting new twists. Make this gratin with whatever seafood you have on hand - cream and butter will blend all the flavours beautifully.
Gratin of white fish, scallops and prawns with karengo
Recipe by John Campbell
Seafood blended with local herbs, cream and butter and grilled to perfection
Serves 4
400ml fish stock
1 Tbsp karengo (see notes)
2 shallots, finely diced
200ml cream
50ml extra virgin olive oil
300g firm white fish (e.g. hapuku, gurnard, boarfish), cut into large dice
100g scallops
100g prawns
1 head broccoli, cut into small pieces and blanched
200g purple Maori potatoes, cooked and diced
30g butter
100g parmesan, grated
Sprinkle of kawakawa (see notes)
Salt and freshly ground pepper.
1. Preheat oven to 230C grill.
2. In a good-sized pan heat fish stock, karengo and shallots to reduce by half. Add cream and reduce by about half again. Set aside.
3. Heat oil in a large ovenproof pan on the stovetop and saute seafood for a few minutes, in batches if necessary.
4. Add broccoli and potato to the pan. Season to taste.
5. Reheat sauce. Add butter and combine.
6. Pour sauce over seafood and vegetables in the pan. Sprinkle with Parmesan, kawakawa and pepper and grill for 3-4 minutes.
7. Serve from the pan.
Notes:
Karengo: Edible seaweed in dried form.
Kawakawa: New Zealand pepper tree; both the seeds and the leaves have culinary uses.
Available from speciality food stores.
Reproduced with permission from The Complete New Zealand Seafood Cookbook by The Auckland Seafood School (Penguin Group NZ $60). Copyright The Auckland Seafood School, photography by Sean Shadbolt, 2013
Nadia Lim's Good Food Cook Book
Nadia Lim has had a busy few years since her 2011 MasterChef win (not least as columnist for the New Zealand Herald's Bite magazine and foodhub.co.nz). Her focus on healthy - but not boringly good-for-you - food means you can pack in colourful, seasonal vegetables and fruit without feeling deprived or had done by. As well as the recipes in this new book, Nadia offers good healthy day menus.
This roast stuffed eggplant would make a great everyday meat-free dinner, or is superb as part of a generous platter for a summer feast.
Roast Stuffed Eggplant with Greek Salad
There are many variations on stuffed eggplant recipes from the Mediterranean, where this vegetable is so plentiful. Try stuffing them with whatever takes your fancy - feta cheese, herbs, cooked potato cubes, couscous ... the list is endless.
Serves 4
2 eggplants
1 Tbsp olive oil + extra for drizzling
Salt
1 onion, chopped
1 clove garlic, finely chopped
1/2 tsp ground cumin
2 Tbsp tomato paste
1/2 of 400g can crushed tomatoes
1 tsp sugar
Black pepper freshly ground
1 1/2 cups cooked brown or wild rice
1/4 cup grated parmesan cheese plus extra for sprinkling
2-3 tbsp pine nuts
Greek Salad
3-4 chopped tomatoes
1 telegraph cucumber, diced
1/2 small, red onion, thinly sliced
1/2 cup kalamata olives, chopped
50g feta, crumbled
1/4 cup mint leaves, sliced
1 lemon, juiced to dress
Extra virgin olive oil to dress
1. Preheat oven to 200C. Cut eggplants in half lengthways, leaving stems intact. Place cut side up on a baking tray. Drizzle with olive oil and season with salt. Bake for 30 minutes until soft and lightly browned.
2. While eggplant is baking, make the tomato sauce. Heat olive oil in a frypan on medium heat and cook onion and garlic until soft, 3-4 minutes. Add cumin, tomato paste, crushed tomatoes and sugar. Simmer, stirring frequently, until thick and the consistency of chutney, 8-10 minutes. Season to taste with salt and pepper.
3. When eggplants have finished baking, remove from oven and scoop out the soft flesh with a spoon, being careful not to tear the skin. Mix soft eggplant flesh into tomato sauce. Lightly mix tomato eggplant sauce with cooked rice and parmesan. Fill eggplant halves with mixture, dividing equally. Drizzle over olive oil and sprinkle with pine nuts and more parmesan. Return to oven for 10 minutes until Parmesan has melted.
4. To make the Greek salad, combine all ingredients and dress with lemon juice and olive oil just before serving. Serve 1 eggplant half per person, with Greek salad on the side.
Reproduced with permission from Nadia Lim's Good Food Cook Book by Nadia Lim (Random House $49.99). Copyright Nadia Lim, photography Tamara West, 2013.
Bluebell's Cakery
Pretty, pretty, pretty might be the motto of Karla Goodwin's dear little Bluebell's Cakery shop in Auckland's Hillsborough, but she has serious baking chops, too. Karla refined her craft at London's famous Primrose Bakery, and came home to open her shop in 2011. The cakes - and their dramatic frostings - are eye-wateringly beautiful, but it's these simple friands we fell in love with. Serve them for tea parties, or glam them up for dessert with more fresh berries and lashings of cream. Play around with whatever fresh berries and stone fruit you can find at the orchard stands.
Mini Gluten-free Raspberry and Nectarine Friands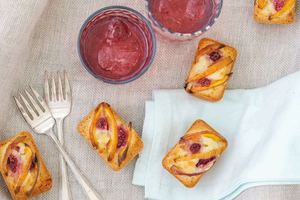 These gluten-free friands are super delicious and moist. I make mini versions when I'm catering for tea parties; they're the perfect treat while enjoying tea from a gorgeous china cup.
Makes 24
1 1/2 cups (225g) gluten-free icing sugar
1/2 cup (80g) rice flour
1 cup (110g) ground almonds
6 free-range egg whites
150g unsalted butter, melted
1 tsp good quality vanilla extract
2 cups fresh or frozen raspberries
2 nectarines, sliced thinly
1. Preheat the oven to 180C (160C fan-bake). Grease a 24-hole mini-loaf or mini-muffin tray.
2. Sift the icing sugar, rice flour and ground almonds into a large bowl. Make a well in the centre and mix in the egg whites, melted butter and vanilla with a large whisk until just combined.
3. Spoon the mixture into the tray so that each hole is three quarters full. Sprinkle over a few raspberries and top with 2-3 slices of nectarine.
4. Bake in the middle of the oven for 20-25 minutes or until a skewer inserted into the centre of the friands comes out clean and the tops spring back when lightly touched.
5. Cool in the tray for about 10 minutes before transferring to a wire cooling rack.
These friands will keep for 3-4 days in an airtight container at room temperature.
Reproduced with permission from Bluebell's Cakery by Karla Goodwin (Random House $49.99). Copyright Karla Goodwin, photography Kate Grewal, 2013.