Of the hundreds of films TimeOut reviewers have seen in 2013, here's what they consider the best of the bunch...

1: Gravity
(Alfonso Cuaron, USA)
It used to be in movies that in space no one could hear you scream. Or that if your space capsule splashed down a long way from civilisation, your welcoming committee would be gun-toting angry talking gorillas on horseback.
Gravity wasn't that sort of space movie.
It was a trip. It was also a nerve-racking plausible survival thriller. It offered a terrifically gymnastic performance from Sandra Bullock as astronaut rookie Ryan Stone.
But it did that against an existential, symbolism-heavy contemplation of life, the universe and everything as Bullock's character, having survived an orbiting shuttle disaster, then tried to find the will and the way to get back home, some 500km below.
Following Bullock as she spun across the thermosphere might have offered quite enough excitement for a popcorn flick. But director Alfonso Cuaron delivered both an intimate character study within the claustrophobic confines of both capsule and spacesuit against a grand depiction - especially in its splendid 3D version - of what it must feel like to be all the way up there.
Yes, Gravity offered high art and grand excitement in one engrossing only-to-be-seen-at-the-cinema movie. A classic. RB
2: Blancanieves
(Pablo Berger, Spain)
Bold and beautiful, this monochromatic Spanish film, a sort of live-action cartoon, reimagined Snow White (seasoned with a bit of Cinderella and Red Riding Hood) as the story of a matador's daughter determined to save her father. Its high concept was gazumped by The Artist but it had none of that film's knowing smugness, and was among the most purely exhilarating cinematic experiences of the year. PC
3: Blue Jasmine
(Woody Allen, USA)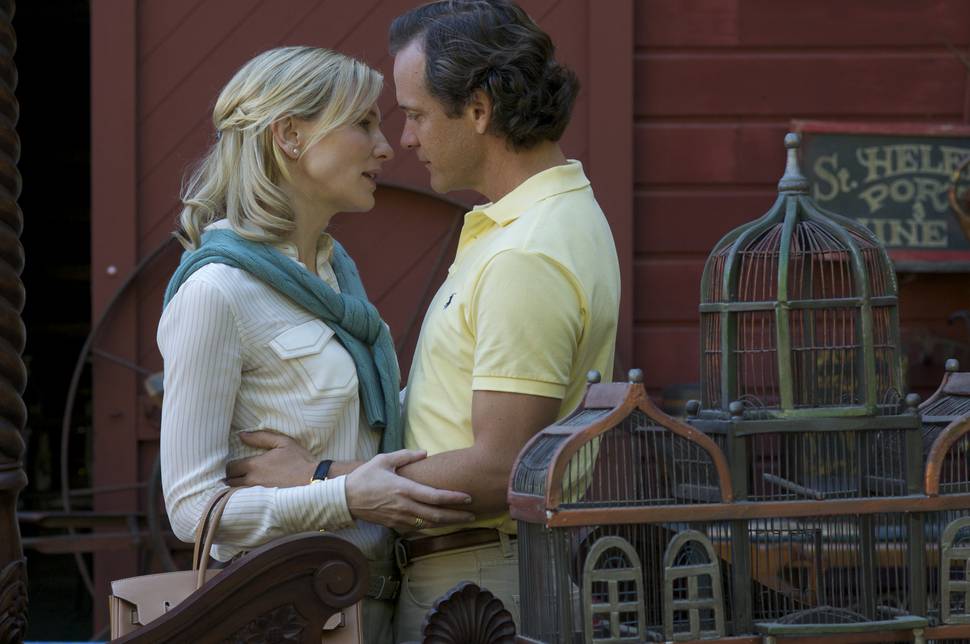 Allen's 44th film, quite possibly his best, was lifted into the realm of masterpiece by Cate Blanchett's bravura, career-defining performance as the title character, who arrives on her sister's doorstep after a spectacular fall from grace. Jasmine was at once an archetype - there were echoes of Blanche DuBois in her - and a figure of radiant, heartbreaking distinctiveness, and Allen's script was machined with the precision of a Swiss watch. PC
4: 20 Feet From Stardom
(Morgan Neville, USA )
This ringing, resounding tribute to the handful of (predominantly African American) women whose voices have backed up half a century of rock and pop music was joyous and often hilarious. But it was also piercingly sad as it charted the painful and thwarted attempts of the women to succeed in their own right. The socio-political implications were scarcely obscure but the testament to the energising power of music was undimmed. PC
5: Zero Dark Thirty
(Kathryn Bigelow, USA)
Check out the new full-length trailer for Zero Dark Thirty, Kathryn Bigelow's follow-up to The Hurt Locker that examines America's hunt for Osama bin Laden.
This controversial 2013 Oscar season film about the hunt for Osama Bin Laden film was released here in February so qualifies for this list despite its late 2012 unveiling elsewhere. While it offered an painstaking dramatisation of how the CIA finally got their man - complete with scenes showing the grim "enhanced interrogation" of al-Qaeda detainees - it was made truly compelling by resting its story on the shoulders of its central character, agency analyst Maya and the the riveting portrayal by Jessica Chastain. RB
6: Mr. Pip
(Andrew Adamson, New Zealand)
Mr Pip Trailer - In NZ Cinemas 3 October 2013 Based on Lloyd Jones' seminal novel and adapted for the screen by Academy Award Nominated filmmaker Andrew Adamson. Courtesy: Paramount NZ
Recut after its Toronto premiere to remove its more brutal excesses, Adamson's adaptation nailed the essence of Lloyd Jones' 2006 novel, which he called "a story about the power of story". He came up with some innovative solutions, most imaginatively bringing Matilda's thoughts to life in a candy-coloured palm-fringed Dickensian London that was a masterpiece of design. Hugh Laurie was pitch-perfect and Xzannjah's radiant yet unshowy performance pulled off the tricky double act of being our eyes on the action and its central character. A triumph. PC
7: The Imposter
(Bart Layton, USA)
Surely last summer's wickedest thrill, this incredible true story of a serial imposter was also a mesmerising and original piece of film-making in which style worked in the service of the story. Frenchman Frederic Bourdin claims to have impersonated 500 people, but none more creepily than the missing San Antonio 13-year-old whose place he took. Wisely, Layton never lost sight of the story's thriller heart and even when you knew what happened, the mystery persisted. PC
8: Rust and Bone
(Jacques Audiard, France)
The new film by the director of the masterful A Prophet was the most original of the year, an anti-romantic love story devoid of the sentimental excesses that its plotline encouraged us to expect. His story concerned a marine park trainer who lost her legs in a freak accident and found solace in the most unlikely place: with a wanderer trying to make it as a kickboxer in heavily wagered backstreet brawls. The relationship that later developed seemed like soap opera but it had sublime, even transcendent moments and invested an old idea with bold new life. PC
9: Antarctica: A Year On Ice
(Anthony Powell, New Zealand)
A satellite telecommunications engineer who came late to film-making made an impressive and unforgettable film, as eye-popping as Gravity but without a CG moment in it. Avoiding the nature-documentary cliches, it took a big picture approach until winter came, then studied the human wildlife by spending the sunless winter at McMurdo and Scott bases. For all its unassuming ambition, this was an extraordinary achievement that reinvigorated our sense of wonder about the natural world. PC
10: Before Midnight
(Richard Linklater, USA)
This was the third film in Linklater's "Before" trilogy that has followed the romantic journey of Celeste (Julie Delpy) and Jesse (Ethan Hawke), who we first met 18 years ago in Before Sunrise. Linklater, Delpy and Hawke got together to write this latest episode about married life after kids. What they delivered was an intelligent, witty, brutally honest and utterly compelling film that served the heart and the head. Let's hope they'll be back in another nine years. FR
11: Beyond The Edge
(Leanne Pooley, New Zealand)
It might have been a doco built on a surefire local populism: See how Sir Ed climbed Everest! In 3D! But its deftly edited blend of archive footage and re-enactments of the 1953 ascent still proved wondrous. Especially for how it took us along in his - and Tenzing Norgay's - mighty footsteps to the very top. It was a movie to make your eyes pop on the way up and your ears pop on the way down. And one which refreshed our regard for the Hillary legend. RB
12: Barbara
(Christian Petzold, Germany)
A leading light of recent German cinema, Petzold continued his country's reckoning with what happened in East Germany with this story of a paediatrician exiled to the provinces for her disloyalty to the state. As she developed an escape plan, the film underlined the way totalitarianism devalues the currency of human contact, but the director never lost sight of his characters' individuality and forced them to do work as thematic functionaries. Visually entrancing, full of mystery and nuance. PC
13: Frances Ha
(Noah Baumbach, USA )
The brainchild of director Noah Baumbach and his leading lady Greta Gerwig, Frances Ha tells the delightful story of a 27-year-old dreamer trying to get her life together in New York City. A low-fi black and white tribute to the French New Wave movement - it features music from Francois Truffaut films - Frances Ha is also pacey, sharp, and refreshingly different. Gerwig is divine - you'll either love her refreshing optimism or be infuriated by her immaturity, but either way she carries the film and delivers one of the most engaging characters of the year. FR
14: Policeman
(Nadav Lapid, Israel)
The latest in a string of interesting recent Israeli films was a police procedural of masterful control, which shunned high-speed cliches in favour of a Hitchcockian sense of menace. It observed an elite (and apparently unregulated) anti-terrorism police unit with a cool fascination bordering on the homo-erotic before introducing us to a cadre of young Jewish radicals. The fact that the two storylines collided was no surprise, but its manner was. Gripping and original. PC
15: Enough Said
(Nicole Holofcener, USA)
This may be one of Holofcener's more accessible films but it still carried her trademarks; women who speak their minds, hopeless men and Catherine Keener. The late James Gandolfini starred with Julia Louis-Dreyfus as a couple who date after bonding over empty nest syndrome. Gandolfini and Louis-Dreyfus were delightful, honest and tender in what is a smart, mature and bitingly witty romantic comedy. FR
16: The Hobbit: The Desolation Of Smaug
(Peter Jackson, New Zealand)
Sneak Peek from today's livestream from Peter Jackson of the latest trailer from The Hobbit: The Desolation of Smaug. courtesy Facebook/The Hobbit.
The second of the Hobbit movies was certainly more Lord of the Rings-ier and had more theme park potential than part one, although like its predecessor it doesn't quite touch the spots the LOTR films did. Still, it offered plenty of giddy excitement among the madly choreographed action scenes and Smaug - once we got to meet him - certainly was a flaming great dragon. RB
17: Captain Phillips
(Paul Greengrass, USA/UK)
Director Greengrass taking his trademark whirling cameras to sea risked all sorts of motion sickness but his latest thriller-with-a-political-brain was still a rock-solid kind of real-life drama, telling the story of how Captain Richard Phillips (Tom Hanks in an emotionally riveting performance) survived his container ship being overrun by Somali pirates and being taken hostage in a lifeboat. The nautical Zero Dark Thirty, almost. RB
18: Shopping
(Mark Albiston and Louis Sutherland, New Zealand)
The set-up of the debut feature of Wellington directing partners Albiston and Sutherland had some similarities to local box office champ, Boy. But this coming-of-age story centred on teenager Willie (Kevin Paulo) offered terrific performances from its largely unknown cast which helped make for an affecting movie. It might have been set in a less than feelgood world of dysfunctional families, cultural drift and slightly organised crime but it still delivered a poignantly funny depiction of brotherhood. RB
Check out the Herald film chat for Shopping here.
19: Star Trek: Into Darkness
(J.J. Abrams, USA)
Let the fanboy debate begin. Was Benedict Cumberbatch's best 2013 fantasy villain Smaug or rogue Star Fleet officer John Harrison - aka Khan - in this, the second of director Abrams' Star Trek reboots? Cumberbatch's space-psycho certainly helped make this one of the more fun rides of the blockbuster season. It suffered a little from endless ending syndrome but getting there was a phaser-strength blast. RB
20: Iron Man 3
(Shane Black, USA)
Meet the brand new Tony Stark, Mandarin and a lot of brand new suits of armor, such as the HULK Buster , in this new trailer of Iron Man 3. Courtesy: Marvel Studios
The best superhero movie of the year wasn't Man of Steel but Robert Downey jnr's third - fourth if you count The Avengers - time as Tony Stark, the billionaire with his seemingly invincible robo-onesie. This one came with a story that managed to be smart, rip-roaring and funny care of Downey's motormouth - which remains this franchise's best special effect. RB
Reviews by Russell Baillie, Peter Calder, Francesca Rudkin
- TimeOut