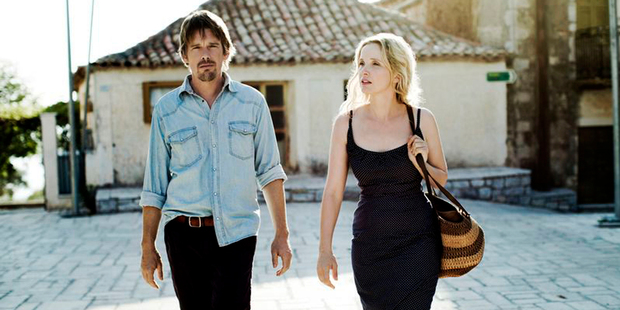 There are few actors who keep your attention by just walking and talking their way through a film, but it comes easily to Ethan Hawke and Julie Delpy - they have had plenty of practice, though.
This is the third film in Richard Linklater's Before trilogy, which began in 1984 when Jesse and Celeste met on a train in Vienna (Before Sunrise). This was followed nine years later when they reunited in Paris (Before Sunset), and now nine years later again, Celeste and Jesse are on holiday in Greece with their young twin girls.
Jesse has become a successful writer and Celeste is contemplating her next career move; and other than struggling to remember their lives before kids they appear content.
That is until Jesse says goodbye to his American son, who has spent the summer with them, and, feeling guilty for leaving Chicago for Celeste and Paris, says he wishes he could live closer to his boy. It's clear that Jesse has hit a nerve, and it provides the spark for what follows.
Sent on a romantic evening by their hosts they reflect on their relationship and the impact of parenthood, and it's not long before resentments and suppressed feelings result in Celeste and Jesse's future being up in the air.
It's an extraordinary film in the sense that it's such a simple concept and yet very carefully constructed. Long continuous shots follow Celeste and Jesse as they reflect on and argue about their lives. It's natural and easy and very intimate and, with the seamless camerawork almost invisible, we feel like we're right there.
The danger with this approach is it often feels like theatre on film, but at no time does it feel staged or like lines stolen from a play.
The script, by Hawke, Delpy and Linklater, is intelligent, witty, honest and compelling. It's a film for the heart and the head, and will have you chuckling for days. It's also surprisingly accessible; anyone in a long-term relationship with kids will find plenty that's familiar.
If you're hesitant to revisit Celeste and Jesse's lives after the wonderful first two instalments, don't be; this film is just as impressive as the earlier ones. There are uncomfortable moments and Celeste gets a little screechy at times, but Hawke and Delpy know these characters so well they're a joy to watch.


Stars: 4.5/5
Cast: Julie Delpy, Ethan Hawke
Director: Richard Linklater
Running time: 108 mins
Rating: M (nudity, offensive language and sexual content)
Verdict: Another gripping, funny, honest talkfest
- TimeOut
Follow @nzherald_ent on Twitter for all the latest entertainment news.