Gore
At
10°C
Wind:

SW, 05 knots

Sunrise:

Sunset:
Fine, then showers from afternoon, some heavy and possibly thundery with hail, clearing tonight. Brisk northwesterlies.
Cloudy. A period of morning rain, then a few showers. Northwesterlies, turning strong, cold westerly later.
Rain, easing to showers later. Strong, cold westerlies.
For more detailed weather information visit MetService.
Marine Coastal Forecasts - Foveaux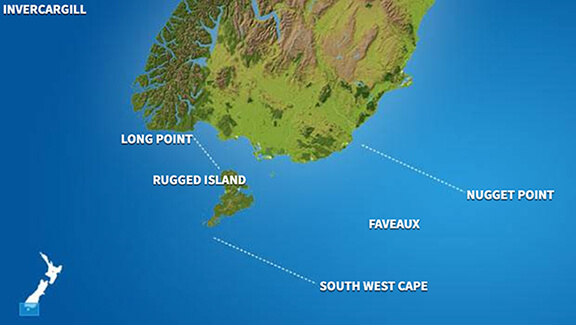 Forecast:
Monday : Westerly 25 knots, easing to 15 knots in the afternoon. Rough sea easing. Southwest swell rising to 3 metres, period 11 seconds. Northeast swell 2 metres easing. Fair visibility in showers at times, clearing in the evening.
Outlook:
Outlook following 3 days: Tuesday: Becoming northeast 30 knots in the morning, changing northwest 30 knots in the afternoon, rising to 40 knots in the evening. Sea becoming very rough. Southwest swell becoming heavy. Wednesday: Becoming southwest 35 knots early, rising to westerly 45 knots late. Sea becoming high. Heavy southwest swell. Thursday: Westerly easing to 25 knots. High sea easing. Heavy southwest swell.