Gisborne
At
14°C
Wind:

WNW, 01 knots

Sunrise:

Sunset:
Fine. Light winds and afternoon sea breezes.
Fine and hot. Light winds and sea breezes.
A fine and hot day with northwesterlies, but cloud and a possible shower at night with a cool southerly change.
For more detailed weather information visit MetService.
Marine Coastal Forecasts - Portland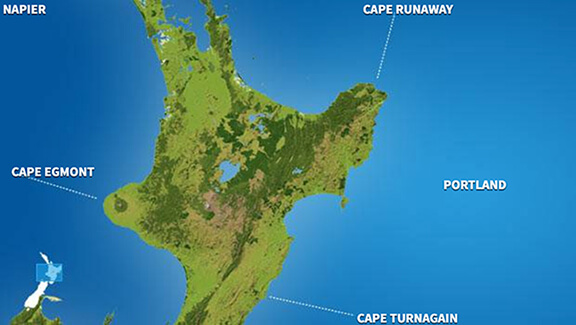 Forecast:
Tuesday : Variable 10 knots. Northerly 15 knots developing in the evening. Sea slight. Southwest swell rising to 2 metres, period 16 seconds.
Outlook:
Outlook following 3 days: Wednesday: Northerly 15 knots, rising to northerly 25 knots in the south in the afternoon. Sea becoming rough in the north. Moderate southwest swell easing. Thursday: Becoming southerly 25 knots in the south late. Sea rough in the north. Friday: Becoming southerly 20 knots everywhere. Rough sea easing. Southerly swell becoming moderate.