Queenstown
At
4°C
Wind:

NNE, 03 knots

Sunrise:

Sunset:
Cloudy periods. Rain developing in the afternoon, as northeasterlies change cold southerly.
Remaining showers clearing in the morning, then fine. Southerlies dying away.
Fine, high cloud increasing late. Light winds.
For more detailed weather information visit MetService.
Marine Coastal Forecasts - Milford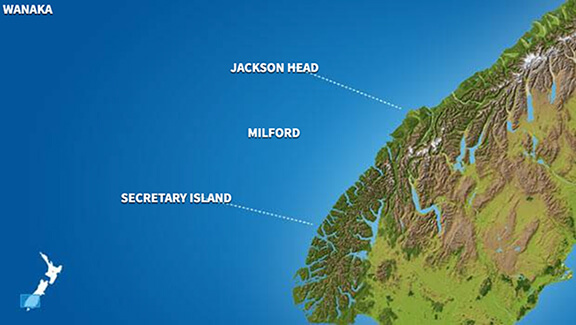 Forecast:
*GALE WARNING IN FORCE* Monday : Northeast 15 knots rising to 35 knots in the morning. Changing southerly 20 knots late afternoon and rising to southwest 30 knots in the evening. Sea becoming very rough for a time. Southwest swell rising to 3 metres. Northwest swell 2 metres developing for a time. Poor visibility in scattered morning rain, easing in the evening.
Outlook:
Outlook following 3 days: Tuesday: Southwest 25 knots gradually easing to 15 knots. Rough sea easing. Moderate southwest swell. Wednesday: Northeast 15 knots developing morning, rising to 25 knots late. Sea becoming rough. Moderate southwest swell easing. Moderate northerly swell developing. Thursday: Easing to northeast 15 knots early, turning southwest 15 knots late. Rough sea easing. Moderate southwest and northerly swells.