Masterton
At
Sunrise:

Sunset:
Mainly fine. One or two morning showers. Light winds.
Fine with morning frosts. Some cloud developing from afternoon. Westerlies.
Fine with morning frosts, then a few showers from afternoon as northwesterlies change southerly.
For more detailed weather information visit MetService.
Marine Coastal Forecasts - Castlepoint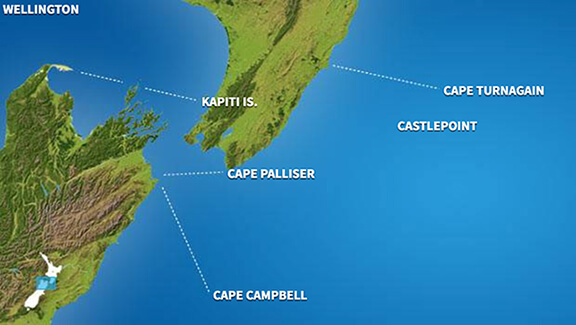 Forecast:
Monday : Southwest 25 knots, easing to 15 knots early afternoon. Becoming northwest 20 knots early evening. Rough sea easing. Very long period southwest swell 5 metres easing. Poor visibility in showers, clearing this morning.
Outlook:
Outlook following 3 days: Tuesday: Northwest 20 knots, changing southerly 10 knots in the afternoon. Moderate southwest swell. Wednesday: Northwest 20 knots developing in the morning, changing southerly 20 knots in the afternoon. Southwest swell becoming heavy. Thursday: Southerly 15 knots. Heavy southwest swell easing.