Hastings
At
Sunrise:

Sunset:
Fine. Early morning frosts. Light winds, then northwesterlies from afternoon.
Fine. Northwesterlies.
High cloud. One or two showers developing from afternoon. Gusty northwesterlies.
For more detailed weather information visit MetService.
Marine Recreational Forecasts - Hawke Bay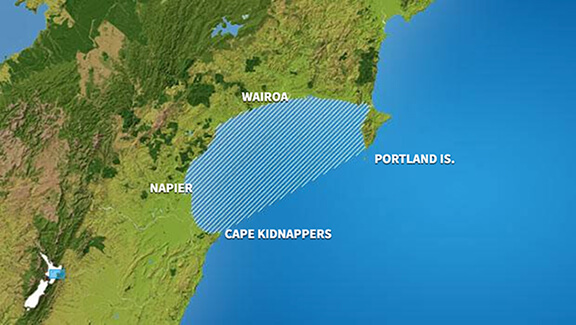 Area Description:
Inshore waters between Cape Kidnappers and Portland Island.
Situation:
A northwesterly flow develops over the country today. A front spreads up the South Island later today into Friday, then the lower North Island during Saturday, and the upper North Island on Sunday as another front approaches from the southwest.
Warnings:
Nil for Portland
Forecasts:
Thursday: Southwest 10 knots, turning northwest 10 knots in the morning. Rising to northwest 15 knots in the evening. Sea slight. Fine, high cloud developing from afternoon. Southerly swell, 2 metres in the east but 1.5 metres in the west. Easterly swell half a metre, tending southeast.
Outlook:
Outlook until midnight Sunday: Friday: Northwest 15 knots rising to 20 knots for a time in the morning. Fine. Southerly swell easing to 1 metre everywhere. Saturday: Northwest 15 knots rising to 20 knots late. High cloud, Possible shower or two later. Southerly swell easing to half a metre. Sunday: Northwest 20 knots easing to 10 knots. High cloud and scattered rain. Southerly swell half a metre.
Swell:
Marine Coastal Forecasts - Portland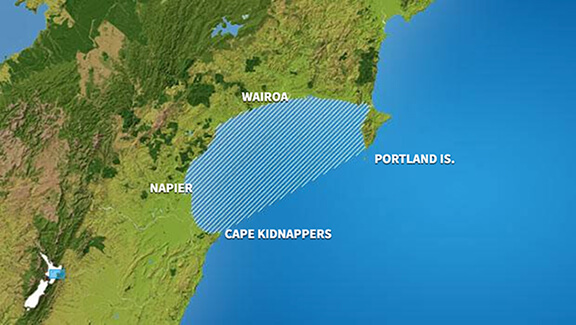 Forecast:
Thursday : Southerly 15 knots, easing to variable 10 knots in the morning. Northwest 15 knots developing in the afternoon. Sea slight. Long period southerly swell rising to 3 metres at times. Easterly swell 1 metre.
Outlook:
Outlook following 3 days: Friday: Northwest rising to 20 knots in the afternoon. Moderate southerly swell easing. Saturday: Northwest 20 knots. Sunday: Northwest rising to 30 knots. Sea becoming rough.