Levin
At
17°C
Wind:

NW, 08 knots

Sunrise:

Sunset:
Cloudy with showers, clearing this evening. Northwesterlies.
Morning cloud, then fine. Northwesterlies.
Fine with light winds. Becoming cloudy in the evening and southeasterlies developing.
For more detailed weather information visit MetService.
Marine Recreational Forecasts - Kapiti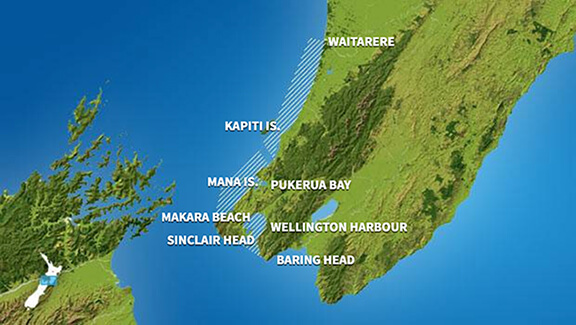 Area Description:
Inshore waters from Waitarere to Pukerua Bay and out to Kapiti Island.
Situation:
The northerly flow over the country strengthens today, ahead of a complex trough approaching from the Tasman Sea. The trough moves over the country during today and early Sunday, followed by a southwest flow and brief ridge. Another complex trough in the Tasman Sea moves onto central New Zealand from late Monday.
Warnings:
Gale warnings for Cook and Stephens
Forecasts:
Strong wind advisory. Saturday: Northerly 20 knots, rising to 25 knots gusting 35 knots this morning, easing northwest 20 knots this evening. Sea becoming rough for a time this morning and afternoon. Poor visibility in periods of rain, easing afternoon. Northwest swell rising to 1 metre.
Outlook:
Outlook until midnight Tuesday: Sunday: Northwest 20 knots. Morning cloud then fine. Northwest swell rising to 1.5 metres for a time. Monday: Northwest 15 knots, easing to variable 5 knots in the morning. Becoming southeast 10 knots in the afternoon. Becoming cloudy and occasional rain developing. Northwest swell easing to half a metre. Tuesday: Turning northeast 15 knots. Occasional rain. Northwest swell easing to half a metre or less.
Swell: