Levin
At
8°C
Wind:

E, 04 knots

Sunrise:

Sunset:
Cloudy periods. The odd shower. Northerlies.
Morning cloud clearing to a fine day. Northeasterlies dying out by evening.
Fine. Light winds.
For more detailed weather information visit MetService.
Marine Recreational Forecasts - Kapiti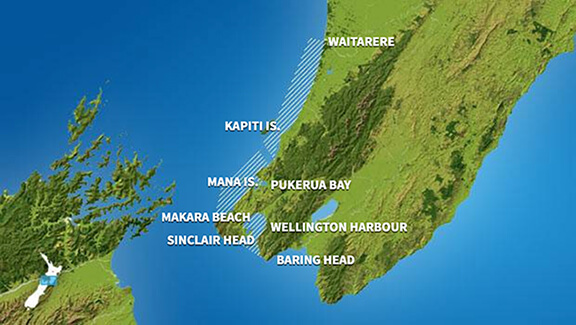 Area Description:
Inshore waters from Waitarere to Pukerua Bay and out to Kapiti Island.
Situation:
A narrow ridge moves away to the east today, as a complex trough approaches from the west, preceded by a strengthening northerly flow. The trough lies over most of New Zealand during Friday and Saturday, while a low deepens north of the country. The trough and low move away to the east on Sunday, and another ridge moves onto New Zealand.
Warnings:
Nils for Cook and Stephens
Forecasts:
Thursday: Northeast 10 knots. Becoming northerly 10 knots but variable 5 knots north of Kapiti Island for a time this afternoon and early evening. Sea slight. Cloudy periods, with fair visibility in a few afternoon showers. Northwest swell 1 metre, easing to half a metre.
Outlook:
Outlook until midnight Sunday: Friday: Northeast 10 knots, easing to variable 5 knots evening. Partly cloudy. Northwest swell half a metre. Saturday: Variable 5 knots, but easterly 10 knots in the north for a time. Fine. Northwest swell rising to 1 metre. Sunday: Northerly 10 knots developing early, dying out late. Cloudy periods. Northwest swell half to 1 metre.
Swell: