Levin
At
Sunrise:

Sunset:
Rain developing in the morning, heavy at times from afternoon, easing evening. Northwesterlies.
Partly cloudy. Chance shower. Light winds.
Partly cloudy. A few showers. Northwesterlies.
For more detailed weather information visit MetService.
Marine Recreational Forecasts - Kapiti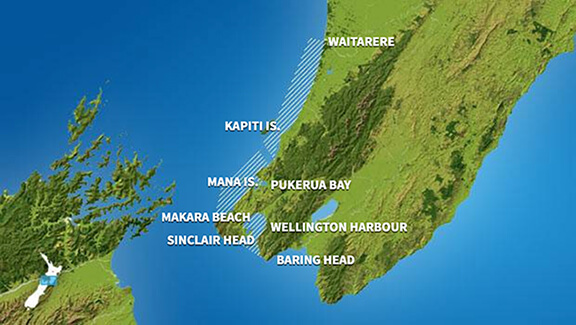 Area Description:
Inshore waters from Waitarere to Pukerua Bay and out to Kapiti Island.
Situation:
A slow-moving front affecting central New Zealand today gradually moves over the North Island during Monday and Tuesday. Meanwhile, a front reaches the far south late Monday, and crosses the country on Tuesday, followed by a brief ridge. Another front approaches from the southwest late Wednesday and moves up the country on Thursday, followed by a strong southwest flow.
Warnings:
Nils for Cook and Stephens
Forecasts:
Monday: Variable 5 knots. Northwest 10 knots developing late afternoon and early evening. Sea slight. Mostly cloudy with fair visibility in morning rain. Northwest swell 1 metre.
Outlook:
Outlook until midnight Thursday: Tuesday: Northerly 15 knots, rising to northwest 25 knots in the afternoon, changing westerly 15 knots in the evening. Periods of rain, more persistent from afternoon. Northwest swell 1 metre. Wednesday: Northwest 15 knots. Mainly fine, chance shower. Northwest swell 1 metre. Thursday: Northwest rising to 25 knots. A few showers, some heavy. Westerly swell rising to 1.5 metres.
Swell: