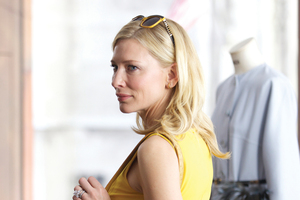 It doesn't take long to realise that Jasmine French, the title character of Woody Allen's 44th film, is one deeply troubled woman.
In the first scene, she rabbits on to the alarmed woman seated next to her on a flight from New York to San Francisco, and the barrage keeps up at the baggage carousel.
By the time she lands on the doorstep of her sister Ginger (Hawkins) in the Mission District, we have a good a sense of her monstrous neediness, and of the pretensions to gentility (she's broke, but she has matching Louis Vuitton luggage and flies first class) that keep her alive. Newly minted though she is, Jasmine is a titanic, unforgettable character.
Transcending her derivative roots, she is a figure of radiant, heartbreaking individuality and, in bringing her to life, Blanchett turns in a bravura, career-defining performance that must make her a hot favourite for a second Oscar.
The origin of Jasmine's profound malaise emerges only gradually as the film takes us back and forth between her unwelcome stay in Ginger's spare room and the gilded palaces of Manhattan's Upper East Side from which she has fallen.
It would be wrong to spell it out in detail, though it spoils nothing to say that her husband Hal (Baldwin) is cut from the same Ponzi-scheming cloth as Bernie Madoff; her fall-from-grace story has something elemental about it, like that of Judah Rosenthal in 1989's Crimes and Misdemeanors, the Allen film this most reminds me of.
Jasmine's in town to make a new start but, addled with vodka and valium, she cannot quite bring herself to admit as much. She condescends to the good-hearted Ginger and her volatile but lovable beau Chili (Bobby Cannavale) and she dreams of parlaying her experience of living in luxury into a career as an interior designer. Then she meets Dwight (Sarsgaard), a rich diplomat who needs a decorative wife to aid his political ambitions ...
Allen's script, machined with the precision of a Swiss watch, is the richest and densest he's done since Match Point, though this is twice the film that was. There is not a trace of whimsy or even deadpan Jewish gallows humour; the laughs, such as they are, are bleak and bitter.
But the experience is far from being depressing. Jasmine is, by turns, hilarious and horrifying; pitiable and fearsome and Blanchett's performance is a force of nature. Don't miss it.
Stars: 4/5
Cast: Cate Blanchett, Sally Hawkins, Alec Baldwin, Peter Sarsgaard
Director: Woody Allen
Running time: 98 mins
Rating: M (offensive language)
Verdict: Allen's most substantial film in years and his best female character ever
Follow @nzherald_ent on Twitter for all the latest entertainment news.
- TimeOut