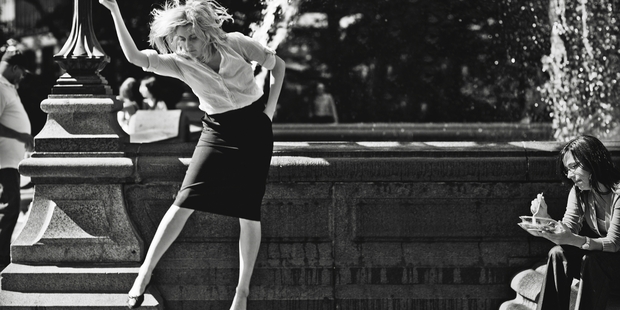 The story of a 27-year-old trying to get her life together in New York City, Frances Ha is charming and delightful. Shot in black and white and featuring music from Francois Truffaut films, this amusing drama is also a modern homage to French New Wave. It also makes a star out of its young lead, Greta Gerwig.
The brainchild of director and screenwriter Noah Baumbach and Gerwig, who appeared in Baumbach's Greenberg and co-writes here, it's a film filled with dry, witty observations about life in your 20s.
It's a period when you're supposed to be having the time of your life but Frances (Gerwig) is still struggling to work out what she wants to do and how she should go about it.
Gerwig carries this film from beginning to end. Her offbeat Frances is a dreamer, an apprentice dancer who has a "man walk" and is clearly not going to fulfil her aspiration to dance with a company. She doesn't give up easily and, rather than grow up and accept the inevitable, she continues to hop flats and moves home to make ends meet.
Some may find Frances' immaturity a little grating and the film's quirkiness a little twee, but most will recognise that there's a touch of Frances in us all. We're not all going to break into a dance on the street to David Bowie's Modern Love, a scene borrowed from Leos Carax's Bad Blood and one Gerwig pulls off so beautifully and badly it puts a smile on your face.
But we can relate to Frances' struggle with losing her best friend to a boyfriend, accepting a job to pay the rent, and her social awkwardness and envy of others' successes.
Drawing inspiration from Woody Allen's New York comedies and comparisons to Lena Dunham's television series Girls, Frances Ha is shot on the streets of New York and in real locations, with brief jaunts to Sacramento and Paris.
There's also a hint of Florian Habicht's Love Story, with the New York setting, improvised dialogue and the parents being played by Greta's real-life parents. But for all her self-centred foibles, in the hands of Gerwig, Frances Ha is a hard character not to love. With a smile on her face, she refuses to wallow in self-pity, and this is what makes her unique and endearing.
Baumbach and Gerwig have created a film that's pacey, sharp, refreshingly different and modern, and yet still delivers its own tribute to film-makers of the past.
Stars: 4/5
Cast: Greta Gerwig, Adam Driver, Mickey Sumner
Director: Noah Baumbach
Running time: 86 mins
Rating: M (offensive language and sexual references)
Verdict: Infectious and charming - Frances Ha will put a smile on your face.
Follow @nzherald_ent on Twitter for all the latest entertainment news.
- TimeOut