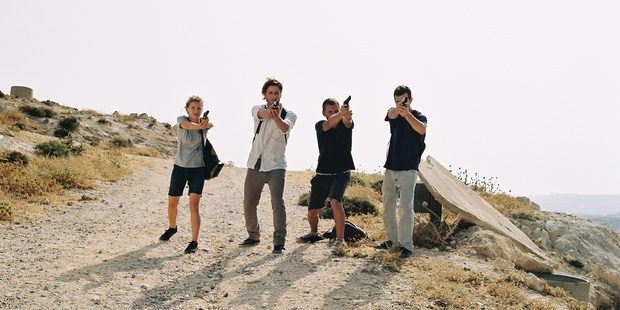 Formally meticulous, even austere, the assured feature debut of Israeli film-maker Lapid announces the arrival of a significant talent.
This is a film of masterful control: in the way it shuns the high-speed cliches of the thriller genre, it recalls Kubrick; its sense of menace puts you in mind of Hitchcock; and there's something of Michael Haneke in the clinical detachment of its point of view.
An elliptical, but never obscure, narrative comprises two stories that intersect dramatically in the last reel. The first part concerns Yaron (Klein), the buff, macho alpha male in an elite anti-terrorism police unit that specialises in undercover (and apparently extra-judicial) hits on Arab targets.
Lapid observes this tight-knit group with a cool fascination bordering on the homo-erotic - in a scene where they meet at a barbecue, the bare-skin slaps of their embraces sound like gunshots - though there is nothing reverential in his attitude: a subplot makes it plain that perjury and corruption are part of the group's modus operandi and Yaron, an expectant father, is equal parts attentive husband and self-preening narcissist (when he shows his pistol to a waitress and invites her to touch it, she pouts and says, "Touch what?").
Around the film's mid-point, we are suddenly introduced to a cadre of young radicals - not incidentally they are Jewish, not Palestinian - who are planning to advance their class-warfare campaign by taking hostages at a society wedding.
The fact that these two storylines will collide violently is no surprise, although there's no handsomely choreographed shootout here: the manner of the collision is a surprise, not least to Yaron himself, who has some trouble comprehending the idea of a Jewish terrorist.
Lapid gives his story a symmetry that allows him to suggest a moral equivalence between the film's two "gangs" (there are others too, more briefly observed) without glibly positioning either as superior.
This is not to say that the film is disengaged: one of the radicals' war cries, "Police, you are not our enemies; you too are the oppressed", has reportedly made a big impact in political discourse in Israel, which the film points out, has one of the widest gaps between rich and poor, even when the Palestinians are taken out of the equation.
The composed framing and the mesmerising camerawork of Shai Goldman, who shot The Band's Visit five years ago, makes for a real visual treat. Interiors take in several rooms at once and action moves in and out of composed shots. It is a film that satisfies on so many levels and is one of the best I've seen this year.
Stars: 4.5
Cast: Yiftach Klein, Yaara Pelzig, Michael Mushonov, Menashe Noi
Director: Nadav Lapid
Running time: 109 mins
Rating: R16 (violence). In Hebrew with English subtitles
Verdict: Precociously masterful.
- TimeOut