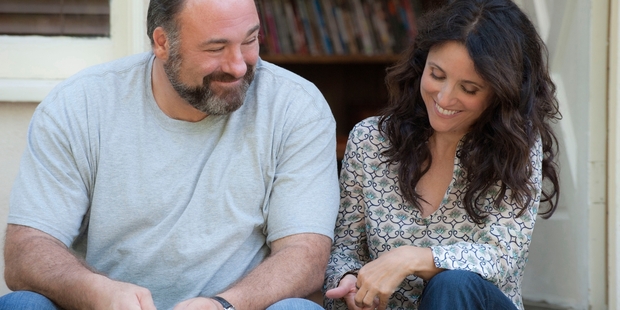 Director Nicole Holofcener explores middle age and the "empty nest" syndrome in this latest feature film, a romantic comedy staring Julia Louis-Dreyfus and the late James Gandolfini.
In Holofcener's past films she drew inspiration from personal experiences and people close to her; Enough Said is no different.
Her 50-something main character, Eva (Louis-Dreyfus), is based on her experience wondering what life will be like when the kids have gone to college.
It's a joy watching a rom-com that's smart, mature and bitingly witty, compared with the normal fare of formulaic fairy tales. But what's really enjoyable about Enough Said are the tender performances and honest depictions of relationships - be they romantic, friendly or parental.
Enough Said is filled with nice American West Coast middle-class people, including Eva, a divorced mother of one who works as a masseuse. As her well-adjusted daughter prepares to leave for college, Eva finds herself with two new friends: Marianne (Keener), a poet who is hung up on the reasons why she divorced her husband, and Albert (Gandolfini), a gentle and down-to-earth man, divorced, who is also dealing with his daughter's impending departure to college.
Eva and Albert begin dating and Eva is delighted to find someone who gets her, understands what she's going through and laughs at her jokes. But just as she begins to think it could be the real deal with Albert she is swayed by other people and second-guesses her relationship.
You may think the man famous for playing Tony Soprano is an odd fit but Gandolfini is perfect as Albert. Of all the characters, Albert is most comfortable in his skin and Gandolfini's understated, genuine and superb performance means any preconceived ideas of how a typical rom-com leading man should look or act fall away.
It wouldn't work if Gandolfini and Julia Louis-Dreyfus had not got on, but luckily theirs was a natural and sweet chemistry.
Louis-Dreyfus is still the expressive, slightly awkward and goofy television star of shows such as Seinfeld, if a little toned down. That both leads are so real and relatable is also attributable to Holofcener's deft direction and a wry script filled with fully formed characters.
With Toni Collette as Eva's best friend and Catherine Keener also in excellent form, it seems not only does Holofcener have an incredible ability to capture the honesty and absurdity of love and relationships; she also has a talent for casting.
As sad as it is not to be able to see Gandolfini continue to broaden his repertoire, it's nice to see Louis-Dreyfus finally light up the big screen.
Stars:
4/5
Cast:
Catherine Keener, James Gandolfini, Julia Louis-Dreyfus
Director:
Nicole Holofcener
Running Time:
93 mins
Rating:
M (offensive language and sexual reference)
Verdict:
A wry, well-acted and insightful character-driven rom-com.
Follow @nzherald_ent on Twitter for all the latest entertainment news.
- TimeOut