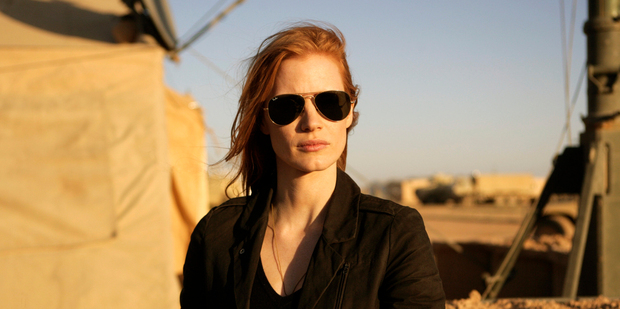 You don't see much of Osama bin Laden in Kathryn Bigelow's intricate, lengthy but gripping film about the decade it took to find him. He's largely a spectre, a photo at the top of a whiteboard, and then, briefly, a prop.
Nor do you see his crime - 9/11 is depicted at the film's beginning as a blackened screen to the sound of panicked phone calls from high in the Twin Towers. Sound also defines the closing scene of Jessica Chastain's CIA officer Maya, after her long mission is complete. She's alone on a military transport home to a cheering nation. She's too far away to hear it, too exhausted by her eight years of toil to join in.
And Bigelow's deft touches of restraint - albeit in a movie which unflinchingly depicts the agency's "enhanced interrogation" of Al Qaeda detainees, scenes which have alarmed many a US politician - as well as Chastain's performance is what makes Zero Dark Thirty compelling.
Yes we know, more or less, how it all ended. And the arguments about how true Zero Dark Thirty is will continue until this year's Academy Award post-mortems.
But Bigelow and journalist scriptwriter Mark Boal, who were behind the Oscar-winning, Iraq war movie The Hurt Locker, here deliver a feasible, painstaking account that is anything but a dry here's-what-to-think docu-drama.
It delivers its own wide-view take of CIA office politics, the shift between the Bush and Obama administrations, the use of torture and how the bin Laden manhunt ran out of steam - Bigelow and Boal had been working on a story about the failure to find him in Tora Bora, then started over in the wake of his demise.
That big picture stuff is a framework for us to follow Agent Maya , who starts as a newbie doing her best not to flinch as she observes her first interrogation but who quickly toughens up and spends the next eight years picking through whatever leads she can, ambivalent about how they are created.
Her detective work done, she has to stand back and watch Seal Team Six go to work.
The night vision depiction of the 12.30am - zero dark thirty - raid on bin Laden's Abbottabad compound is heart-stoppingly suspenseful as we follow the squad door by door, floor by floor, shot by shot.
Curiously perhaps, Maya comes unburdened by any back story or attachments outside work. But she's still a riveting character, especially when it's clear - as James Gandolfini in a cameo as then-CIA director Leon Panetta finds - that the smartest guy in the room happens to be the inscrutable redhead down the back.
Stars: 4/5
Cast: Jessica Chastain
Director: Kathryn Bigelow
Rating: M (violence and offensive language)
Running time: 157 mins
Verdict: Gripping account of the hunt for Osama Bin Laden