Lindy Laird hangs out with proboscis monkeys and unforgettable orangutans.
We are in sauna-like heat, deep in the jungle, looking for a monkey with a permanently erect penis.
We have seen deadly snakes, macaques, silvered leaf monkeys, colourful lizards and tarantulas, and stood still in case the rustling in the undergrowth was a bearded pig.
It's what you do in Bako National Park, one of Sarawak's smallest but oldest national parks. We got to the park via a 40-minute drive from Kuching to the village of Kampung Bako, then a 20-minute boat ride down the khaki-coloured Santubong River into the South China Sea to the tip of the Muara Tebas peninsula.
The soundtrack accompanying this glittering, multi-green, sun-sharded and dark shadowed walk on the wildside is the high-decibel song and warning cries of thousands of birds, the klaxon of cicadas and other insects.
We're on a short section of 17km of trails traversing beaches, mangrove sand tracks, boardwalks across swamp, cliff paths and jungle.
In several complete ecosystems, Bako contains almost every type of plant life found in Borneo and about 190 species of birds. In half a day we're not going to see many animals on the long list that includes monitor lizards, flying lemurs, slow lorises, palm civets, otters, pangolins, mouse deer and bats.
We are, though, hoping to see the park's most famous inhabitants, the proboscis monkeys. It is home to about 150 of these comical, barrel-chested, large monkeys endemic to Borneo.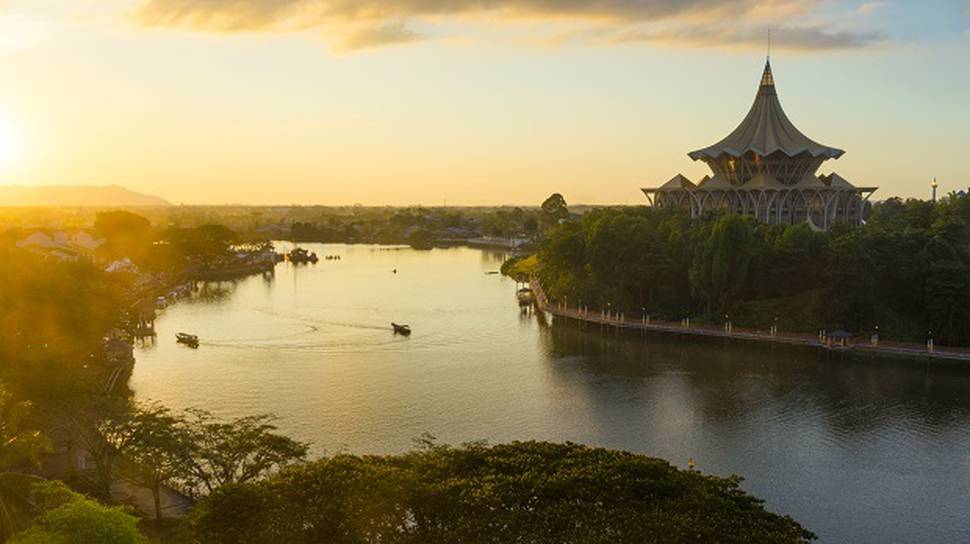 Living high in the trees in small groups with a dominant male, they hang out near rivers, mangroves and swamps. Among several unusual traits, they swim.
Their pendulous, fleshy nose is used to attract mates, the outsized organ creating an echo chamber to amplify the mating call. Our guide Ham tells us the male has another unusual organ, which has earned it the name "red chilli monkey".
It seems we'll have to leave this amazing place without seeing one, but as we leave the jungle to walk the kilometre to the boat, Ham crouches and points up. Right above us, comically, languidly, obscenely spreadeagled in a tree fork, is the, um, very aptly named red chilli monkey.
Cat City
It's a selfie moment; people pour off a bus to pose in front of statues of giant cats in Kuching.
In mere seconds, they pile back on the bus and nothing else in the vicinity gets a look in.
Which is a pity because behind another imposing cat statue is the impressive gate to Chinatown, a precinct of retailers, herbal medicines, rice, fabrics, commodities, traders and teahouses. Sarawak is one of two East Malaysian states on the island Borneo. The other is Sabah, further north. Vibrant Kuching is home to about 700,000 people and is the largest of any Malaysian or Indonesian city on Borneo.
There's a building boom. Cranes and new builds tower over Chinese temples and mosques; luxury hotels jostle for position along the city's Sarawak River frontage, the place of night markets, entertainment, jetties, workers' ferries and cruise boats. Across the river is the grand, $110m new state legislature building.
Sarawak was governed like a British colony by the Brooke family from 1841 for more than 100 years. Sarawak gained independence 10 years after the last Brooke bowed out in the 1940s, and joined the new federation of Malaysia in 1963.
An entrepreneurial, ex-British army officer, James Brooke sailed the salt rivers of Borneo's South China Sea coast, a region infested with pirates, slavers and headhunters. In 1841, he helped quell a rebellion and the grateful sultan of neighbouring Brunei, who owned Sarawak, gifted the place to him.
It's said the capital Kuching is Cat City because Kuching sounds like the Malay word for cats, kucing. The story goes that in 1839 Brooke was sailing up the Sarawak River when he saw a man on the riverbank holding a cat. Brooke's guide said "itu kucing (It's a cat)."
Another story claims pre-Malaysia Borneans would not have used the Malay word for cat, and the emblem is a more recent branding exercise.
Orangutan sanctuary
He comes belting out of the jungle, hell-bent on getting to the food before it's gone.
He's a young adult and a real showman. The orangutan ranger alerted us this fellow was heading our way but nothing prepared us for his leap from trees to a long, thick rope.
Burnished copper, hairy, his acrobatic, swinging descent has us in raptures. Sitting by the pile of fruit this bold newcomer is heading for is The Big Boss, and none of the other wanna-be boss males are ready to shove him out the way.
The Big Boss, a charismatic, tired old giant, was one of the first orangutans to be brought to the then-new Semenggoh Orangutan Rehabilitation Centre, 37 years ago. The centre cares for the injured, orphaned and traumatised rescued from illegal traders, or homeless due to loss of habitat. It has lifers, but is somewhere that others can be socialised with their own kind before being returned to the wild.
It's a small sanctuary and at times not enough wild fruit grows there for its 32 inhabitants, including babies. Food is put out twice a day where small groups of visitors can have a fairly close view of any orangutans which decide to eat. The entry fees help fund the sanctuary.
Seeing them is an unforgettable experience, but one of many offered in Sarawak — where grand mosques and mansions make statements on the riverside, where modern commerce and ancient practices share office space, where the three-day Rainforest World Music Festival is held deep in the jungle every year, and where orangutans charm visitors while learning to live free.
Checklist
GETTING THERE
flies from Auckland to Kuching, with one-way Economy Class fares starting from $430, for travel in certain periods.
DETAILS
For information on travel in Malaysia, go to malaysia.travel/en/nz.