After leading a fruitless three-month hunt for the wreckage of flight MH370, authorities in Australia yesterday took the first step towards handing over search operations to a private contractor, who will have the daunting task of scouring the Indian Ocean down to a depth of 6,000 metres.
The next phase of the search for the plane, which dissapeared on 8 March shortly after taking off from Kuala Lumpur on a scheduled flight to Beijing, could take up to a year, according to the tender documents, which have been released by the Australian Transport Safety Bureau (ATSB).
Last week, Australian authorities - who have been coordinating operations in the Indian Ocean - dashed the hopes of families of the 239 passengers and crew, announcing that a search area about 1,600 kilometres off Western Australia had been "discounted as the final resting-place of MH370".
Read more:
• MH370: Kiwi vows to find plane, if given the chance
• Sailor may have seen flight MH370 on fire
• Rumours about MH370 pilot not true, claim wife's family
Military ships and aircraft from half a dozen countries had been intensively searching that area since early April, when sonar equipment picked up a series of acoustic "pings" thought to come from the plane's flight data and cockpit voice recorders. But no wreckage was found, and a US Navy official said the pings had probably been produced by electronic equipment on a search vessel.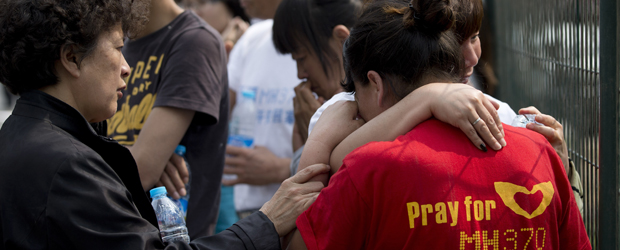 Relatives of passengers onboard the Malaysia Airlines MH370. Photo / AP
However, based on satellite and other data, the southern Indian Ocean is still believed to be the place where the airliner ran out of fuel and crashed after - for reasons that can only be guessed at - flying thousands of kilometres off course.
Inviting bids to undertake "an intensified underwater search" from late August, the ATSB said a specialist company would be engaged as a prime contractor, working under the board's direction. It would be expected to "bring together and manage the expertise, equipment and vessels to carry out the search".
The announcement came as researchers at Curtin University in Perth revealed that a listening station off the Western Australian coast had picked up a low-frequency underwater sound on 8 March, which could have been MH370 crashing.
"I'd like to think it's something related to the aircraft, but it's more likely that it's a small underwater seismic event," said Alec Duncan, from the Centre for Marine Science and Technology.
Also yesterday, the ATSB said it was investigating a report by a British yachtswoman, Katherine Tee, who claimed to have seen a burning aircraft in the sky above the Indian Ocean, with "what appeared to be a tail of black smoke coming from behind it", on the night the plane disappeared.

Photo / AFP
Ms Tee, who was sailing with her husband from Kochi, India, to Phuket, in Thailand, has written that she told no one at the time because she and her husband were not speaking, and she "wasn't sure of what she saw". But after confirming her yacht's position using GPS data in recent days, she passed the information to Australian authorities.
The next phase of the hunt - which is already the most expensive in aviation history - will cover about 60,000 square kilometres of ocean, at a cost of at least A$60m. The precise search zone will be finalised within a few weeks.
The search to date has been extremely frustrating, with ships and planes unable to find a single piece of wreckage, and satellite pictures that appeared to show floating debris turning out to be false leads. An intensive underwater search was also carried out, using a mini-submarine that could dive to depths of 4,500 metres.
The tender documents set a strict timetable, with the contractor required to map 5,000 square kilometres every 25 days or risk having payments withheld. The company will need to have sonar equipment that can work at depths of up to 6,000 metres, and navigate holes, trenches and ridges on the seabed.
- The Independent