Anthony Peregrine finds gourmet heaven in Burgundy.
Vespers, in Vezelay, in the best-known basilica in Burgundy; the nuns, once kneeling, now stood to sing, their voices re-primed the purity of the vast space. A few rows back, I couldn't help worrying. I've encountered nuns mainly through movies, in which their soft-pitched innocence invariably heralds the arrival of galloping barbarians on the pillage.
But no. The only annoyance this evening was a smart fellow taking photos directly under the "No Photos" sign. Otherwise, this was 40 minutes of enhanced tranquillity. Then it was over. So that was purity sorted.
Now I needed wine and food — ideally, quite a lot. That's okay in Burgundy, where the spiritual and the fleshly are rarely at odds. Religious orders have been so crucial to the development of Burgundian gastronomy — notably wine and cheese — that both come with God's approval. Dinner is a divine duty. That's why I was there.
After trying times, I'd needed reviving. "Wellness", if you like, except my kind of wellness comes not from hammams and herbal tea but expansive meals with wine and cheese, well-rooted in a plump, pleasant land sanctioned by the saintly. In other words, "Burgundy". The region's food and extraordinary wines have done more for historical wellness than almost anything else on earth. They still do (and if you truly hesitate between a body wrap and a bottle of volnay with epoisses, it's no wonder we've never met).
Given only a few days, I couldn't pursue the whole Burgundy food range — Charolais beef, snails, marbled ham, Bresse poultry — so stuck to tracking down cheese and wine, at both of which Burgundy excels. I could feel wellness welling up already.
I started around Macon, the Deep South of the region. I needed cheese. La Trufiere goat farm at Chissey-les-Macon, near Cluny, had it in abundance, once I'd tracked down cheesemaker Marie-Emilie Robin to a nearby barn. I can't tell you how good her riper cheese was with a Macon white, so won't try. The hardest part of the job? "Seeing goats leave," said Marie-Emilie. "They've provided milk for five or six years, and now we're sending them to the abattoir. I used to give them names . . ."
Macon white is terrific, but you can't be around here without tackling Pouilly-Fuisse. I moved slightly further south. Hills rolled up and around, pulling vineyards with them.
They rose to the rocky outcrop of Solutre, which oversees the whole like a gigantic pulpit.
Flanked by flunkeys, Francois Mitterrand used to climb it every Whit weekend, in homage to wartime resistance. I wound down into the dell containing the stone village of Fuisse, one of five villages producing the great unpronounceable white wine of southern Burgundy.
From the village's chateau, the Vincent family have been vignerons for five generations, so are largely on top of the job. Benedicte Vincent effervesced about wine, grapes, the vineyards unravelling down to her door, her granddad. And climats. These are the stretches of land, around 1500, into which the great Burgundy vineyards have been divided on the grounds of different soil types and that sort of thing. They push the concept of terroir to extremes, and bagged Burgundy a Unesco World Heritage listing in 2015. Burgundians have been analysing them for a millennium and they're not stopping now, so appear interested and hold out your glass.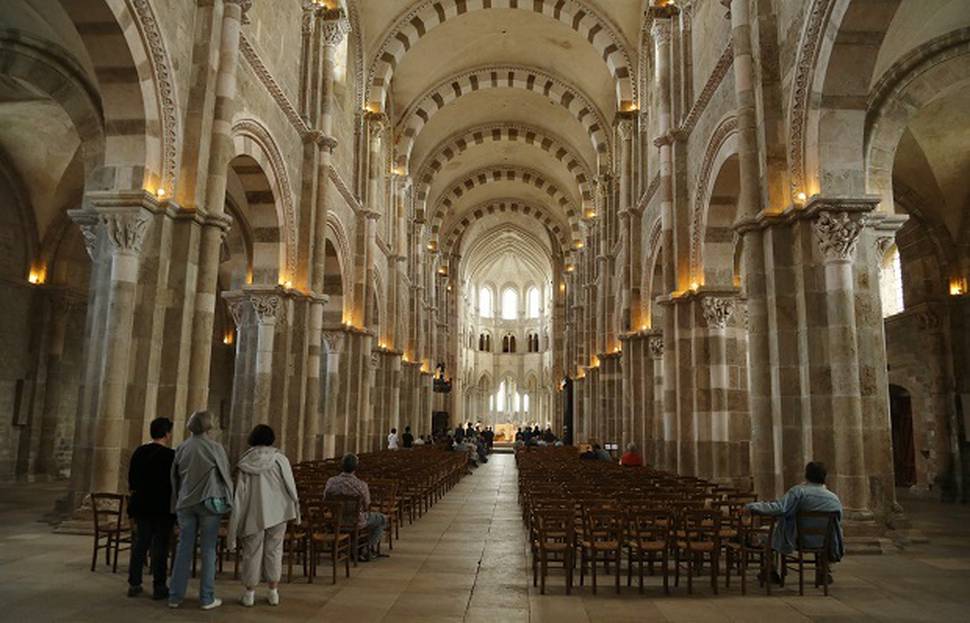 I left, north along the Grand Cru route by way of villages — Puligny-Montrachet, Meursault, Aloxe-Corton — so legendary it was a surprise that they existed. Throughout, hand-stitched vineyards swept up hillsides with a sense of superiority unusual in a cash crop.
In Nuits-Saint-Georges, I bobbed in to see the Dufouleurs. They've been making wine since the 16th century. Xavier, the patriarch, was ebullient. "Compared to the Bordelais, we're gardeners," he cried. Bordeaux estates may come in dozens, hundreds, of acres; Burgundian ones average around 20. On the Cote de Nuit and Cote de Beaune, where wine prices soar, you might feed a family from 10 acres.
Then we were again talking climats and "the totally different tastes" that may be found in wines made from vines only a handful of yards apart.
This is wine person's talk. "Totally different tastes" for most of us are as between a sausage and a kipper, not between two versions of chardonnay grown 6ft apart. As ever, I wondered whether wine, like soccer, wasn't ill-equipped to bear the weight of comment and analysis loaded on its back. Then Xavier handed me his house's Premier Cru Fixin, and I shut up.
I went to meet monks on the flatlands just east, at Citeaux abbey. This, and other religious houses, had been largely responsible for Burgundy agriculture. As young Brother Benoit explained: "We've always spent a lot of time reading and praying; we need to work with our hands for balance, or we'd go mad."
Back in the day, that meant wine, first for Mass, then for everyman. Monks studied the land, defined the climats, developed techniques, and established estates like Clos Vougeot. It all went pear-shaped post-revolution. Dispossessed, they fled. Subsequently, Trappists — strict observance Cistercians — returned to Citeaux and, deprived of vineyards, have been making cheese for about a century. It's vital to their finances.
Brother Benoit was monk-in-charge of production until recently, a challenging placement for a political science graduate who neither knew nor cared much about cheese. "I made mistakes; training me cost us plenty!" he said. The abbey's cheeses are stamped "Prayer & Work", so your gluttony is godly, which is good.
All this way, and I'd still not encountered the Burgundian cheese glory that is epoisses.
Happily, they had a cracking version chez Gaugry, a large-scale fromagerie back on the Grand Cru route at Brochon. Visitors could survey cheese workers in action from a glassed-in gallery — the sort from which one generally studies sharks or giant pandas — before tackling a $10 tasting of five greatest cheese hits, plus wine. A mild brillat-savarin gave way to a mellow soumaintrain and then to epoisses, a soft item with orangey-red skin and aromas best described as "intrusive". It tastes less strong than it smells, but only just. Wellness overwhelmed. "This is the way forward," I murmured. The people on the next table were Japanese. We smiled, then clinked glasses. The way forward, indeed.
Over the coming days, I dodged northwest, leaving vineyards for the granite Morvan uplands of tougher farming and forest. Down the remotest wooded valley, the Pierre-qui-Vire abbey had been producing cheese for decades. Cheese-making was now run by layman Philippe Abrahamse, a wildly organic fellow. "We've the finest job in the world," said Philippe. "We're here to feed people. What's better?" Once again, spiritual and fleshly advanced together, fuelled by a ripe cow's milk cheese of which I ate far too much in my hotel bedroom.
Morvan lanes snaked ultimately to Vezelay. The great basilica — kick-off point of the second and third crusades — topped its hill, beaming and beckoning across time and space. The best views were from Tharoiseau, a village clinging to the other side of the valley, and notably from the old stone Croix Montjoie winery. The Vezelay wine district, far from other Burgundian vineyards, is tiny, just now reviving after decades of neglect.
Sophie and Matthieu Woillez established the Croix Montjoie domain in 2009. They had the best-value white wines of my trip.
So to Vespers, and then dinner across the way at La Terrasse: eggs meurette, venison, epoisses and half a litre of Irancy red. Next morning, I left Burgundy. I had to. Any more Burgundian meals and they'd have been carting me home on a flatbed truck.
Checklist
DETAILS
Le Boat has boat rentals with up to 20 per cent discount through Burgundy, other parts of Europe and Canada.