Sue Halliwell went to Gallipoli with a hero in her heart and left with stories of compassion and the high regard the Anzacs and Turks held for each other.
I arrived on Turkey's Gallipoli Peninsula steeled to face the inhumanity of the World War I campaign that began there on April 25, 1915, with the Allied landing. I left profoundly moved by the humanity.
Ready to be deeply disturbed by tales of squalor, waste, deprivation and disease, I was instead inspired by powerful stories of compassion.
Ours was a fairly typical Gallipoli Peninsula tour group, comprising Australians and Kiwis.
Each had their reason for this pilgrimage, most involving an Australian and New Zealand Army Corps soldier — or Anzac — of family legend. As we neared our destination, nervous excitement had us sharing hand-me-down tales of these raw recruits who had left for war in brave defence of that family. For many it would be a death sentence, the full stop perhaps being their own white stone marker at the Anzac Cove cemetery — our first stop — or an unnamed and hastily dug grave somewhere on the scraggy hills above.
They weren't alone. By the end of the eight-month Gallipoli campaign, 87,000 Turks, 8700 Australians and nearly 2800 New Zealanders would be dead — about a quarter of those who had entered it. Close on 18,000 Australians, 5000 New Zealanders and more than 200,000 Turks would also be wounded or sickened by disease.
Any illusions our young Anzacs still held about war being a daring adventure were no doubt smashed the moment they touched the bloodied stones of Anzac Cove. Even if they survived that terrifying ordeal, Gallipoli's fetid hillside trenches would probably have finished the job. Here they would battle dysentery, rats, thirst and hunger, and a ferocious foe desperate to protect its own country and people.
From further up the hillside, I could see the reason for that desperation.
Our guide led us to a 30-metre wide plateau that had separated the warring sides, from which vast and beautiful swathes of coastal Turkey, the Aegean Sea and Dardanelles Strait presented themselves. The half million Turks who fought here needed only glance at this backdrop to strengthen their resolve not to have it conquered and divided up by their invaders.
Of course, the Anzacs responded with equal resolve, and more mothers from both sides lost their sons. But, as if to prove that the one thing that can't be killed is kindness, small acts of mercy began to crack that resolve until, in my humble view, nearly 100 years later, humanity slowly emerged a clear winner.
That same plateau was the setting for possibly the most touching story of compassion.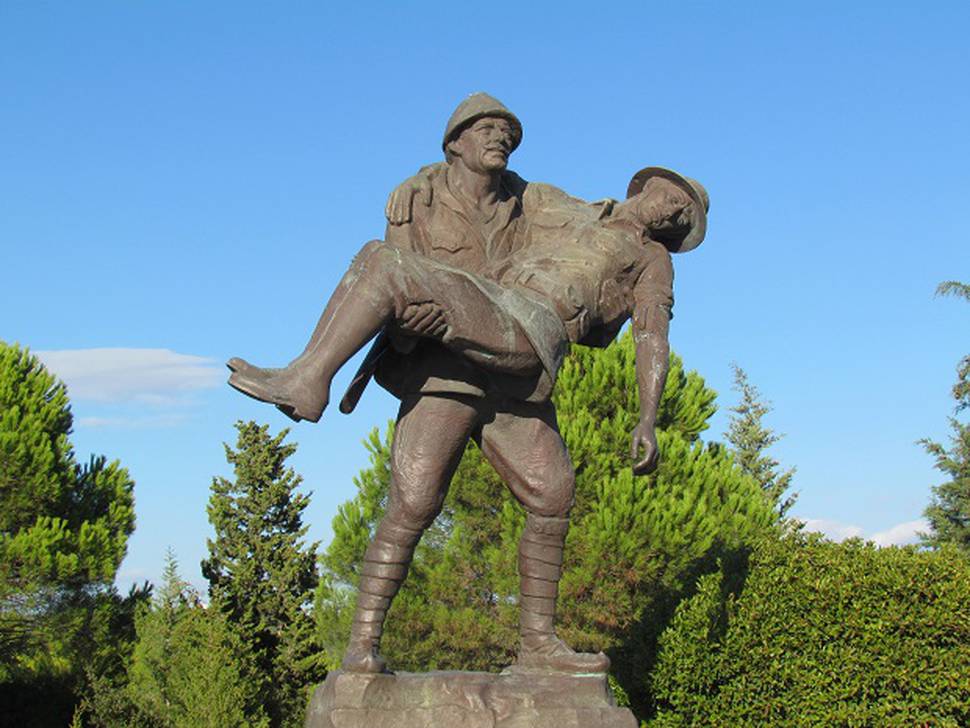 Here, a white flag was raised from the Turkish side after one particularly vicious bout of fighting, ceasing Anzac fire. A Turkish officer then risked death by stepping forward to collect in his arms an injured Anzac, who he carried across no-man's-land to his mates.
Not another bullet was fired until the Turk disappeared again below the lip of his own battle line.
That incident alone demonstrates the high regard in which each side held the other, the reason the Gallipoli campaign became known as the Gentlemen's War. With such little distance between them, it would have been easy to get to know the chap on the other side, even respect him. In fact, it may have been this familiarity that prompted the Anzacs to throw a tin of bully beef across to the Turks at one point, who responded by throwing back a rock bearing a message requesting biscuits.
Probably the most celebrated story of compassion involved the man with the donkey. Australian medic, Private John Simpson Kirkpatrick, found a hapless donkey walking the slopes and together they transported many hundreds of wounded Anzacs from the battle lines to relative safety and medical help. Undoubtedly they saved many lives before John was shot and killed by a sniper.
A profound story of courage and humanity followed the savage battle that began on May 19, 1915, leaving disputed territory covered with the dead and dying. Two days on, dismayed at being unable to reach their stricken comrades, a party of Turks approached the Anzac lines. They were fired on, with only one brave Turkish officer continuing forward. He was blindfolded and led through the trenches to the beachside tent of Anzac commander Lieutenant General Birdwood. Aware that something was going on, Anzacs rushed to line the route, the only attempt to attack the Turk coming from an axe-wielding cook, who was soon disarmed.
Birdwood and the Turk negotiated a ceasefire that would begin on May 24 and allow each side time to retrieve their casualties.
Red Cross flags were placed across Anzac front lines, and Red Crescent flags in front of the Turks', with troops on both sides instructed not to go beyond them when collecting their fallen. Neither took much notice, instead using the opportunity to exchange greetings, souvenirs, water, cups of tea and even cigarettes.
Indeed, cigarettes were responsible for further friendly "downtime" exchanges.
According to our tour guide, the Turks often ran short of tobacco papers and the Anzacs tobacco, so they frequently swapped these precious commodities, in the process building the camaraderie that only smokers can know.
The bonds between the Turks and Anzacs continue to this day. From our experience of travelling in Turkey, there can be no questioning Turkish respect for Kiwis, treated as we were with sincere generosity and flattering stories about Anzac fighting prowess wherever we went.
Perhaps none was more magnanimous than revered Gallipoli campaign leader Mustafa Kemal Ataturk, whose statue now graces the highest point on the peninsula at Chunuk Bair. Beside him, a memorial inscribed with the names of the New Zealand dead stands tall and stark, with Ataturk facing it, head and eyes lowered.
His reverence for the Anzacs was even more evident at our final stop of the day above the beach at Anzac Cove. Within view of Gallipoli's famous battle sites stood another striking memorial, this time inscribed with Ataturk's simple and deeply moving message to Anzac mothers, written 10 years after the Gallipoli campaign.
Sadly, some of that inscription was removed from the memorial last year, the resulting international outrage prompting an assurance it would be replaced. I hope so, because these are extraordinary words that demonstrate a compassion of which there can be no higher example.
Originally intended to bring much-needed comfort to those mothers, Ataturk's message now reaches down through the generations to offer solace to their grand- and great granddaughters and sons, nieces and nephews, who come to this place of family legend with a hero in their hearts.
Checklist
GETTING THERE
flies from Auckland to Istanbul, via Doha, with return Economy Class fares
from $1422.
Text 'POPPY' to 4622 to donate $3 to the RSA