Why not get away without going away, at Takapuna Beach, writes Sarah Ell.
Before the Harbour Bridge was built, Takapuna was a holiday destination for city-siders wanting to chill out at the seaside. Today, it's still that - it's just easier to get to. It still has a beautiful beach, plus now there are plenty of shops, a lively Sunday market and more restaurants than you can shake a stick at - plenty to fill up a weekend "away" without having to travel too far from home.
Although I have lived on the North Shore all my life, the idea of having a staycation close to home that involved pampering, dining out, shopping and a night in a hotel was too good to pass up. Handing over the reins of domestic responsibility, we checked in to our weekend bolt-hole at the Spencer on Byron Hotel in central Takapuna.
After enjoying the views from our room, over the beach to Rangitoto and back towards the city, my first stop was the Ikoi Spa, a couple of roads over, where I kicked into relaxation mode with an enzyme spa.
Once inside, cocooned in Japanese-style dark wood with soothing music and flickering candles, the rain outside was quickly forgotten. I was led to the enzyme spa room where basically, I was buried in a steaming pile of naturally heated, soft and fragrant sawdust mixed with rice bran and organic enzymes, while receiving an intense head massage... aaaaaahhhhhh. After showering off and chilling out with some hibiscus tea, it was time for an hour-long fragrant oil massage.
After all this I could have happily gone back to the hotel and slept for the rest of the day, but retail therapy was required. We had a late lunch at Bird on a Wire in funky little laneway development Fortieth & Hurstmere, then wandered the surrounding streets.
The Department Store has New Zealand clothing labels such as Federation and Karen Walker (there's a great little cafe too) as well as there's Superette, Kilt, Coop (Trelise Cooper), Andrea Moore and Huffer. We also found boho delights at Tosca and Salome, groovy exercise gear at Lululemon, gorgeous kids' stuff at Grey and Wild, and another great find, fancy local produce store Gourmet Heaven. And that was without even going into the Shore City Mall.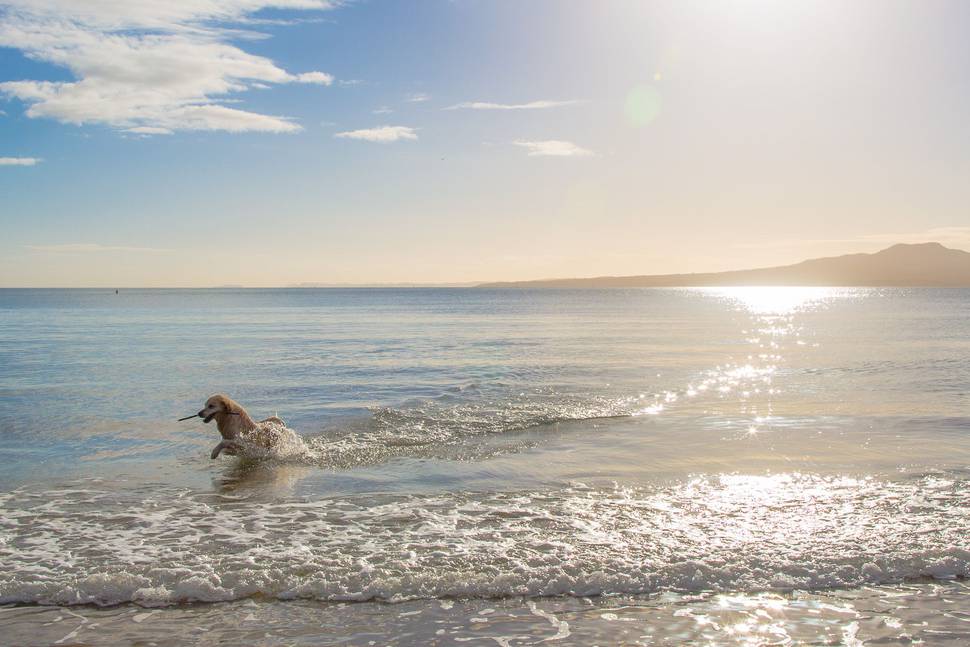 My husband demurred, but I was feeling so holy after my enzyme spa that I dropped into Golden Yogi for a casual vinyasa class. Golden Yogi runs community classes on Saturdays and Sunday in its beautiful, light-filled studio, for a $5 donation, which goes towards funding yoga programmes in prisons.
We had earned a rest, so we enjoyed the view from the hotel until it was time for dinner beachside at Regatta. The strip of restaurants and bars just above the water was buzzing, and we stopped in for a nightcap at The Commons.
The Takapuna Sunday markets start about 6am, but it was just a little bit later that we headed over. As well as beautiful fresh produce, breads and fish, plus handmade baklava and other treats, there was plenty of treasure to flick through and street entertainment, too.
Brunch was back at the beachside strip, this time at Franc's, where we looked out at Rangitoto through the pohutukawa. Then it was time for a walk, checking out some of Auckland's most desirable property, along the shoreside walk around to the equally plutey Milford.
We left it till late in the day to head home because we didn't have much of a drive. We might not have travelled far, but we certainly felt as though we'd had a weekend away.