Expedia's annual Currency Monitor showcases the best value destinations for Kiwis
When you're choosing a destination, it's always a good idea to find out where the Kiwi dollar will go the furthest.
Travel booking website Expedia has released its annual Expedia Currency Monitor, which showcases the best value destinations for Kiwi travellers. The Monitor measures the performance of the New Zealand dollar against major global currencies, as well as the average cost of international flights and accommodation in key destinations.
"The biggest news from analysing our data is that the New Zealand dollar is performing well and flight prices have dropped for many favourite destinations — Kiwis have the world in their hands," Managing Director of Expedia New Zealand, Michael Pearson, says.
"Overall, there are a number of destinations New Zealanders can travel to if they are looking for a better deal and want to get more value for money when they travel."
Read on to discover the best value destinations around the world:
Asia
Travellers looking for a holiday in Asia should consider booking a trip to Japan, the Expedia Currency Monitor suggests. The New Zealand dollar has strengthened 16 per cent agains the yen year-on-year (YOY), while the cost of flights between the countries have decreased by almost 20 per cent YOY.
Kiwis can also find a cheaper deal in Malaysia, where our dollar has appreciated over 12 per cent against the Malaysian ringgit YOY. Accommodation is also well-priced, setting travellers back an average of $120 a night.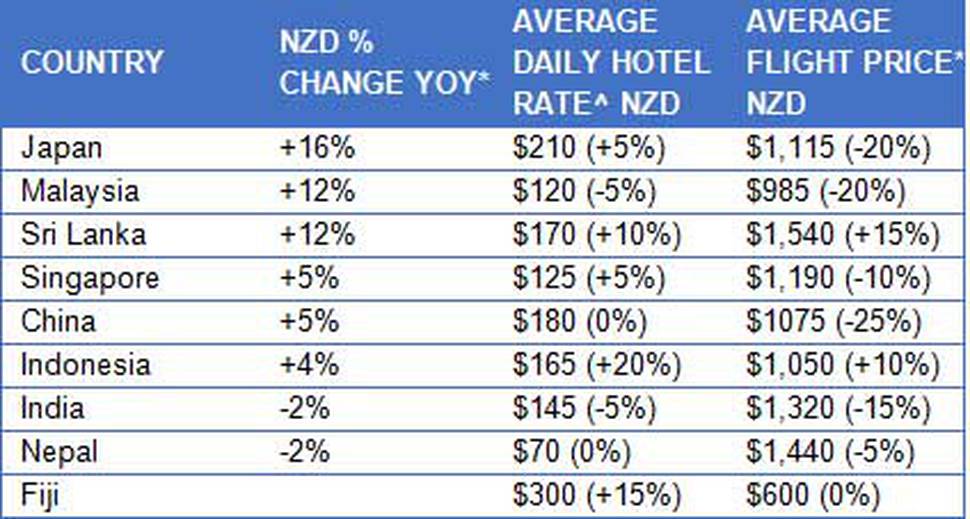 Europe
Thanks to movement in currency, some European destinations are more affordable than others. The New Zealand dollar has gained ground against the British pound (5 per cent YOY) and hotel costs per night have declined 5 per cent, making the UK an appealing option.
For an even better deal, consider Ireland — airfares from New Zealand are down 10 per cent — or Germany and Italy, where flight prices have dropped 15 per cent.
"To get the most out of your European adventure, my hot tips are to consider which airport you fly into. Often you can nab a better deal by flying into alternative hubs," Pearson says.
USA and Canada
The New Zealand dollar has gained 3 per cent against the US and Canadian currencies, however the price of hotels has increased in both locations — with a rise of 5 per cent in the US and 15 per cent in Canada.
South America
While the New Zealand dollar has gained 14 per cent against the Argentine peso, flight prices have increased by 45 per cent, while hotel rates also rose by 15 per cent.
Those looking for better value could consider Colombia, where the New Zealand Dollar has increased by 8 per cent against the Colombian peso and flight prices have decreased by 20 per cent.