Japan's intra and inter-city mode of transport is clean, fast, always on time and so easy to use, writes Greg Rule.
Tokyo railway station - where even the doughnuts are better.
My iced doughnut at La Terre cafe at Tokyo Station was filled with a sweet-potato-like paste and topped with two small green leaves.
It was delicious and almost made up for the watery coffee.
The doughnuts and the rail system in Tokyo are as close to faultless as the Japanese can make them.
If Tokyo's underground and loop system is not the most efficient in the world, I'd like to know which city's is.
As myriad lines lead to scattered sites, it becomes apparent it is easier to navigate the sprawling city from station platforms and underground tracks than through its streets.
The ubiquitous rail maps, a pull-out copy of which is included in the latest Lonely Planet Japan, may look like a game of snakes and ladders gone crazy but it's a simple matter of following the colours and numbers and letters codes to get anywhere in Tokyo in a snap.
The Shibuya fashion district is station Z01 on the mauve Hanzomon Line; the retail, park and temple area of Ueno is G16 on the grey Hibiya Line and the Tsukiji Fish Market is E18 on the pinky-red Oedo Line.
Working out fares is just as easy. The ticket machines have English options, the fares are only a couple of dollars and if your ticket cost doesn't cover your journey price, simply pay the difference with a fare adjustment machine or to the ever-courteous turnstile staff.
This is a country where the warning signs not to jam one's fingers in carriage doors are accompanied by a picture of a worried panda.
But the Tokyo network takes a back seat to Japan's Shinkansen intercity bullet trains and, thanks to JR Group and its Japan Rail Pass, overseas tourists can travel on them for a fraction of the full fare cost.
I used my seven-day rail pass to travel from Tokyo to Kyoto, Osaka, Hiroshima and to the Hakone mountains and lakes district before returning to Tokyo.
I activated the pass at Ueno station where the smiling young staffer, whose excellent English was helped along by 18 months on Australia's Gold Coast, reserved my seats and suggested my route.
Shinkansen on-board crews dress like flight attendants, and so they should. With maximum speeds of 300km/h, the trains look and go like rockets.
Inside, it's all plush. The people next to me have slipped off their shoes and are sipping beers and nibbling nuts. A woman pushing a cart is offering cakes, sweets, coffee and icecream for the journey.
Each time the beige-uniformed conductor leaves a cabin, he turns and solemnly bows (a practice that I'm sure would be much appreciated if it were taken up by New Zealand train staff).
The trains have Western and Japanese-style toilets, vending machines, public phones and smoking rooms. Each seat has a normal and a braille sign noting its row and number.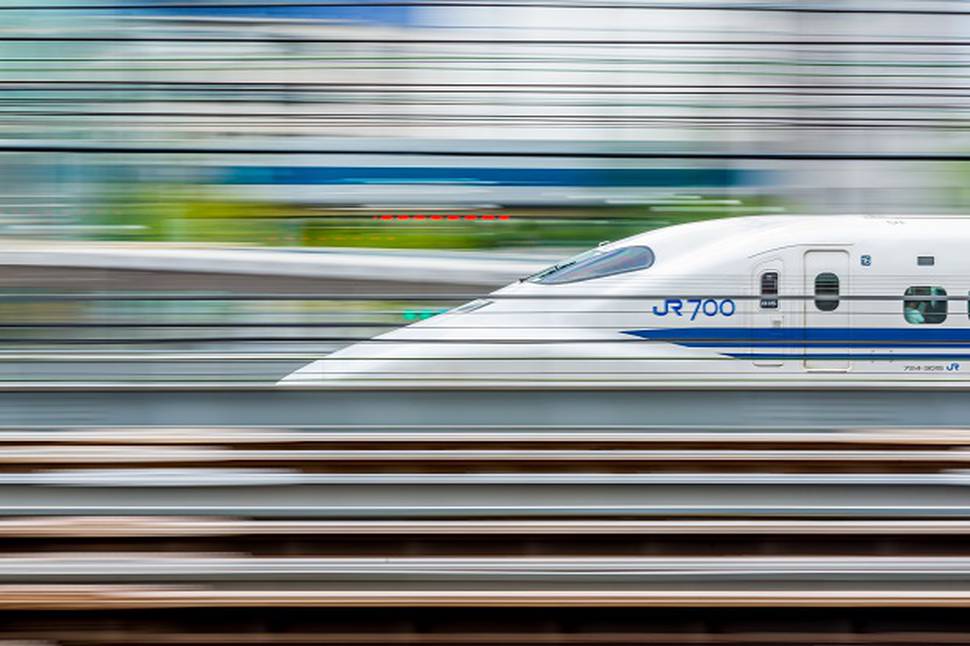 The Shinkansen from Osaka to Hiroshima was like flying first class. Each huge pop-back seat had a wide, individual arm rest, pop-down table, pop-up drink holder and pop-out jacket hook. This is economy class, not the slightly more expensive first class green section.
From Tokyo to Kyoto took about two hours, 45 minutes; from Kyoto to Osaka, about 15 minutes; from Osaka to Hiroshima, one-and-a-half hours, and from Hiroshima to Odawara in the Hakone area behind Tokyo, a bit more than two hours.
Along the journey, I bowed at centuries-old Kyoto temples, was shouted sushi, udon noodles and beer at an izakaya-style restaurant in Osaka by a grinning Japanese gentleman, who did not speak English, and queued with Japanese schoolchildren in Hiroshima to see the watch that stopped at 8.15am, August 6, 1945, when the Enola Gay dropped its atomic payload.
I boarded a bus, train, cable car, ropeway gondola and a boat decked out as a pirate ship in search of a glimpse of Mt Fuji, but alas Fujisan was shrouded in cloud. The Hakone pass, costing about 4400 yen (about $57) allows unlimited use of the local transport for three days. You can pick one up at Odawara Station.
Back in Tokyo, I wandered among the weird fashionistas and outrageous clothes shops of Harajuku district, confident that around every corner there was a delicious doughnut and a clean, fast and always on-time train.
CHECKLIST
Getting there
Air New Zealand has Auckland to Tokyo on sale until May 15, with one way Economy Class fares from $609, for travel between September 1-November 30.
Accommodation
The Gate Hotel in Asakusa is modern and stylish with train stations nearby. Just across the road is the Senso-ji, a beautiful Buddhist temple.

Details
Travel on the Japanese metropolitan train system is cheap, with tickets starting at $1.70.
Good to great meals can be found for less than $13.
Japan Rail Pass
Japan Rail Passes are available only to foreigners visiting Japan and must be purchased outside Japan.
The passes are valid for seven, 14 or 21 days. The cost of adult economy-class passes for travel throughout the country are, at the time of publication, $366 for seven days, $583 for 14 days and $746 for 21 days.
They can be bought online at japantravel.com.
- AAP