Liz French ticks Raffles Singapore off her bucket list.
Why Raffles?
I've always had a fascination with Raffles, its place in colonial history and its literary associations.
Location: One of the closer hotels to Changi airport and a little outside the tourist traps. The real Singapore of street food and Chinatown was not walkable but that bloke with the "tuk-tuk" outside the side door would have taken us anywhere we'd wanted to go.
Atmosphere: After 130 years Raffles still exudes the soothing blend of traditional luxury in classic tropical colonial design, retaining the romance of travel.
Check in experience: They seemed to know exactly who we were, which was good as after flying from London via Frankfurt we weren't sure ourselves.
Nothing so crass as standing at the front desk. We were settled in wing chairs in the lofty atrium with the Tiffin Room on one side and the Writers' Bar on the other and the paper work brought to us.
Price: A two-night deal paid in advance gave us 20 per cent discount. While $762.50 per night is way above my usual hotel budget, the experience well exceeded the usual as well.
Room: Ground floor Garden Room suite. Its ample 67m2 encompassed foyer with table and couch fronting shuttered and curtained entrance to main bedroom with acres of bed, teak furniture, a "parlour" area with big comfy chairs, backed by a luxurious bathroom. Lots of lamps as little natural light in the room.
Bed: Massive, king plus with snowy white high thread count sheets, good pillows, slippers on a linen mat, bed turned down each evening. A card appeared on the pillow each night relating a fascinating personal story from Raffles' archives.
Bathroom: Opulently luxurious, green marble tiled. A dressing room had dual mirrors and hand basins, even scales and a full-length mirror; the adjoining inner bathroom featured full bath, separate shower and loads of towels which seemed to be changed every time we touched them. Every need was anticipated in terms of toiletries. Robes were of the palest green.
Wi-Fi: "Good," said the partner expecting it to be exactly that.
Food and Beverage: Complementary fruit in the room and comprehensive mini bar with beautiful cutlery and crockery. We arrived late on a Friday night and headed straight for the fabled Long Bar where we drank beer, had a snack and threw peanut shells (bags of peanuts provided) on the floor. In contrast to the serenity of the residential hotel, this bar was fair heaving. We meant to sample the beautiful breakfast in the Tiffin Room but slept too late. Raffles Courtyard was great for al fresco drinks and serves platters and pizzas. Raffles Grill on the second floor seemed more hushed and serious.
The Singapore Sling: Originally created in 1915 to allow ladies to enjoy alcohol in public... sorry but the ingredients seemed so sickly sweet that I was not prepared to risk the investment. Beer tastes best in Asia.
Dress code: Though the dress code I pre-checked did not encourage shorts and jandals we found that urban versions of such were perfectly acceptable.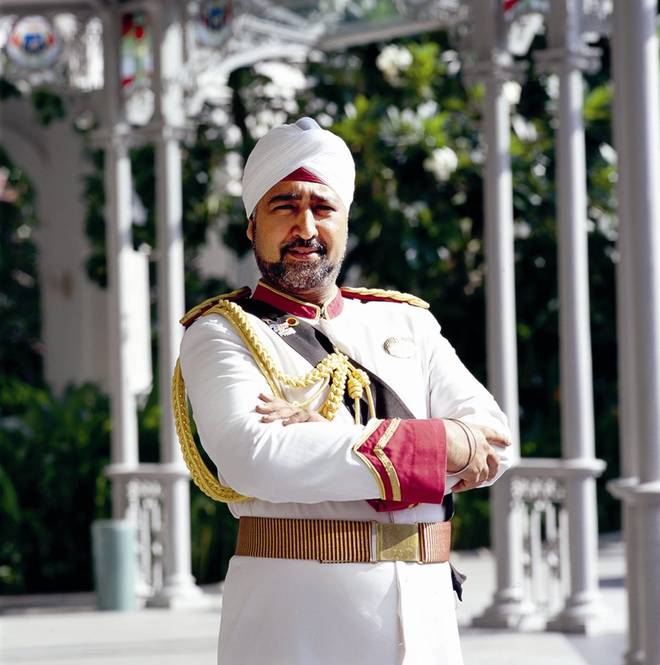 Exercise facilities:
If you must there is a gym beside the secluded rooftop pool and bar where we lounged till it got too hot. By the time the pool attendant had spread towels on our loungers (he also delivered cold flannels and skewered fruit) and I had used another as my swim towel then dried myself off in the superbly appointed changing rooms, I'd gone through four towels in less than an hour!
Check out: We had to leave at dawn to catch a flight so it was very reassuring to have reception phone twice to wake us up, to have them collect our bag one minute before they said they would and have our taxi waiting ahead of time.
Good: Loved the huge covered marble or teak floored verandas to access rooms and wide stairs instead of the typical hotel corridors and elevators (though there are lifts to upper floors). Lots of places to retreat and indulge in feeling special.
Outside every room a set of rattan chairs and table invited us to sit and enjoy the ambient air and lush tropical landscaping.
Bad: Neighbours smoking outside their room spoilt the atmosphere when the breeze was wafting in our direction. And guests along from us had male smalls draped over the chairs to dry. Not the "done thing" at Raffles I felt.
Summing up: A haven in a hectic world.
NB: Raffles is celebrating its 130th anniversary and offering excellent deals, perhaps also because the hotel is undergoing gradual restoration. Some areas may be closed, though minimal disruption is planned. It will culminate mid-2018 with a grand reopening.