At the bottom of the world, where the sights are unique, the wilderness is becoming busier, writes Sarah Marshall.
At a time when arms industries and hopeless wars wage over resources, it's refreshing to be in a place that belongs to no one.
The world's seventh continent, a frozen desert loaded with hostile superlatives, has no army, no government and no land up for plunder.
Holding our planet in the palm of its icy hand, Antarctica influences climate and weather patterns worldwide. Clearly, there's no question who's boss.
But attempts are under way to tame the wild beast — or at least make it more accessible.
My journey to the fabled land that's claimed the lives of so many brave explorers, takes just two hours — a fraction of the time it took Scott or Amundsen.
One Ocean Expeditions are one of a handful of operators offering tourists the option to fly to King George Island, a research base 120km off the coast of the Antarctic Peninsula, thus avoiding a two-day voyage across the tempestuous Drake Passage.
Weather permitting, it's a breeze — although that doesn't mean our 11-night voyage will be a leisurely, diluted affair.
Getting off the beaten track sounds like a tautology in a place as remote as Antarctica, but the truth is - wilderness is getting busier.
IAATO, the body monitoring tourism in Antarctica, estimates 43,885 tourists for the 2016/17 season, a 12 per cent rise on the previous year. Currently, 52 vessels operate, although that number too is set to increase.
Our aim is to explore the western side of the peninsula, tackling the unpredictable Weddell Sea, where fewer vessels go. To ease ourselves into the adventure, we first skirt the eastern edge of the continent, following a classic route.
"Would you like to go to paradise?" asks our expedition leader, Aaron, rhetorically, as we enter the appropriately named bay.
Beneath a beaming sun, snow-coated sculptures melt like candle wax until gossamer smooth, and glistening slopes framing the inlet are a swirl of kaleidoscopic refractions.
For the past few weeks, this "Antarctic Riviera" has been drenched in sunshine; a pattern consistent with the past decade, according to one naturalist on board.
Perhaps it's too crude a deduction to interpret it as climate change, but there are signs to suggest disturbed equilibrium. Long chains of salps (pea-shaped organisms encased in a gelatinous body) ribbon below the surface; their presence indicates a rise in water temperature and dictates a crash in the population of krill - the bedrock of all marine life.
All, it would seem, is not well in paradise.
For now, though, there's still a sufficient supply of the 5cm semi-transparent crustaceans to feed creatures 320 times their size.
Weaving between our zodiacs and trails of brash ice in the inky black waters of Orne Harbour, humpbacks lunge feed at such close proximity, I gulp and gag at blasts of their fishy, putrid breath.
Arching above us on the Antarctic continent proper is a colony of rock scrambling chinstrap penguins.
Reaching them requires a steep, sweaty climb through thick snow. Metres away, my calf-high companions make it look effortlessly easy as they waddle purposefully along hewn out "penguin highways", returning from a fishing trip, to feed their newborn chicks.
Yet, eking out an existence in this mercurial environment is thwarted with rigours.
Nowhere is this desolation more felt than at Deception Island, the caldera of an active volcano in the South Shetland Island archipelago, at the tip of the Peninsula.
The last eruption occurred in 1970, at Telefon Bay, where a steep-sided valley rips through the colour-drained basalt landscape, stained white with zebra stripes of ice.
A listless crabeater seal languishes at the bottom, the only sign of any recent life. Some distance from the water, his unfortunate presence leaves us baffled, and as rage-swollen black clouds belligerently hurl spears of hail in our direction, we retreat to avoid a similar fate.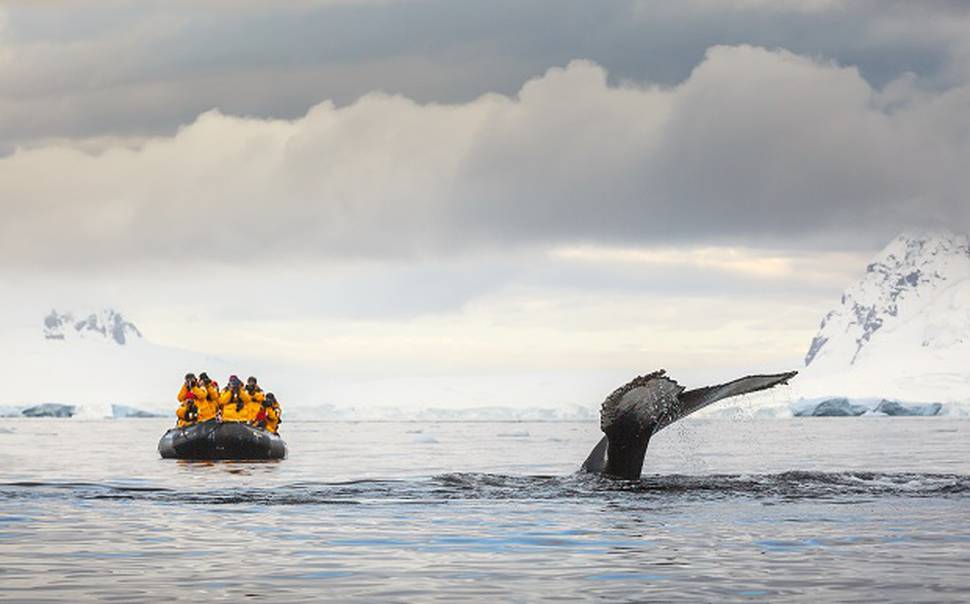 Shallow depths and submerged boulders challenge our entry into the astounding Gourdin Island, where 14,000 pairs of Disney-eyed Adelie penguins nest alongside several hundred gentoos on scree slopes slipping into turquoise waters.
It's January, and most chicks are newborn; some eggs are yet to hatch. Attentive parents corkscrew their necks before dexterously performing a nest changeover, and hungry youngsters guzzle drools of regurgitated krill.
I'm especially taken by the pear-shaped gentoo babies, dragging their bellies along the ground like freeloaders ruined by a bottomless buffet.
Comedy capers unfold all around.
All penguins have an insatiable instinct to steal stones, always striving for nest-building perfection, but one kleptomaniac hasn't quite got the idea; repeatedly picking up nothing, he carries it from one place to another, creating an ever-increasing empty pile.
Our voyage, incorporating a visit to the Falkland Islands, offers a chance to see seven species of penguin — but one type was always going to be an outside bet.
A colony of emperors lives south of Snow Hill Island in the Weddell Sea, but impenetrable ice scuppers our hopes of exploring the peninsula's tricky west coast.
Instead, we drift through the Antarctic Sound, passing a graveyard of sky-scraping tabular icebergs in solemn procession as they gradually turn and tumble, becoming part of the swelling ocean once again.
Reaching the Falklands requires skirting the Drake Passage for a day or two, although our solid Russian research vessel can easily handle boisterous waves.
But I enjoy every sharp lick of the ocean's fury.
In the Falklands, amid tussocks, honeysuckle and lupins, we encounter more avian beauties, our eyes torn between sea and sky.
On West Point, these unlikely neighbours carry out parenting duties, and at Saunders Island, on hillsides raped by over-grazing, predatory caracaras rip young Magellanic penguins from their burrows. It's a sad loss, but one which won't dent the population.
According to members of American science and educational foundation Oceanites, who have been conducting a penguin census during our voyage, we've clocked up a whopping 1,208,664 birds. But not one single emperor.
Next time.
Besides, in a shrinking world, it's reassuring to know some doors remain closed. We'll just have to imagine what greatness lies beyond.
CHECKLIST
Getting there: Ponant's luxury ship Le Lyrial is cruising from Cape Horn to Cape of Good Hope from February 25 to March 29, 2018, for 21 nights. The itinerary visits the South Atlantic islands, the Falkland Islands and South Georgia.
- AAP