Swimming with beluga whales and watching polar bears in Canada's Hudson Bay entrances Sarah Marshall.
'We all live in a yellow submarine, a yellow submarine, a yellow submarine ... "
As I gurgle the Beatles' classic through a snorkel, I wonder what the Fab Four would make of their lyrics being used to attract the attention of beluga whales.
Face down, with my legs looped through a long rope tied to a Zodiac boat, I rattle through a repertoire of cetacean-inspired songs, as I'm dragged like bait along the Churchill River.
Licence To Krill; Ba-leen On Me; He Ain't Heavy, He's My Blubber — bad puns are at least a mild distraction from the numbing 5C water temperature.
Every year, from June until September, 59,000 beluga whales congregate in Canada's Hudson Bay to feed on capelin fish; the world's largest gathering of the whale species.
Several operators have realised the enormous potential for tourism and word is slowly spreading about the range of beluga-related activities on offer.
Dressed in dry suits for thermal insulation, we head out at high tide, when water from the Hudson Bay supposedly makes the river clearer.
I hear them first, a high-pitched clicking sound, as if the dial has suddenly slipped on to Radio Whale.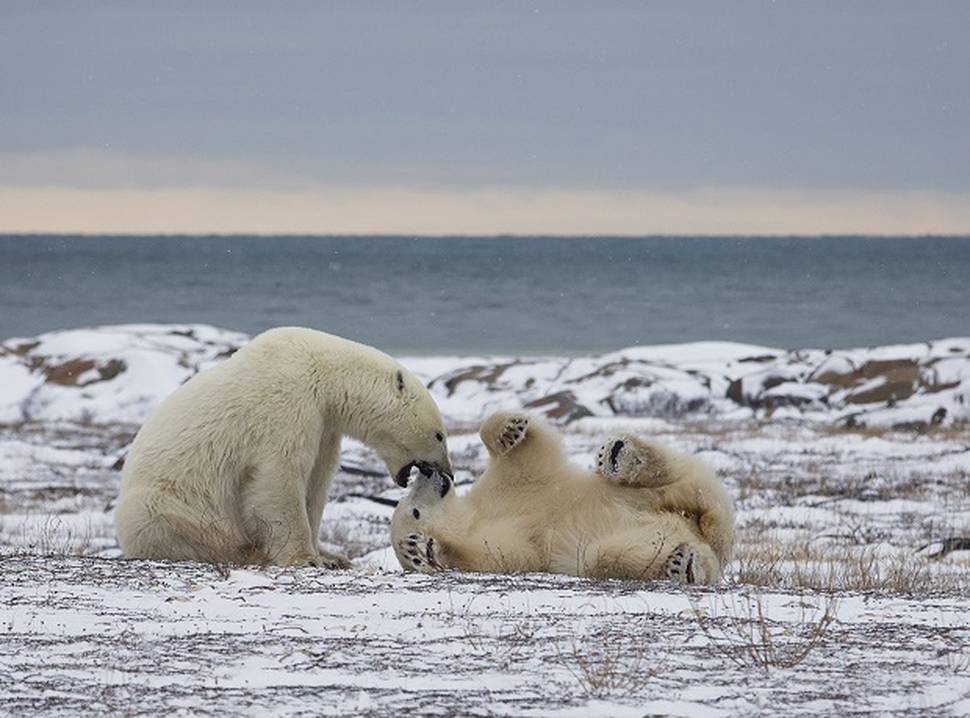 White shapes appear through the murky, tea-coloured water, like ghostly apparitions diving in and out of focus. They soar underneath me, flipping over to get a better view and even twist their necks, before vanishing in an explosion of bubbles.
Hudson Bay's gateway town, Churchill, is best known as the Canadian Arctic's polar bear capital, where hundreds of marine mammals gather on the frozen freshwater in September. A two-and-a-half-day train journey across barren prairies from Manitoba's capital Winnipeg (or a two-hour flight), it sits at the end of the track, with only wilderness beyond.
Once a thriving port and military base, this frontier town has slowly been abandoned.
Since the 1970s, when urban myth suggests an entrepreneur started polar bear tourism by ferrying people around on a recliner chair strapped to the back of a truck, Churchill has become a bit of a circus, a victim of its own popularity.
But in summer, it's quieter — yet there's still so much to see. Clusters of chamomile flowers and microscopic orchids flourish from every possible rocky crag.
Guide Wally Daudrich came here in 1980 and opened his cabin, Lazy Bear Lodge, five years later. It is made with fire kill wood (leftovers from trees destroyed by forest fires) and reclaimed items.
Guests, like me, can book snorkelling or kayaking trips depending on the tides, with re-arrangements rapidly made if a storm draws in.
Heavy fog, though, isn't enough to deter us from an early-morning kayak with the belugas. Pale humps bob in the water like the white crests of waves. Watery shadows appear alongside me, and suddenly I glide effortlessly, as three belugas join forces to push me from the rear. I prefer to believe the whales are trying to help me rather than capsize my kayak, as one cynic suggests.
In reality, little is understood about beluga behaviour.
"Being such a common species, research work has always been deprioritised," says Stephen Petersen, head of the International Polar Bear Conservation Centre in Winnipeg.
At present, there are no official guidelines regarding the conduct of beluga tourism — although there have been murmurings of introducing a minimum-distance rule — but Stephen believes current visitor levels are low enough not to have any impact.
Much more is known about the Churchill polar bears, who are increasingly sticking around on land for the summer months.
Wally has built his own boat, the Sandpiper, to look for bears at Hubbard Point, an area otherwise only reached by helicopter. But many of the apex predators come closer to the town (which lies on their migratory path north), as I discover on a stroll along the beach.
Distracted by waves pummelling the smooth quartzite rocks unique to this coastline, I fail to notice the mother and two cubs a heart-pounding, pants-wetting 50 metres away from me. Fortunately, I spin around to see three bulbous bottoms heading in the opposite direction.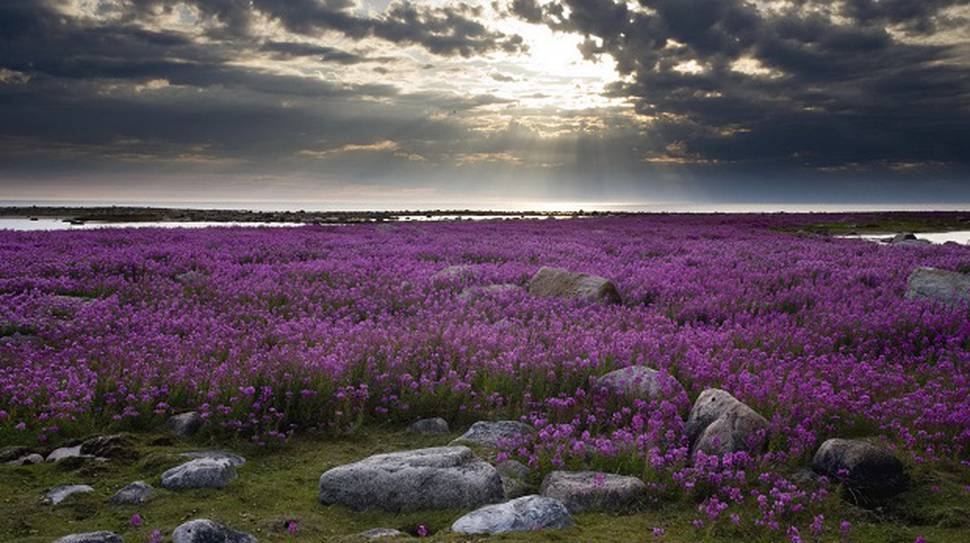 Within seconds, the Polar Bear Alert Team has arrived, firing blanks to scare the bears away. In summer, polar bears do little more than laze and languish, trying to conserve vital energy in a state of semi-hibernation.
Eager to spend more time with Churchill's stupefied outlaws, I enlist the help of Jen and Gerald from Bluesky Bed & Sled, a couple with an endless love of wildlife. With long, wiry hair, a handlebar moustache and a rifle slung over his shoulder, Gerald is well equipped to handle any potential bear confrontations.
We jump on a quad bike and hurtle across the springy tundra, through tufts of purple fireweed now coming into bloom. Soon we find a bear polishing off the remains of a whale, while a bald eagle hovers, hoping for scraps. Further along the beach, where boulders glow orange with lichen, another ursus maritimus crouches in the sea surrounded by crashing waves.
We quietly sit at a safe distance and an afternoon spent sunbathing with polar bears turns out to be unexpected bliss.
CHECKLIST
Getting there: Air NZ flies direct to Vancouver, with connections to Churchill via Winnipeg. Book before March 6 and get $500 off return Economy Class and $1000 off return Premium and Business fares.
- AAP