Siena Yates unlocks the secrets of an untouched island.
Between two towering slabs of rock, a pool of water ebbs and flows, and the only sounds are water on rock and your breath in the air. It feels as though you're the first to discover such a place.
The Matapa Chasm is a popular spot but you can still go there and have it entirely to yourself, and that quiet echo, that feeling of moving with the ocean but floating in an enclosed space - it's magic.
Everything in Niue feels like that; like a secret, which is what makes it so hard to write about.
It's almost tempting to write about how awful the island is just so people won't rush there in hordes and ruin the secret, because the beauty of Niue is how untouched it is.
It is free of crime, homelessness and unemployment and, as it so proudly announced last October, national debt. I was warned that I could leave my car unlocked but not to leave the keys in the ignition - not because someone would steal the car, but because cheeky local kids might hide them as a joke.
Driving in Niue, almost everyone who passes by will wave out, and the driving itself is what I imagine driving through Jurassic Park is like.
The narrow, bumpy road is flanked by bush and tangled vines criss-cross an archway overhead.
Shops and restaurants are often empty and waiting for customers, hot-spots can seem deserted, major centres like the airport feel like rural school halls, there is no nightlife to speak of, Wi-Fi is hard to come by and when you do get it, it's limited.
Niue is not where you go to shop, take selfies, lounge on beaches, and visit tourist attractions. It's where you go to unplug, unwind, reconnect with nature, explore and refresh your perspective, and if you let it, the island will feel like home within hours.
After landing, I drove my rental car to the Scenic Matavai Resort. It's the biggest hotel on the island and has all the usual facilities, including a restaurant, pools, pool bar, entertainment and events.
I was invited to welcome drinks and met a local business woman called Saluma who, within minutes, had offered me a ride into town to see the opening of Niukele, the ukulele festival I was there to attend.
Within that 10-minute drive, she'd invited me to be a guest at her village's Peniamina Day - which celebrates the introduction of Christianity to the island.
She hosted me at her cafe (Humu, in Mutalau), took me with her to the church service and made sure I took a massive plate of food home from the feast that followed. She even came to see me off at the airport when I left a few days later. It was as though she was family.
And she wasn't the only one. I went on a snorkelling trip with Niue Dive (to which there's a handy shortcut from the Matavai) and it was just me and two local families who were originally from Fiji. They instantly welcomed me into the fold, getting to know me as we rode on the back of a pickup to the boat ramp, making jokes about how I ought to watch out for sharks and sea snakes. When a bout of awful seasickness hit, they put their arms around me and made sure I was alright.
Again, if you're open to it, everywhere in Niue can feel like home.
But by far the best things about Niue are the swimming spots.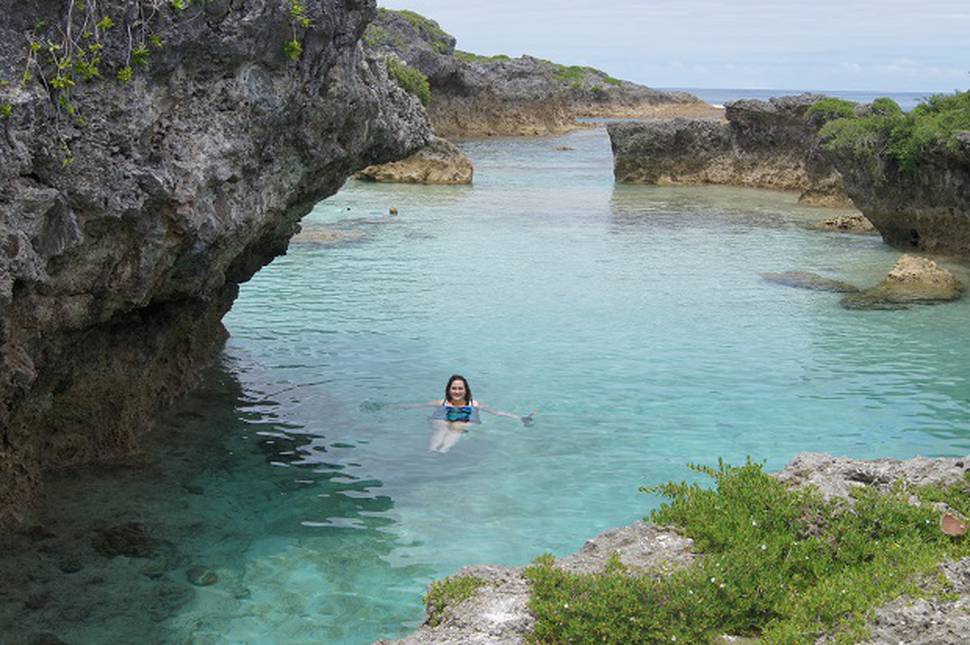 Because the island is a raised coral atoll there are no real beaches, rivers or lakes, which means the water is some of the clearest in the world, pooling in coves and caves instead of lapping at white sand.
There are small beaches around but the best swimming spots involve a walk down the sea tracks, some of which can take an hour or two and are a bit of a mission, but are still delightful.
Essentially bush tracks surrounded by trees, vines, insects, lizards, sounds and smells, they're so far from the road it can feel like walking in a dream. That said, OSH hasn't made it to Niue yet and things can get a bit rocky at times, but the walk is worth it.
You can snorkel in crystal clear water and float in calm, warm pools and, as at the Matapa Chasm, it's not outlandish to have the place entirely to yourself.
Snorkelling further out to sea is an experience not to be missed. The clarity of the water means you can see to the bottom, and if you float along the surface it's almost like flying, in a surreal and breathtaking way.
After a hard day's exploring, swimming and dream-walking, Niue has some good dining options, including Japanese restaurant Kai Ika and the Matavai's Dolphin Restaurant which serves up a killer spread - especially the seafood.
But on a Sunday, the only place to be is the Washaway Cafe in Avatele. It's open only on Sundays and it draws a massive crowd, particularly as it's right by Avatele beach.
Miraculously, it still runs on an honour system where customers keep track of their own food and drink orders in a book and settle the bill when they're done. Here, there were some of the best burgers on the island, well-priced drinks, and a host of familiar faces.
Niue is not for everyone - that much was almost immediately obvious. But if you want to experience simple, untouched island life, explore places that feel like no one has discovered them before you, meet a community that treats strangers like family, and escape the real world, Niue is the place to be.

Fact box
• Niue is 2400km northeast of New Zealand, across the International Date Line, meaning you'll arrive the day before you left.
• It's believed Niue has been inhabited for more than 1000 years, settled by migrations from Samoa, Tonga and Pukapuka in the Cook Islands.
• Captain James Cook sighted Niue in 1774 but locals refused to let him land on three attempts. Cook nicknamed Niue "Savage Island".
• Niue was annexed to New Zealand in 1901. It gained self-governance in 1974.
• Niueans are citizens of New Zealand.
• Niue's population is about 1600. There are more Niueans living in New Zealand than in Niue itself.
• Average temperatures in winter (April to November) range from 20-28 C.
• Niue's currency is NZ dollars, but remember, there are no ATMs on the island, so take credit cards and cash.
Getting there
Air New Zealand flies once a week to Niue, increasing to two flights a week from April to October. One-way Seat fares start from $346.
Online: see niueisland.com