Justine Tyerman embraces her suitcase and comes close to hugging a strange man at the airport in Marrakesh ...
Ordinary occurrences can assume extraordinary qualities when you have flown 30 hours across the world. Chuck in a gut-churning airline ticketing drama in a foreign country and a lathering of 40-degree heat and simple things that work out according to plan suddenly become quite exquisite.
When my bright purple suitcase with its lime green strap popped through the curtain and onto the baggage carousel at Marrakesh Airport, it was such a welcome sight, tears trickled down my hot, tired cheeks and I hugged dear Sam ('... sonite') much to the puzzlement of the other more dignified travellers.
After being told there was no record of my booking from Casablanca to Marrakesh despite all my documentation to the contrary and traipsing around the stifling airport for two hours trying to resolve the problem, I ended up purchasing another ticket for the flight. I'd doubted my trusty travelling companion would be successfully transferred from one airline to the next, however there he was in Marrakesh.
The next heady thrill was seeing my name on a piece of cardboard. I've never been hugely enamoured of my moniker. It's quite a mouthful to pronounce and often shortened because of that, but it was the most beautiful thing to behold as I cleared customs in Marrakesh. Having already embraced my case, I just stopped short of hugging Lyazid who had been waiting there patiently to collect me, holding up the large card with Ms Justine Tyerman on it.
Never underestimate the sheer joy of a transfer from airport to hotel in a seriously foreign country, especially when one is in that twilight zombie zone of the sleep-deprived. It's one of the most valuable aspects of travelling on an organised tour with an experienced travel company, which — for the record — was not responsible for my ticketing drama.
Checking-in at the luxurious five-star Sofitel Marrakesh was a dream. Smart men in traditional Moroccan garb opened doors to an oasis of cool and whisked Sam up to my room, which had a large balcony overlooking a gorgeous pool. The room was enormous, fit for royalty, with a huge bed, lavish light fittings, stained glass windows and a marble bathroom. A welcome platter of fresh fruit and nuts also awaited me.
On arrival, I normally follow a strict routine, unpacking the basics, connecting to Wi-Fi and recharging my tech tools, but I ditched all that, rummaged for my togs and headed straight for the massive pool complex encircled by loungers of every shape and size.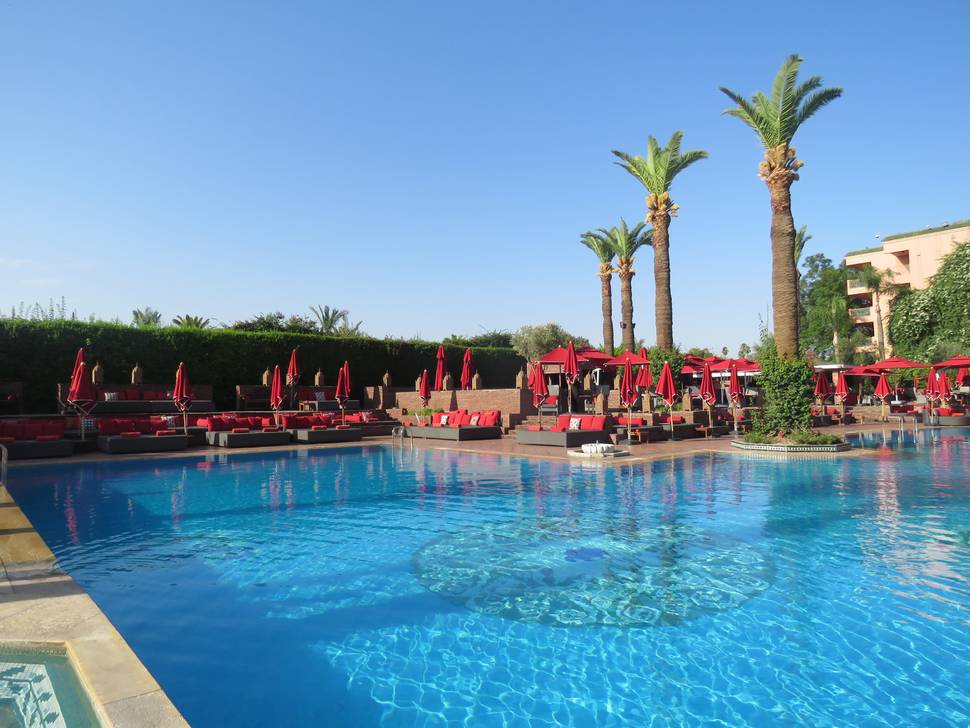 After immersing myself to my nose and dissolving away the trials of travel, I opted for a snooze in a hammock rather than one of the curtained four-poster outside beds. A charming white-clad pool attendant went to great pains to adjust a huge cantilevered umbrella to shade me to exactly the desired degree. Over the next few days, I was mightily impressed by Moroccan hospitality. The staff at the Sofitel seemed to anticipate all my needs and wants before I had even formulated them.

When I finally made it back to my room in the relative 38-degree cool of the evening, the bed had been turned down, soft pillows plumped up, curtains drawn and a heart-shaped ring of rose petals arranged on the foot of my bed. Thank you, I whispered out loud, tearing up again.
I caught up on my sleep in one hit and was bright-eyed and ready to start my Ancient Kingdoms tour with the Innovative Travel Company the next day.
And that's when the truly extraordinary began.
Among many highlights of my eight days in Morocco was the cooking school at La Maison Arabe where a traditional Moroccan chef or 'dada', the delightful Amina, taught us how to prepare a chicken tagine and salads.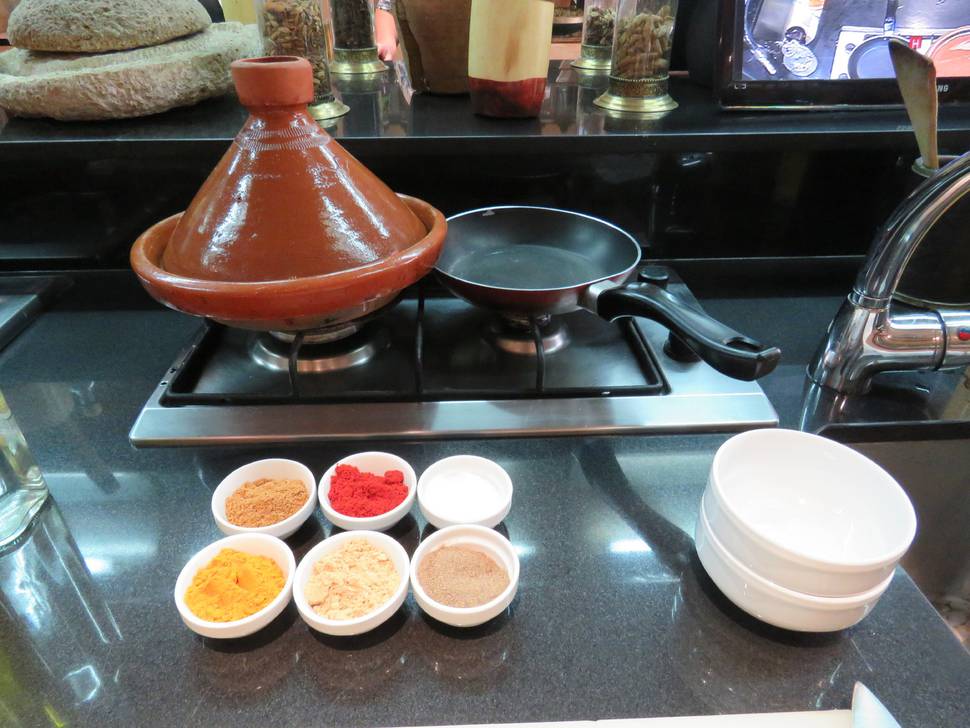 We rode camels up sharp red ridges in the Merzouga Desert on the fringe of the Sahara to watch a dazzling sunset and dine at a luxury camp in the sand dunes. Sitting around a campfire under a canopy of bright stars, we were entertained by musicians and dancers from Senegal and Mali while our hosts served us a feast of Moroccan salads, tagine, couscous and platters of fresh fruit.
The maze of souks in the narrow winding alleyways of the ancient medinas in Marrakesh and Fes sell everything from food to home-wares. Many who live and work there never venture beyond their own neighbourhood, our guide said. Once you grasped the protocols of the haggling process which ended up with prices about a half to a third of the original figure, there were great bargains in handbags, shoes, fabrics, ceramics, jewellery and Moroccan clothing.
Marrakesh's vibrant Djemaa el Fna Square, a UNESCO World Heritage site, comes alive at dusk. The square is transformed into a dazzling outdoor entertainment arena full of exotic performing animals, dancers from Mali and Senegal, water-sellers wearing traditional costumes with elaborate fringed hats, and hundreds of food stalls selling Moroccan and international cuisine.
Travelling over the High Atlas Mountains reminded me of the craggy, barren Central Otago landscape but on a far grander scale. The highest point, the Col du Tichka (2260m) is scorching hot in mid-summer but is metres deep in snow in mid-winter.
Ait-Ben-Haddou, a grand fortified city along the former caravan route between the Sahara and Marrakesh, is another UNESCO World Heritage site. Located in the foothills of the High Atlas Mountains in the province of Ouarzazate, it's a labyrinth of kasbahs (fortresses) and ksars (castles) built into a hillside above a beautiful river valley.
A stunning example of earthen clay architecture, the site has become famous as a film set for such movies as Jesus of Nazareth, The Jewel of the Nile, The Mummy, Gladiator, Alexander and the television series Game of Thrones.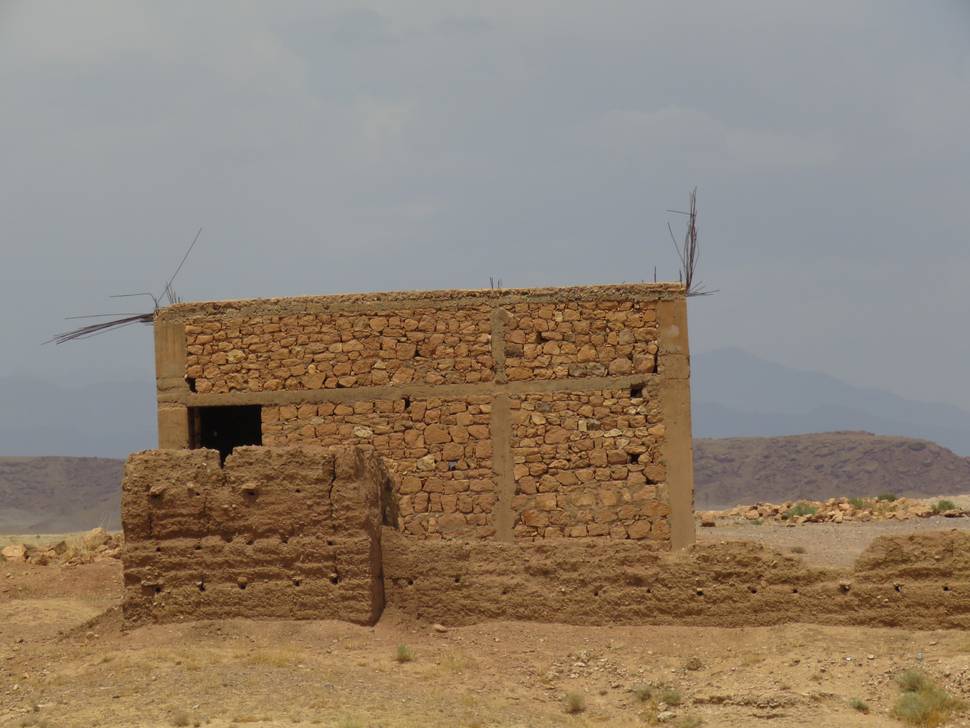 The adobe construction acts as a natural air-conditioner, keeping the dwellings cool in the summer and warm in the winter. A handful of families still inhabit the better-preserved parts of the complex.
I loved the colour, shapes and textures of the adobe buildings constructed from the earth on which they stand. The kasbahs, made up of squares, rectangles and castle-like towers, sit so comfortably in the landscape, they are almost invisible.
Our guide Nabil told us about the ancient city of Sijilmasa at the northern edge of the Sahara Desert. Founded in 757 AD, at its peak it was inhabited by 100,000 people, but it had since all but disappeared, absorbed back into the earth.
The Todra Gorge is a deep canyon in the High Atlas Mountains, 160m deep and only 10m wide in places, cut by millions of years of river erosion. I waded knee deep into the river, soaked my neck scarf in the cool, clear water and gazed up in wonder at the vertical walls towering above me on both sides.
At Volubilis, we saw the well-preserved remains of a Roman city constructed from the 3rd century BC. The magnificent mosaic floors are still intact.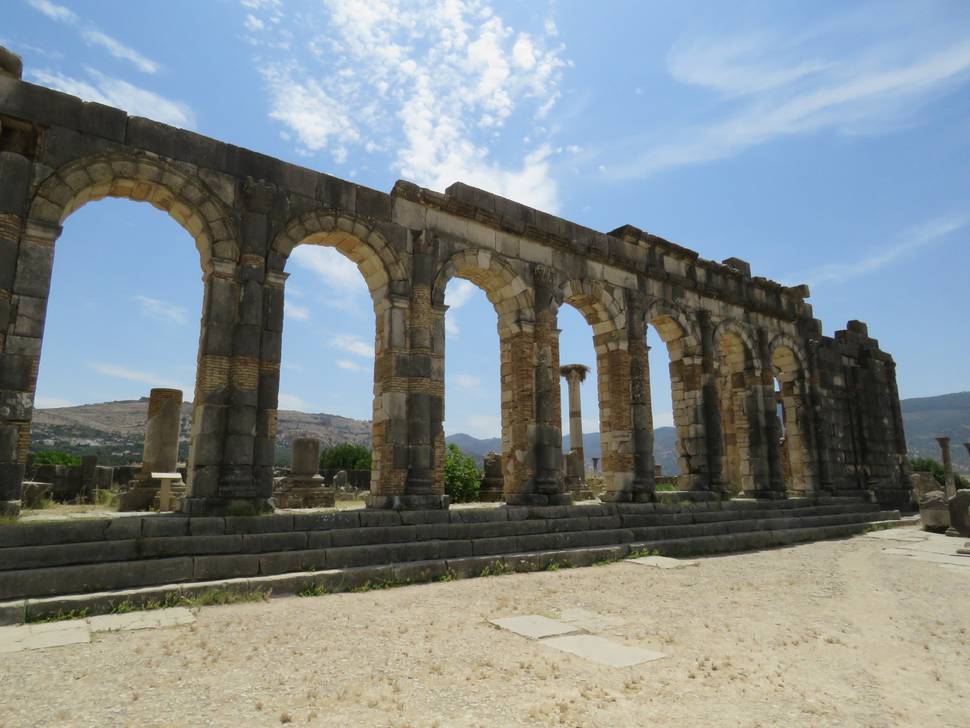 Morocco is a land of extraordinary contrasts. In the valleys of the Atlas Mountains, we saw nomadic Bedouin tribesmen taking refuge from the heat of the Sahara, living as they had done for centuries in their distinctive black-roofed tents with their herds of goats and donkeys grazing nearby. Barely an hour later we were exploring the modern ski resort of Ifrane modelled on a Swiss Alpine village. In the town centre, there's a much-photographed statue of the Atlas or Barbary lion that used to roam the surrounding forests, but now number only four in a zoo.
We came across barriers to protect the road against snow and further on similar structures to protect against sand; modern trucks mingling with donkey-drawn carts loaded sky-high; vast empty stone or "reg" deserts and the verdant oases of the Ziz River Valley with their lush date palms; the cedars of the mid-Atlas Mountains, home to wild boars, gazelles and Berber monkeys from Gibraltar, and the silver-grey surf of the Atlantic Ocean.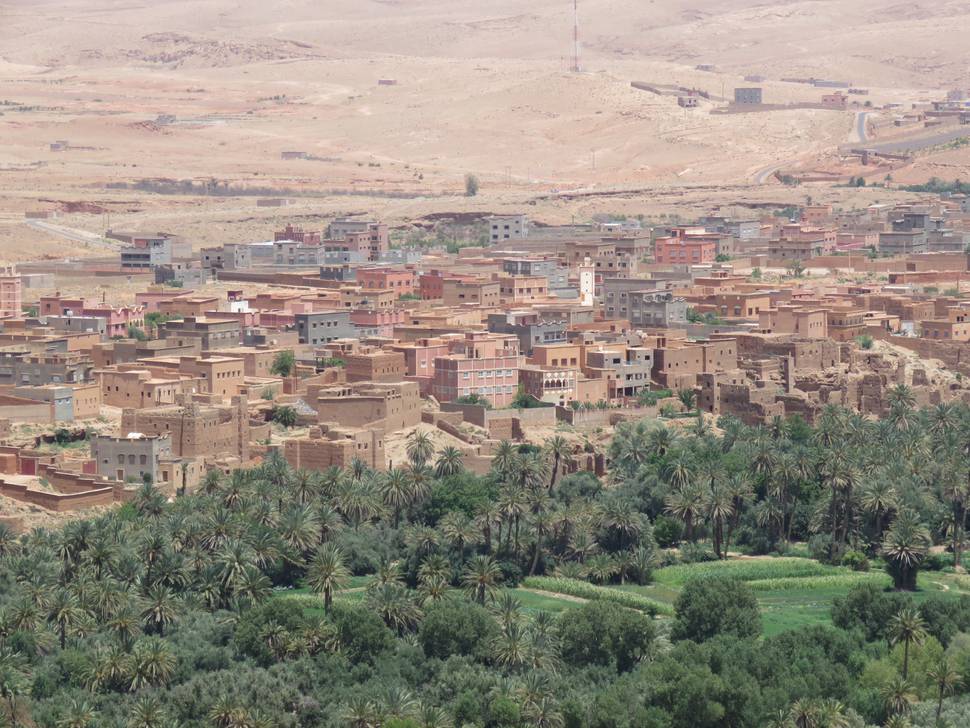 There was ample opportunity to buy Moroccan treasures along the way. We visited Berber carpet houses in Tinghir, leather, ceramics and brassware workshops in Fes, an argan oil shop in the Atlas Mountains, and a stall selling 400 million-year-old ammonite fossils in Erfoud on the fringe of the Sahara.
The thousand-year-old Chouara Tannery is an iconic landmark in Fes. The tannery processes cow, sheep, goat and camel hide using methods largely unchanged since medieval times. We watched from a balcony above as men, waist deep in dye, tended to the hides in dozens of stone tubs. The bright pink babouches (leather slippers) I bought at Chouara are among my most treasured Moroccan mementos.
Our accommodation was a perfect balance of sophisticated, modern five-star establishments in the large cities like Marrakesh, Fes and Casablanca and traditional riads and kasbahs in the smaller settlements.
The eight days travelling in a wide arc from Marrakesh to Casablanca passed smoothly, thanks to the efforts of the well-oiled team behind the scenes.
Morocco is a country where it pays to travel with experienced, trustworthy guides who know the language, the people and the customs, and how to find their way around in the medinas and the labyrinth of souks where there are no maps or street names and visitors can and do get hopelessly lost.
IF YOU GO
Join a tour: Christchurch-based Innovative Travel Company are specialists in designing group and private tours in Morocco to cater to individual tastes and budgets.
Justine Tyerman travelled courtesy of Innovative Travel Company and flew Emirates from Auckland to Casablanca.