A ship that will be in Fiordland this summer is down from Norway's own version, writes Lynley Bilby.
The blood-curdling cries shatter the early morning peace.
My heart races; I immediately jump to worst-case scenario. I have just finished a lavish breakfast on the balcony of my stateroom taking in the stunning views as our cruise ship turns on a dime and berths effortlessly at a small outpost in one of Norway's famous fjords.
With the grim prospect learning someone has met with a terrible fate I make my way to the gangplank to find my imagination has gone into overdrive.
The frightening commotion is far from sinister; it's simply an enthusiastic greeting party welcoming passengers in dramatic Viking style.
Welcome to Norway, land of Vikings and the midnight sun.
When you're travelling to this part of the world for the first time and it's on a luxury liner, it's hard not to pinch yourself to check you're not dreaming.
Whether it's waking to find yourself gliding through a narrow passage with stunning scenery whichever way you look, or sitting in a longhouse that was once home to generations of Viking families this journey to the other side of the world is filled with captivating moments.
Of course, if breathtaking landscape and wandering through buildings of ages past isn't enough, there's the added bonus of doing this journey on board the Emerald Princess, the absolute jewel crowning this holiday with more than a touch of opulence.
For seven days I will be experiencing the Norwegian fjord excursion, a round trip that leaves from Southampton in the south of England and takes in four ports of call, Stavanger, Olden, Skjolden and Bergen.
All up, the Emerald Princess will travel nearly 3800km through the fjords and offering such close views you find it's worth waking early, donning a warm coat and going to the top deck to sit for a front-row seat as some of the most beautiful scenery in the world passes by.
Two full days are at sea, giving a good chance to relax into holiday mode. It also gives time to explore this massive vessel that instantly becomes home to more than 3000. It's nothing short of a floating village.
The cruise is something of a well-rehearsed exercise for crew who prepare and serve an eye-watering 25,000 dishes each meal, make the more than 1500 state rooms sparkle every day and pretty much wait on passengers' every whim.
It's one of the Princess Line's largest and newest ships and is so long it's just under the size of three rugby fields.
This would be one of the last European trips before it heads Downunder for the summer.heads to southern oceans where it is due
We arrive in Norway on the third day as dawn breaks across Stavanger. It's a busy coastal city and its strategic location has long made it a vital trade hub, more recently for the country's lucrative oil industry.
We're greeted with a chocolate-box scenes of some of Europe's largest collection of wooden buildings in the centuries-old enclave in Old Stavanger where two- and three-storey homes with high-pitched tiled roofs line cobbled streets.
It's only a short drive to the outskirts of town to see an even older example of a Norwegian community dating back to the Iron Age.
If I'm honest, the prospect of visiting a farm from centuries past wasn't something I was very excited about. I am a city girl and ordinarily farming is not my cup of tea.
As soon as I walk inside an excavated longhouse I realise I have misjudged this tour entirely.
Turns out it's pretty remarkable to walk through the hillside door and realise you are in a home of what was once part of a vibrant Viking community dating back to the fourth and fifth centuries.
A simple skylight fashioned in the grassy roof allows a small stream of natural light inside this long, narrow wooden room that housed people and animals.
With our synthetic umbrellas parked at the door we are shown the looms used to weave natural fibres into garments that could withstand the harsh Norwegian winters and the millstones used to grind corn into flour.
It's clear there are no shortcuts in this era.
I try my hand at using the flint stone to see if I could have possibly survived at a very basic level in this ancient community. I firmly strike the edges of two pieces of flint against each other. Success. Perhaps I would have eaten or at the very least kept warm.
The next day promises the magic we have waited for - the majestic fjords.
To sit on a private balcony and watch the scenery pass by with no thought to time and pressing issues has to be one of life's absolute pleasures. Even more so if you are heading into a fjord in the midst a seasonal change.
My first impression of Nordfjord is its super-sized scale. The mountains tower above the farmlets nestled along the water's edge.
Everything is still and serene. Nature unfurls a rich contrast in hues of green from the lighter grass covered fields through to the darker fir trees that cover mountains to the snow line.
The glass-like water reflects everything from the shoreline to the lofty snow-capped peaks in exquisite clarity. I abandon feeble attempts to capture the passing landscape on my camera and instead sit back and enjoy ribbons of glistening waterfalls cascading down mountains to the lush green valley below.
At Olden I take a small ferry across the Oldevatnet, a long, narrow lake that gives great views of Europe's largest glacier. You immediately notice a drop in temperature as grass and trees make way for snow and ice. Accompanied by pungent diesel fumes, we motor slowly down towards peaks shrouded in cloud, the crystalline lake reflecting all in shimmering detail.
One of this trip's more unusual moments arises the next day during an excursion to the picturesque town of Lom, with brown-stained wooden chalets, black-tiled and grassed pitched roofs and a river that thunders through the middle.
We travel several hours from the port at Skjolden across the scenic Sognefjellet National Tourist Route rising from verdant valleys to more than 1400m over northern Europe's highest alpine pass where snowbanks taller than our bus line the road.
As we travel across the pass a large cross-country ski circuit emerges.
This is a high-performance training centre for nordic cross-country skiing, a sport at which, unsurprisingly, Norway excels. Fresh young faces of the national team smile down from giant billboards. It is miles from anywhere with a stunning backdrop of some of the highest peaks in Europe.
During our descent of an incredibly steep and narrow, windy main highway, a group of men clad only in Lycra shorts powers up the hill toward us. They are on modified shortened skis with wheels and, most alarmingly, a good 30km from the high-performance centre.
"This is the champion Norwegian cross-country team on a training run," says our guide.
There is one thing for sure on the Emerald Princess - you will not go hungry.
A number of specialty restaurants cater to every taste from gastropub fare at the aptly named Salty Dog to the Crown Grill, where meat and seafood are prepared in an open-style kitchen. Large buffets cater for breakfast and lunch and if that's not enough there's a poolside pizzeria, icecream bar and a fast-food grill.
One of the best foodie moments comes when I dine at the line's latest restaurant "SHARE by Curtis Stone". The Australian celebrity chef's first restaurant at sea has a unique communal-style decor accented with handpicked curios from Stone's own childhood mealtime experiences.
It's here on a night marvelling at the midnight sun that I enjoy one of the best food moments of the year - a leek side dish that dissolves in my mouth and is simply called Melted Leeks.
Our last port of call is Bergen, where I spend the morning touring a stone castle where the dungeon leaves me desperate to make a quick escape, and the famed Bryggen wooden buildings. The colourful rickety-looking shops lining the cobbled wharf look like a painting on this overcast day, injecting a vibrant splash of colour on the waterfront canvas.
As we head back to England I sit on the highest level of the ship and watch the churning wake.
It's a stunning view but not for the faint-hearted.
Within moments, clear skies are squeezed out by a thick mist that closes in from either side of the vessel.
Soon there is nothing to see. A foghorn sounds.
An enormous curtain has been pulled across one of the world's most dramatic stages.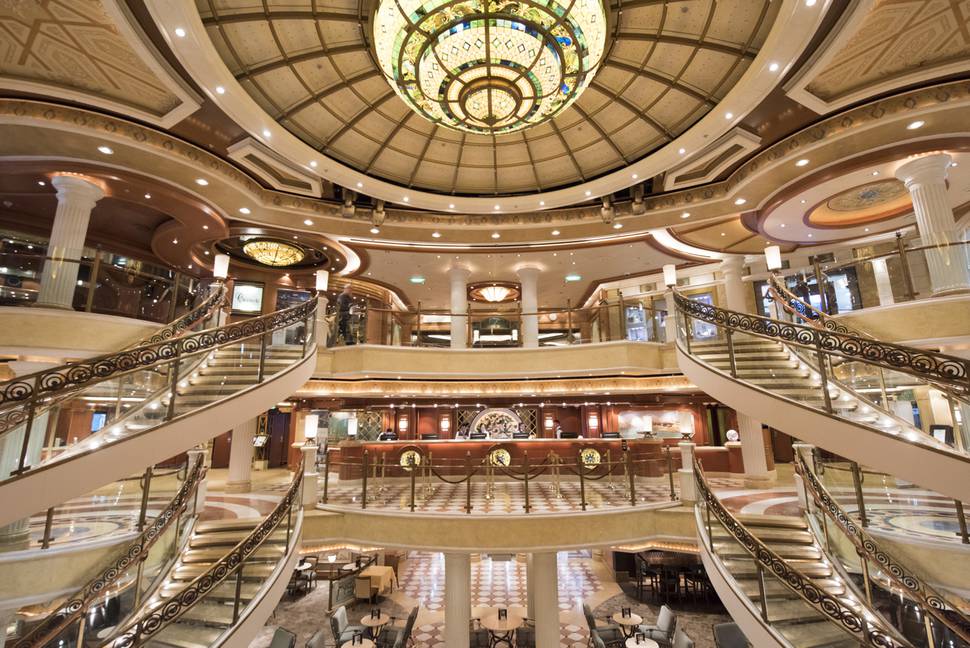 CHECKLIST
Details
Emerald Princess is home-ported in Sydney for the summer. She made her first trip to New Zealand on November 18 and has been making scenic cruises through Fiordland National Park and visiting Dunedin, Akaroa, Picton, Napier, Tauranga and Auckland.
She will visit New Zealand six times this season and will also cruise to Tasmania and South Pacific destinations.
She sails on an 11-night cruise from Sydney to New Caledonia and Vanuatu on January 21, with fares from $1259pp, twin share.
For more information and bookings phone 0800 451 133 or visit princess.com.