I recently attempted to organise a stag trip to Las Vegas and fell a humiliating two men short to make the group discount Vegas package work. I was bombarded with the usual (and valid) excuses from friends around cost, time off, etc and all negative correspondence was laced with "If it was just in NZ I would have been keen as".
In the end, the 28-strong Stag Party was held in NZ ... in Invercargill to be precise. A small part of me was satisfied with what I thought was sweet revenge on this particular menage of men but in reality it was a huge own goal. We should have just gone to Rotorua and actually had a good time.
A boy's weekend in Rotorua may sound like a poor man's choice to Vegas — but it's really only 17 casinos and a crime drama series away from living up to the Roto-Vegas name.
Joined by my Alternative Commentary Collective and Radio Hauraki buddies, we set about cramming in as much as possible in a frantic 48 hours.
Day one started at Agroventures Adventure Park, where we were dealt a rapid combination of adventure upper cuts. We were flung around a Jet Sprint boat, facially blow-dried in NZ's only sky diving freefall simulator and then strapped with a mate into a sleeping bag-harness contraption and dropped 50m to the ground in The Swoop sky swing — all in the space of a terrifying 35 minutes.
Luckily, our next stop on the Boys Weekend was a relaxing visit to Hells Gate Geothermal Park and Mud Spa.
Although it was the mud spa we really came for, we were given the full tour of the park by a friendly guide called Jack and discovered, among other things that the native Kereru wood pigeon had teeth that local Maori used for weapons — must have been small weapons and angrier birds back then.
With skin as smooth as former Blackcaps Kyle Mills' post Mud Spa and the distinct Eau de Rotes scent, we hit Rotorua's Eat Streat (that's not a typo) — an all-weather alfresco dining area with a thermally heated footpath — and settled in for tapas and a massive range of beers at Brew Craft Beer Pub, set up by the delicious Croucher Brewery. It's fair to say we gave it a fair nudge into the early hours.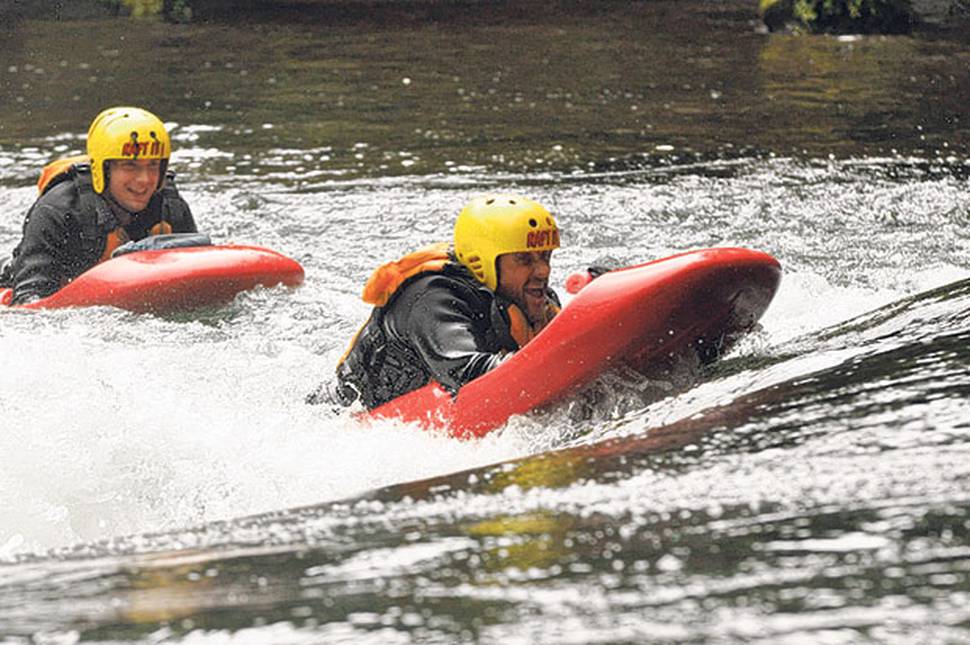 Day two was again a non-stop speed ball of action as we gingerly worked through the breakfast buffet at Rydges then headed north to Off Road NZ just off State Highway 5. We were given the keys to four Suzuki Jimnys and set loose on a 4x4 course that was surprisingly fun and single-handedly did more for the reputation of the often maligned Suzuki Jimny than anything — a very humble little 4x4 weapon.
Next stop Kaitiaki Adventures and white-water sledging down the Kaituna River, a formidable little river feed from Lake Rotoiti that, at 7m, has the highest commercially rafted waterfall in the world. Luckily for our mildly hungover team we wouldn't be dropping off these falls today.
The brisk 13C water blew the craft beer residue out of most of us and we headed down the river on our little plastic life rafts naively thinking we'd be gently floating along, taking in the scenery. The very first rapid put to rest any ideas of a gentle paddle down the river as, one by one, we were sent into the rapids with nothing but a sledge and a prayer. In the end it was definitely a thrilling little adventure that we would recommend to anyone ... but we would like to take this opportunity to personally thank one of our guides, Hemi, for saving Matt Heath's life approximately twice.
Capping off the weekend was dinner at Stratosfare Skyline Restaurant & Bar. With manly pina coladas and Volcanic Hills Pinot Noir in hand, we tackled the magnificent buffet while surveying the bright lights of Rotorua, a perfect way to round off the weekend ... bit different from the boys' weekend in Invercargill that's for sure.
(I actually liked Invercargill ... it's just that Rotorua was better.)