There's intrigue in the bushes at Zealong estate, and the owners will not give up their secrets easily, learns Tim Roxborogh.
KFC and 100 per cent organic tea. Not traditionally mentioned in the same breath.

Though as it turns out, there's a gripping connecting thread in the stories of the fast-food giant and New Zealand's solitary tea estate. Our only one.
In a country famed for agriculture, horticulture and our basic enthusiasm for growing stuff, we don't make any of the product so many of us drink on a daily basis. That is, all except for one patch of land in Waikato which I was invited to explore this year.
It was established in 1996 by Taiwanese-born Kiwi Tzu Chen. Chen named his Gordonton estate "Zealong", a combination of the words "Zealand" and "oolong", a Chinese term for partially fermented tea.
And as for the link between the tea and the most famous name in fried chicken, there's more than a bit of the "11 secret herbs and spices" yarn attached to Zealong.
Just as KFC has successfully dined out for more than 75 years on the mystery of its recipe, the 40ha Zealong Tea Estate also has a closely guarded secret.
Tea is normally only grown successfully at altitude in tropical countries, but Zealong has found a way to produce acclaimed, entirely organic tea just a few metres above sea level and 37 degrees south of the equator.
How did they do it? Well, apparently only a handful of people know for sure - Chen, his son Vincent and one or two tight-lipped New Zealand agri-scientists.
It all began in the mid-90s when Chen noticed the camellias growing in his neighbour's garden in Hamilton. Knowing the camellia was a close relative of the tea plant, he wondered whether the prevalence of camellias in New Zealand might mean tea could also be harvested here.
Buying a dairy farm just north of Hamilton, Chen began his unlikely project. He imported 1500 tea seedlings from Taiwan. MAF quarantined the plants for many months, by which time only 130 seedlings had survived. Rather than being angry, Chen took it as a sign the surviving plants were the best and strongest.
And it's here the story gets intriguing and abbreviated. Watching a promotional video about Zealong, I was worried I'd reverted to my school days and drifted off at a crucial moment.
Had I missed the explanation of how Zealong went from struggling, to growing decent tea plants, to somehow all of a sudden producing a range of varieties that international buyers are prepared to pay big bucks for?
I asked Zealong's marketing manager Sen Kong for clarification, and he confirmed the video intentionally skips over how Zealong's founders finally cracked the code for one of the world's few high-quality, lowland, non-tropical tea estates. Isn't that the fun part?
There mightn't be 11 secret herbs and spices at Zealong, but there is definitely something secret and scientifically spicy going on.
Secrets or not, touring Zealong you still learn first-hand about the picking and drying of the leaves, the combination of man and machine, the family background of the estate and how they've managed to justify the brag of being "100 per cent organic".
Naturally enough, high tea and tasting ceremonies are also becoming a tradition at Zealong and they are events as much for the visual aesthetic as for the flavours.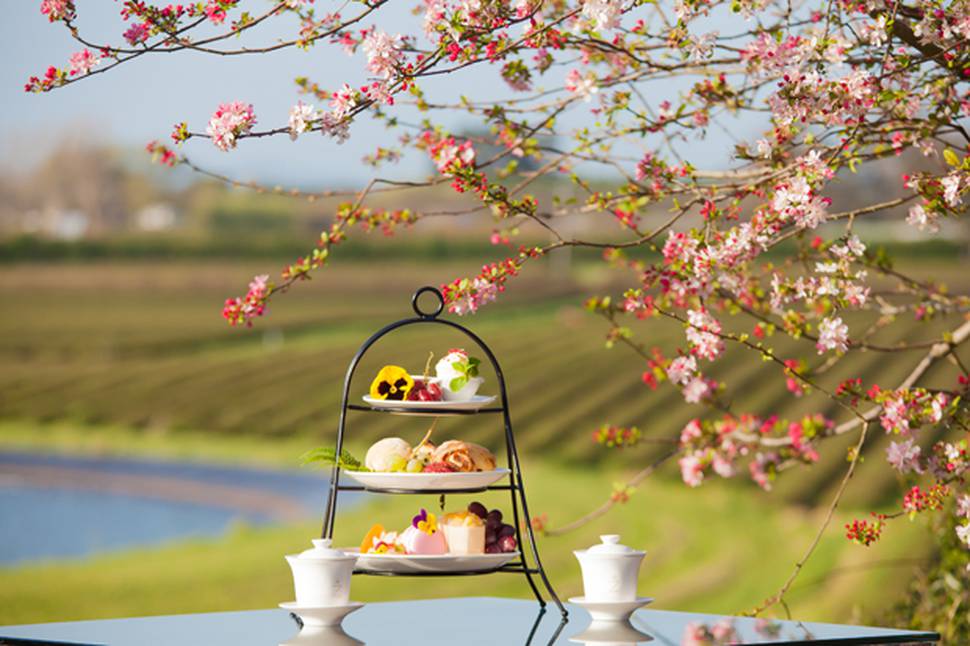 At a table overlooking rows of tea trees, gardens and sculptures (including a dozen or so oversized teapots and statues depicting the early history of tea-making), Kong presented me with a range of cute little pots, bowls and cups.
He showcased not just the varieties of Zealong tea (there's five; the sweet "Pure" blend is my favourite), but also the quirky rituals of a tea ceremony.
There was the rubbing of the cup, the smell test, the tipping of tea from cup to bowl and back again and - most likely to make you look silly - the mouth-swirling with compulsory facial grimace to better receive the flavour. No grimace and you're not getting the full experience.
Zealong is an easy day trip from Auckland at 90 minutes each way. But never one to pass up the opportunity to stay somewhere flash if I have the option, I took Zealong up on the recommendation of a nearby farm stay called The Club House.
Just 10 minutes from Zealong is Des and Steve's fully-functioning dairy farm. Pitched at foreign tourists who want an authentic Kiwi farm stay, it will nevertheless also appeal to Kiwis who may not have experienced milking a cow or clay-pigeon shooting.
If you just want a bit of homely luxury and attractive rural views, the impressive piece of modern architecture that is The Club House's modern architecture is perfect too.
Des and Steve were thoroughly relaxed, inviting me in to watch an Eagles doco (knowing I was a music buff), giving me a tight game of tennis on their mightily scenic court, cooking me dinner and breakfast and teaching me how to fire a gun for the first time at the clay pigeons.
Seventh time lucky hitting the disc, I sensed I'd peaked and decided to head back inside. Terrific fun.
It was just a one-night stay, but like so many Kiwis you briefly meet, these two felt like old chums. I did some digging to see if they knew what Zealong's KFC-esque secret was, but no luck.
Thinking about it, the underplayed intrigue of Zealong could be pushed to the fore as a marketing strategy. Why not? If it's worked for fast food, why not organic tea?
CHECKLIST
Getting there: The Zealong Tea Estate is 10-minutes outside of Hamilton's CBD.
Details: Open Tuesday to Sunday, visitors can choose from a Discover Tea Experience for $25pp, or pay $60pp to include a Signature High Tea.
Accommodation: The Club House B&B is located just off State Highway 1B, on the northern outskirts of Hamilton, and offers a selection of accommodation.