Paul Davies enjoys the Hawaii Food and Wine Festival, with a little help from an all-star Kiwi chef.
Slurping Kirin beer slushies to chase the braised beef cheek, surrounded by beautiful people at a Waikiki seaside hotel as the sun goes down. This is something I could get used to. Luckily it's a soiree that comes around every year and everyone can go. The Hawaii Food and Wine Festival is the cool younger cousin of restaurant events.
In just its fifth year, Hawaii's own food and wine festival has grown from a couple of basic events to become an almost month-long celebration of regional cuisine across the Hawaiian Islands.
Started by renowned Hawaiian chefs Alan Wong and Roy Yamaguchi, two of the founders of the Hawaiian Regional Cuisine movement, the festival celebrates the diversity of island life and encompasses award-winning chefs from around the world. They come to unleash their original take on the food of Hawaii for enthusiastic and unsuspecting punters.
Hawaii's unique location and history has developed a diverse cuisine. It provides an essential link between east and west, while maintaining its polynesian roots. It all feels familiar but it should - Hawaii and New Zealand are distant cousins who're starting to reconnect.
It's also a melting pot, influenced by immigrant communities such as the Chinese, Japanese, Portuguese and Filipino, to name a few. With such a varied and vibrant mix, the food of Hawaii is as rich an assortment of flavours as its people.
The festival's events contained an excitement that you would expect from such a cosmopolitan place.
Waikiki's Modern Hotel was the welcoming space for Oahu's opening night, A Lucky Modern Buddha Belly. Chefs and sommeliers lined the deck to whip up tasting plates and beverages in the evening sun.
Teams frantically cooked away to feed the insatiable queues. Charles Phan of San Francisco's popular Slanted Door restaurant was able to draw on his own Vietnamese roots to serve a local deep-sea fish, monchong dill and tumeric vermicelli, while Nancy Oakes, also from San Fran, had a big line for her grilled abalone (same whanau as paua).
Auckland's own Michael Meredith managed to give his Samoan heritage a Kiwi twist. His oka ceviche with avocado sorbet and whipped coconut cream nailed the brief, though he'd set himself a tough task in the Honolulu heat.
"My avocado sorbet is struggling," he said as he scooped up his frozen green invention. It wasn't really, his treats were going faster than they could melt, showing how well flavours translate across the Pacific. "It's a dish that reflected my upbringing and the festival's about Polynesian ingredients."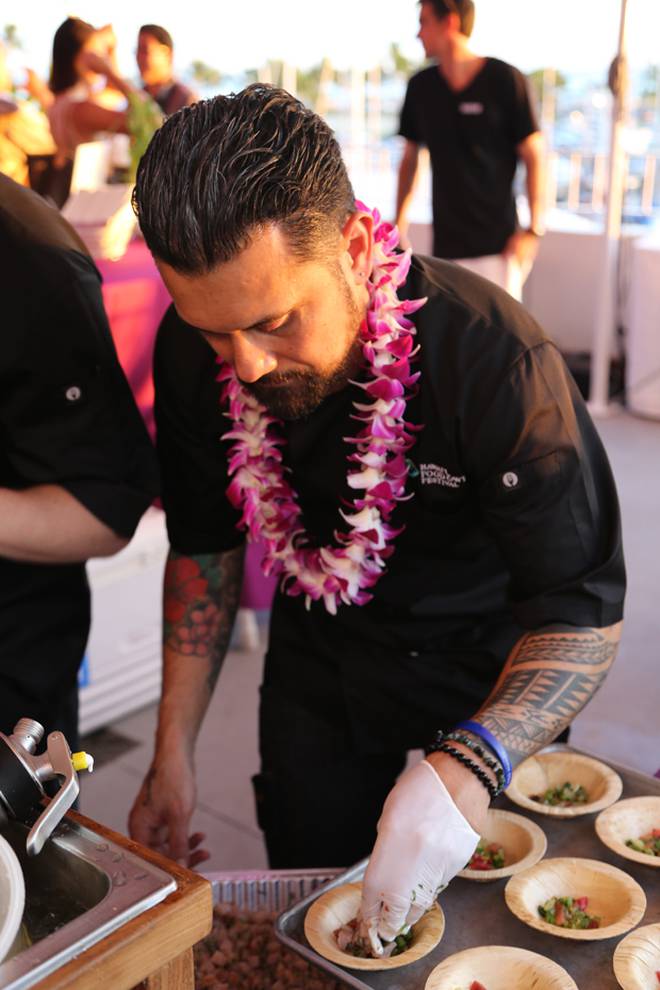 This was one of the reasons founder Alan Wong was keen to get him involved, "We're all part of the Pacific Ocean, we're the gateway to Asia for the United States and vice versa." Making the festival regional is one of its goals, "It makes sense only if you include your neighbours."
Another neighbour, Australia, was represented by Brisbane-based chef Philip Johnson (New Zealand-born, of course) who stirred up interest with his soy-braised beef cheek. It doesn't seem an obvious dish given the abundance of seafood, but Hawaii's Big Island has a cattle district called Waimea, which is home to the largest privately owned cattle ranch in the United States.
The festival starts on the Big Island, where much of the local produce used by visiting chefs is grown. Iconic brands such as Hamakua Mushrooms are a staple for restaurants across the state.
Returning to local ingredients is a strengthening trend in Hawaii. Farmers' markets have become resurgent over the past decade, with the festival featuring their own market at Honolulu's port. Providing samples of their products are farmers, including the Papahana Kuaola collective, a non-profit organisation trying to reconnect with Hawaii's past by building a sustainable future around traditional farming.
Fish ponds, which capture fish at high tide to feed the community, are a working example. The theme of mindfulness, environmentalism and reconnecting with traditional methods was central to the festival.
This approach is taken by Ed Kenney, founder of Honolulu restaurant Town. His "local first, organic wherever possible" motto has him sourcing much of his produce from Ma'o Organic Farm in Oahu (co-founded by New Zealander Gary Maunakea-Forth ).
At the Corks and Forks night at the Hawaiian Convention Centre, Kenney was furiously shaving his air-dried Big Island rib-eye, served with pickled pohole (Hawaiian fern shoots) and tomme cheese. It was as much performance art as it was cooking, with Ed trundling his mobile booth around the event.
"It sounded like a fun thing to do," he says. "The winemakers especially appreciated our mobility because it allowed them to pair their wines with a specific dish."
Although there was plenty of wine on offer, mainly from California, Oregon and other western American states, I struggled to look past the cocktails. A sweet concoction created by some of Honolulu's best "mixologists" to accompany Hawaiian cuisine in the summer sun is my idea of yum.
A Tahitian rum punch will do me just fine, mahalo. It was a perfect accompaniment for a chat with celebrity chefs such as Frenchman Hubert Keller, who moonlights as a DJ, and Boston-based Ming Tsai, pioneer of East-West cuisine and host of his own Emmy-nominated TV show.
There's a star quality to many of these chefs, personality is key in an era where cooking is synonomous with entertainment, though they are still fun, humble and approachable. At the final event at Ko Olina Resort, a bit of mingling turned into a full-blown party, with live music, dancing and fireworks right on the beach. It's a perfect opportunity to meet other foodies.
It was an opportunity Ed Kenney wanted to take when he heard Michael Meredith was coming. Kenney had admired Meredith's approach to cooking, "His STEM nights every Tuesday, which donate 100per cent of the evening's sales to a worthy cause, are an inspirational model."
Kenney contacted Meredith and took him out of Waikiki to see "the real Hawaii". It turned out the respect was mutual, "Ed is a genuine cool dude," Meredith said. "He showed me around his restaurant and took me out to Ma'o Organic Farms, where they encourage young men and women to be part of the organic growth movement in Hawaii."
Introductions such as this show why Hawaii is such a special place. It's one of the reasons people come from all over the world; to meet, greet and explore. It's also why you'll end up planning your next journey before you've departed.
My advice is to schedule that trip during the Hawaii Food and Wine Festival, grab yourself a cocktail and make some connections of your own - you won't be disappointed.