A beach trip is sometimes best mid-winter. Tim Roxborogh goes in search of the sun.
The Plan
A four-day road trip from Auckland to Tauranga and Coromandel and back again. Sights not everybody sees, maybe a waterfall or two, a beach or three and some time on board a boat.
The itinerary
Day One
Drive from Auckland to Tauranga (2½ hours), visit the beach at Mt Maunganui, explore Moturiki Island and Kaiate Falls.
Day Two
Climb Mt Maunganui and see Omanawa Falls.
Day Three
Drive from Tauranga to Whitianga (3 hours), stopping at Tairua Beach, Simpsons Beach and Mt Paku lookout.
Day Four
Sail around Whitianga and the Coromandel during the day, evening drive back to Auckland (3 hours).
The Car
A 2015 Holden VFII, the final Commodore entirely Australian designed, engineered and produced. The model will continue but will be manufactured overseas. It's the first time I've driven a car without having to put keys in the ignition. I know this is hardly new technology, but when you normally drive a 1600cc 2001 VW, the novelty of just pressing a button to start the car doesn't fade in a hurry. And then there's the sound.
The car fanatics' website streetmachine.com.au has described the latest Holdens as having an engine sound so good they "bark and crackle" and I get it. Pressing the button (by the way, what are you meant to do with the car keys when you drive? Pocket? Glove box? So many options) and starting the car and two of my more blokey mates immediately knee-buckled at the sound. An exquisite bark and crackle.
Accommodation
Tauranga Accommodation
The French Country House is run by the lovely Kay and her dear doggy Freddie with help from some friendly horses and chickens. Initially I had wanted to stay by the beach. Not only that, I was going to be in one of the most iconic seaside destinations in New Zealand, lovely whatever the season.
The only problem was everybody else had the same idea. With all beachfront accommodation I wanted booked out, it dawned on me that this was no predicament: if Holden had gifted me the VFII to drive (0-100km/h in as little as 4.9 seconds - not that I tried), what difference did it make if I could hear the ocean lapping while I slept?
With a car that good, I decided to see if there was anything accommodation-wise inland. Then if I wanted to head to the beach it would be another opportunity to drive slowly with the windows down, my aviators on and show off the car. What a plan.
Tauranga's French Country House isn't merely a nice place. Walking through the almost medieval wooden front doors, I realised I was in rarefied territory as far as New Zealand hotels, lodges and B&Bs go. Forget "nice", this was as if you were magically strolling into some kind of gorgeous 18th-century painting.
Equal parts elegant and opulent, the seven-year-old French Country House has three enormous suites, stand-alone bathtubs, chandeliers, huge floral displays, knights of the round table-style chairs, spiral staircases, wooden beams from an old bridge, secret attics and uninterrupted views towards The Mount.
Staying inland suddenly seemed to have a lot going for it.
● thefrenchcountryhouse.co.nz
Whitianga Accommodation
Bayview At 91, run by David and Dmitri. A luxury boutique B&B with uniformly 5-star reviews, one of the main selling points is the wrap-around balcony with views high above Mercury Bay and Whitianga. My suite came with a private balcony plus a small lobby connecting the bedroom, bathroom and separate living room.
David and Dmitri prepare the meals themselves and also eat with their guests in the shared dining and living area. Doing everything from fine-dining to homemade pizza nights, it was the latter that coincided with my stay. Delicious, healthy pizzas, some excellent wines and the chatter of hosts and fellow travellers made this a great night.
All told, that's really what sums up Bayview At 91: three very smart suites, a collegial atmosphere, amazing views, tasty home-cooked food and expert knowledge about the area as well as other New Zealand destinations.
Waterfalls
Omanawa Falls are a 30-minute drive from downtown Tauranga. Think a secluded lagoon and cave surrounded by dense fern-dominated forest with a narrow and storybook-looking waterfall as the centrepiece. This place is stunning but also dangerous. I only realised after the fact that several people have been seriously injured trying the now blocked-off trail up behind the waterfall down to the pool. Realising it really was too steep, too slippery and too life-endangering, the falls are still a must-visit for the photos you can get from the entirely safe, very picturesque viewing area. A less hair-raising, almost as camera-friendly, option are the multi-tiered Kaiate Falls, also about 30 minutes from Tauranga, which offer easy walking trails and several different locations for picnic spots or photos.
The Boat Trip
The Windborne, a 62-foot schooner built in 1928 and skippered by Avon, a storytelling, salty-skinned chap who has sailed for more than 35 years. Avon took me on a full day of Captain Cook-recalling sailing around Mercury Bay and the famous stretch of cliffs and beach in the Coromandel that comprise Hahei and Cathedral Cove.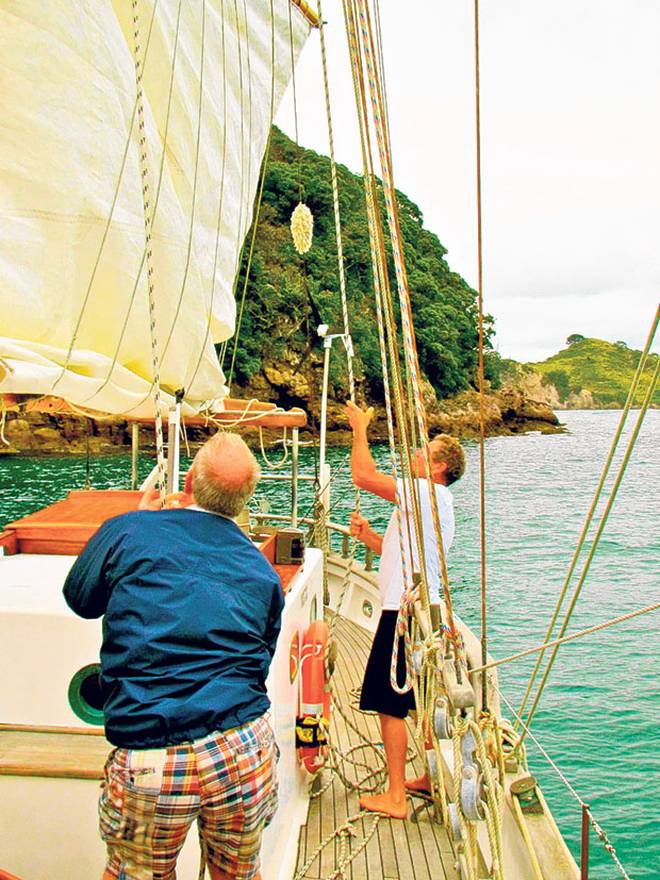 Nearly as rewarding as exploring the coastline of some of New Zealand's most-photographed beaches and holiday towns was going beneath deck and getting some old sailing yarns out of our skipper. I couldn't help think of that immortal scene from Jaws where Robert Shaw, Richard Dreyfuss and Roy Scheider tell tales and have a few drinks as the boat sways. The near 90-year-old Windborne has that kind of cinematic feel to it.
Back on deck you can lounge in the sun, do a bit of dolphin spotting or do dive-bombs off the boat at various calm mooring spots. Avon also lets you try your hand behind the wheel and trimming the sails.
Beaches
Mt Maunganui:
Visually, I prefer self-contained beaches so the attractive stretch of sand between The Mount and the little Moturiki Island is more my thing than the endless coastline just south.
Simpsons Beach: Is a five-minute drive from Whitianga. White sand, green hills with patches of forest (no doubt there was a lot more forest for Cook's eyes when he had his first New Zealand powhiri here in 1769), rock pools at the edges and breathtaking views over the waters, islands and jagged rocks of Mercury Bay.
Tairua:
Other than the must-visit lookout at the top of Mt Paku with its views over Pauanui and the surrounding islands, the other essential stop here is Tairua Beach. Not as frequently mentioned as other Coromandel beaches, but with sand just as fine and easier to get to than Pauanui's beaches.
Tim Roxborogh is co-host of Newstalk ZB's The Two (Sunday 8pm-11pm) and fills in for Marcus Lush (Monday-Friday 8pm-midnight).