Sarah Ell takes a look at school holiday options outside the city, offering action, art, surf and a sanctuary.
Biking Rotorua
Rotorua is a perennially popular holiday destination, but to get a different perspective on a familiar town, try getting on your bike. The forests and trails around the city have long been popular with sweaty mountain-biking types, but you can take it easy and check out the sites on a Happy Ewe bicycle tour, led by enthusiastic local Roger Martin.
Martin, who returned to his home town in 2013 after many years travelling and living overseas, decided to showcase its delights by setting up a cycle touring company.
His daily Happy Ewe tour, currently rated the sixth-best outdoor activity in the North Island by TripAdvisor (out of nearly 900 options), takes in 27 sites around central Rotorua over about three hours of leisurely cycling.
"It gives a complete overview of Rotorua from a historical, geological and cultural perspective," Martin says. This includes exploring the Government Gardens, the steaming lakefront and Ohinemutu. "Everyone learns something new on the day."
The tour is 96 per cent flat, says Martin, and about the same percentage is away from roads. "It's all the cool stuff without the traffic."
Bikes, helmets and a bottle of water are provided, and there are tagalong bikes, bikes with toddler seats and kids' size bikes available.
Most of Martin's clients are international visitors, but he's super-keen to show off his stomping ground to Kiwis, too. "You can get in a car and drive around, but you won't get the same sense of it all," Martin says. "The best way to experience it is by bike. You definitely see the place and its beauty in the best way from on a bike."
Living the dream, as Martin would say.
Herd of cows?
Heard of Morrinsville? You might have, but have you ever been there? If the answer is no, a group of enthusiastic locals are changing that, with the Herd of Cows? street art installation on the streets of the Waikato dairy town.
Local district councillor Nicki Robb has been driving the project to install a herd of artistically painted fibreglass cows around the town, with the first 15 unveiled in March 2015. The second tranche was revealed in October, and in a few months' time a 6.5 high "mega-cow" will join the drove of 42 colourful beasts.
It's a far cry from Chicago to Morrinsville, but Robb says the original idea came from a similar project she saw when she lived in Bikes in the Windy City in the early 2000s.
"Since I've been on the council I have become acutely aware of what a wonderful town we live in, but no one comes here. We don't have a Hobbiton or a mountain or a natural feature for people to come and visit," Robb says. One thing the town does have, however, is the Wallace Gallery, the only venue outside Auckland to display some of Sir James Wallace's collection, as well as hosting exhibitions of other New Zealand works. "I thought it would be a cool idea to bring the two worlds -- farming and art -- together in one project."
The Herd of Cows? group found a main sponsor -- local accountants Cooper Aitken -- and had a mould tooled up. Each cow is sponsored by a local business, individual or family, and is cast out of fibreglass then decorated by a local artist before being given a graffiti-proof high-gloss finish by a local panelbeater. Robb's team had to search out artists and sponsors for the first 15 cows; "now my phone never stops ringing".
The initiative has been a roaring success: the town's iSite now has to open at weekends to dish out maps to cow-spotters, and herds of tourists can been seen every day, searching for the bovines.
And, you can be sure, stopping for a latte or a milkshake as well.
• herdofcowsmorrinsville.co.nz
• morrinsvillegallery.org.nz

Sanctuary search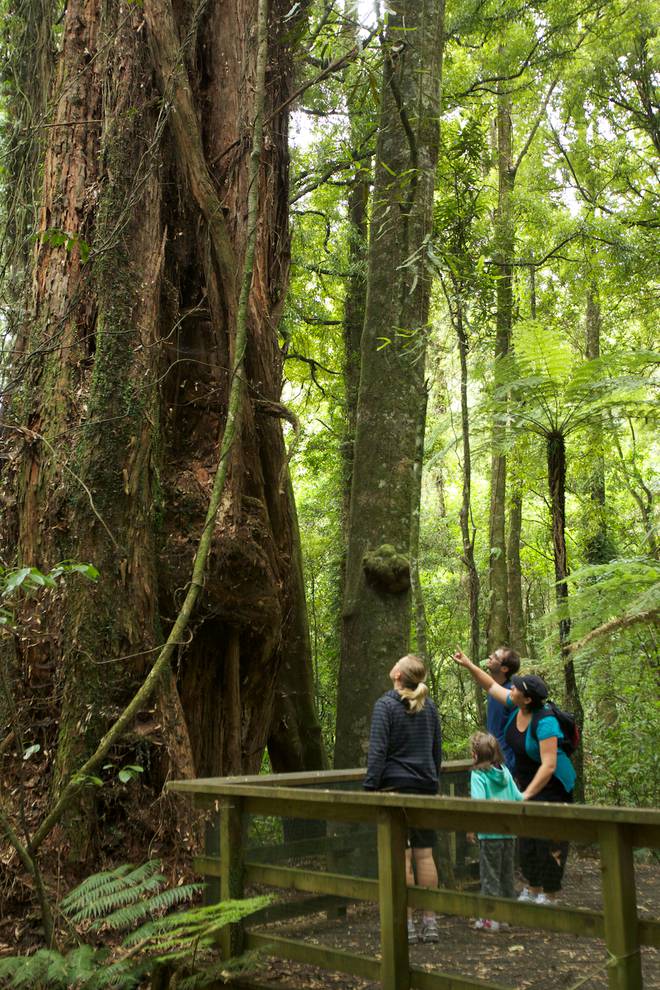 Deeper into the Waikato, southeast of Cambridge, there's fauna of a different kind. Rising up out of the dairy country is Sanctuary Mountain Maungatautari, one of the few accessible "mainland islands". At 3400 hectares, it is the largest pest-proof-fenced sanctuary in the world, and it welcomes visitors to experience its rich habitat and populations of endangered species, from kokako and hihi (stitchbird) to tuatara and rare native geckos and frogs.
The sanctuary offers regular manu (bird) tours of the forest and wetland, a tuatara tour, and special night tours, where visitors can sometimes spot the sanctuary's North Island brown kiwi, as well as geckos and weta.
Lead guide Daniel Scanlon says the forest is as much a star as its inhabitants.
"We are seeing the forest slowly returning to what it was in pre-colonial times, seeing plants coming through that just weren't there 10 years ago."
The birds are coming back, too: last year North Island kokako were released into the sanctuary, with hihi, takahe and kaka also introduced. North Island robins, whiteheads and tomtits are also frequently seen.
Tours take around 90 minutes and cover 1.5-2 km of easy walking. For the night tours, or for a chance to hear the dawn chorus, many visitors stay at the Out in the Styx guesthouse on the edge of the sanctuary's southern enclosure.
There is no charge for under-16s to visit the sanctuary during the school holidays.
Surf's up
At Whale Bay and Manu Point in Raglan, the left break is the stuff of legend.
To help wannabe surfers get to the point they can experience the thrill of the ride, and possibly become legends themselves, the Raglan Surfing School's mobile Surf School trailer will be stationed down at Ngarunui Beach, Raglan's main beach throughout the holidays.
Their three-hour beginner surf lessons ($89) will start from their base at the Karioi Lodge and Outdoor Centre, located in Whale Bay. Water safety is a core component of these lessons.
Complete Surf and Stay packages are on offer over the holiday period with prices starting from $145 for a two-day package ranging up to five-day fully supervised packages priced at $429.
A full range of surfboards and wetsuit rentals are available daily from 9am-5pm.
Bookings can be made online or by speaking directly to one of our team members.
• Check out Solscape for accommodation: solscape.co.nz