Will Rio de Janeiro be ready for the Olympic Games in August? Probably, finds Nicholas Jones, but the city is so fabulous, it won't matter.
Tour groups in Rio de Janeiro have been asking the same question for months.
Despite that warning, it's the one query our otherwise encyclopaedic guide Patricia has no answer for.
"I honestly prefer not to think about it," she says, adding that she hopes the optimists are right and the construction projects dotting the city will meet their Olympic deadline.
Billions of dollars are being spent on projects that have already left a considerable mark on the famed city.
A drive past Copacabana and Ipanema to the city's more spacious west shows the finishing touches are still to be put on the Barra da Tijuca neighbourhood, where much of the Olympic action will focus.
Stadiums, including the Aquatics Stadium and Future Arena are in the finishing stages, and the tottering remains of a favela, or slum, are being torn down.
Apartment blocks have sprung up to host athletes - units have already sold as homes when the circus moves out of town - and the city's underground system.
Despite a somewhat barren pre-completion feel, the setting is magnificent. Spectators fancying a swim or beach-side cocktail will have only a short walk to a 17km-stretch of white sand and surf.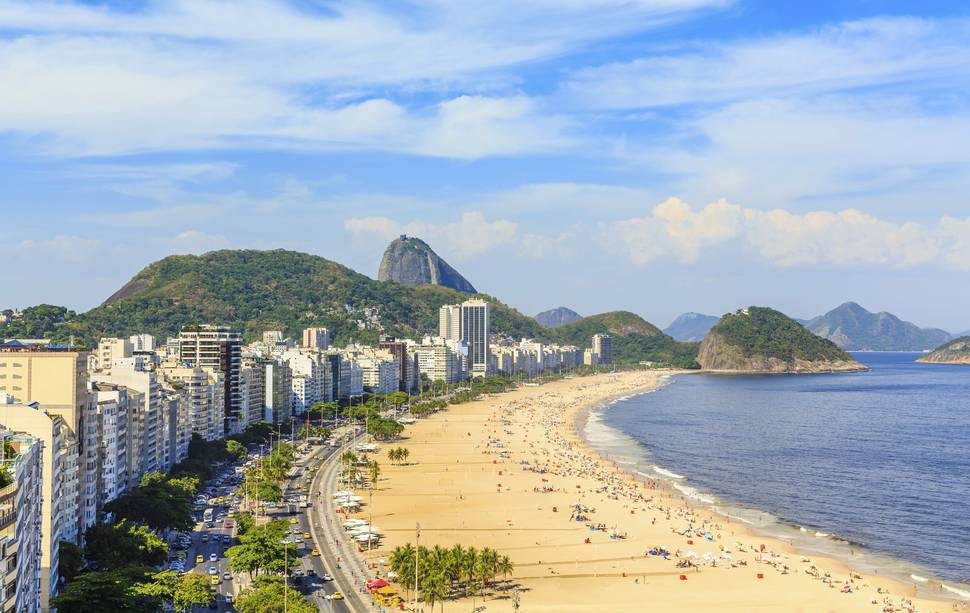 Bars and food stalls already line the stretch of beach near the Olympic area, which is not yet particularly touristy but is popular with locals, and the chance to fit in a pilsner - ice-cold, in the Brazilian style - and swim between events will make Rio 2016 special.
The iconic Maracana stadium will host the opening ceremony, and Copacabana is the fitting site for beach volleyball, as well as the triathalon.
Near downtown office blocks, we visit the port area which, Auckland take note, is nearing the close of a well-timed rejuvenation.
An ugly overpass has been removed, opening up space that leads to the water's edge and a magnificent soon-to-be-opened Museum of Tomorrow, designed by Santiago Calatrava and resembling a long, bleached, fish skeleton.
Where traffic once ruled, giggling school students rush for photographs next to giant CIDADEOLIMPICA letters, while boys play football with alarming skill under palm trees. The scene is lazily surveyed by diners at the nearby art musuem's rooftop restaurant.
The renewal project has also added to Rio de Janeiro's history: bones of slaves the Portuguese brought from Africa were discovered at the nearby Valongo Wharf during renovations.
Much is being done. But Rio's Olympic facelift has its limits. The city hums with a grimy energy that somehow complements its stunning location.
High above Copacabana, a column of hundreds of black birds slowly circle; phone boxes plastered with X-rated ads sit outside copper-domed colonial buildings glistening with gold leaf; slums push up to highways, as if on a tide.
There's a sense that the jungle, allowed free rein in a pleasing number of protected areas, is threatening to overrun the rest.
The tram that ferries tourists up to the city's most famous landmark, the Christ the Redeemer statue, passes trees laden with huge jackfruit and a monkey with baby on her back.
And in the winding, narrow cobblestone streets of the nearby hilltop area of Santa Teresa, creeper vines sag power lines, and thick bush almost forms a tunnel in some sections.
Bohemian Santa Teresa moves at a slower pace, its 19th century colonial homes and estates tucked away down steep slopes.
Our lodgings for the night, the boutique Hotel Santa Teresa, has an LA-feel, its pool and bar area looking down across the glittering city below.
There's an A-list clientele to match.
The late Amy Winehouse booked the entire hotel when she toured Rio, but still couldn't escape the paparrazi - pictures of her on a balcony raising her top in defiance went around the world.
The nearby Lapa district, which sits between Santa Teresa and downtown, will be the place to toast any medals.
A stand-out is Rio Scenarium, a restaurant set over three floors, each with lovingly arranged antiques, including a wall of old radios, prams and a vintage car.
Balconies look down to a stage on the first floor, where a band plays samba music. Back home, that might serve as background music until after punters had dinner and one or ten courage-inducing drinks.
Tonight, we enter to a lone couple dancing without any self-consciousness, despite a restaurant full of watching diners. The women at the table next to us rise as one to join in, returning temporarily for entrees.
After dinner we walk parallel to the illuminated Carioca Aqueduct to one of hundreds of bars that spill on to the pavements and buzz with customers. Many beers later and a huge and entirely unnecessary basket of chicken we walk to a taxi the long way via the famous 215-step staircase transformed by the late Chilean artist Jorge Selaron.
Beginning in 1990, Selaron used thousands of colourful tiles to transform the staircase to St Teresa Convent, which became a symbol of Rio and even more popular with tourists after featuring in Snoop Dogg's video, Beautiful.
The steps draw a steady crowd of tourists during the day, but Patricia will be aghast to learn of our nocturnal visit: despite gentrification, the neighbourhood retains some of its old edge.
We get away with it. It's special to have the steps to ourselves, save for flatmates returning to one of the doorways that open on to them.
In New Zealand, there are fresh headlines worrying about Rio's readiness for the Olympics in August. But visitors will surely forgive rough edges - they'll come not for sterile efficiency, but to experience one of the world's great events in one of its great cities.
Checklist
GETTING THERE
LAN Airlines operates seven non-stop flights each week from Auckland to Santiago. Return Economy fares to Rio start from $2315.
DETAILS
Eclipse Travel has a 4-day Rio Essentials package that shows travellers the highlights of this marvellous city in comfort, with private transfers and tours with expert local guides. This city has a blend of breathtaking sights, such as the Corcovado and Sugarloaf Mountain, the world-famous Ipanema and Copacabana beaches, the bohemian neighbourhood of Santa Teresa, rhythm, entertainment, and natural beauty. The Rio essentials package starts from $804 per person and can be customised to suit all travellers. Visit
for more information