Steve Braunias finds a fortress of New Zealand pride on a Fijian resort island full of Australians.
Australia is a fabulous little island to visit. I took a family vacation there in November and marvelled at the fact I could walk around it in a few hours.
The overwhelming presence of Australians made for a strange holiday experience at the Plantation Resort on Malolo Lailai Island in Fiji; it felt like Australian territory, a white, cheerful place that hosted Australian weddings, Australian birthdays, Australian tattoos - there was a very lifelike illustration on one joker's arm of a can of VB.
Australia's hold on the island was an economic fact. All prices were marked in Fijian and Australian dollars. The scattering of Japanese, Koreans, English, and a solitary Nigerian had to choose which currency to make their mental conversions. New Zealanders figured they were somewhere between Fiji and Australia, which is actually a pretty good rule of geopolitical thumb.
Australian money, Australian vowels. They did all the talking, ordering feesh and cheeps for breakfast, lunch and deener in their loud, confident voices. It took careful detection to spot the occasional New Zealander. They spoke in low mutters and said as little as possible. It was as though they were travelling incognito. Cowed and bossed and drowned out by the Australians, they were as Canadians unto Americans - a lower caste, of modest origins.
The New Zealand contingent included three Maori women. They were large and happy people, and could be found every day occupying a corner of the swimming pool closest to their room. They stayed there into the evening, pickled in chlorine, smashed on cocktails of garish red and blue. At home, in the beaches or camping grounds of Aotearoa, they'd make themselves heard, raise a bit of merry hell. It might lead to a spot of bother. It could involve belligerence and the airing of an ancient grievance. It would at least count as a sign of life - but at the resort, it was as though they were wax dummies, mute on booze, in the shadow of Australia's imperial might.
I bought an Australian guy called Sean a beer one day at poolside. We had nothing in common but our kids had become playmates, and we were both happy to be on holiday at a beautiful, sunny island with tropical fish in the lagoon. I thought Sean might say, "Thanks, mate." He kind of did. His joy knew no volume control. He roared, "WOAH STEVE YOU ARE ON FIRE MATE! YOU ARE ON FIRE. STEVE! MATE YOU ARE ON FIRE."
I was on fire. Everyone in a 100km radius received the broadcast, and it boosted my standing in the Australian colony. I liked the Australians. They got on with having a good time, pure and simple. They never stopped eating. They called their kids, "Mate". They were full of surprises. Sean and his wife Raewyn were from Newcastle; he was a book-keeper, she drove trucks; they had five kids ("Over here mate Mate, finish your pancakes", etc), and had packed a suitcase full of pens and books to give to Fijian children.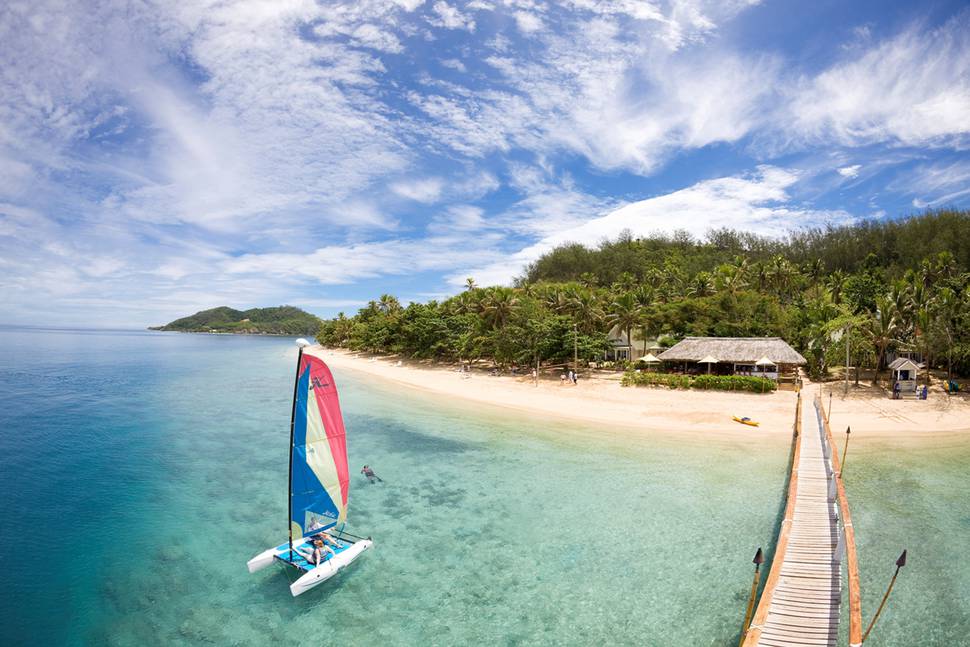 But by day two three I had reached peak Australia. I needed to get away from them for a while. There were two other resorts on the island. Musket Cove was fancier, very boring, and full of Australians. Lomani Resort was reserved for guests over the age of 16, and its swimming pool spilled over with hordes of canoodling Australian fatties.
The thing to do was keep walking. I kept walking. I headed past Musket Cove, with its marina and its golf buggies, towards the tip of the island. There were empty fields and rusting trucks. It was too hot for grass to grow. Flame trees dropped black pods. Two Fijian women were chatting by a bridge. I asked if it was possible to walk around the island. They said it would take too long. Instead, they recommended I walk up a steep track and continue around the hills until I came to a big white house. "It is big as a church. You cannot miss it, sir." A track led down from the house back to Musket Cove.
They waved goodbye, and waded through the shallows from little Mallow Laila Island to big Mallow Laila Island. I headed up the steep track and passed a few holiday homes. A guy was mucking around with the wiring of his golf buggy. "You're going the wrong way, mate," he said. "There's no pub up there."
It was the last Australian voice I heard for the next couple of hours. I loved the peace and quiet, and happily gazed at the views out to sea. Great blasts of heat rose up from the highest point. The island was surprisingly poor for birds; most of the time you only see mynas and red-vented bulbuls, but I could make out a few crested terns flying near the coast.
I came to the big white house. The owner's name was on a sign. It really was a splendid, gleaming mansion, the largest by far. I asked about it that afternoon at the Plantation Resort bar. The barman said, "Famous house in Fiji. Everyone knows that house! A shipping billionaire owns it. A Kiwi."
"A New Zealander?"
"No, a Kiwi."
I tried to remember the name on the sign. "Gibb," I said.
"Gibb?"
I sipped on my beer. "Hang on," I said. "Glenn."
"That's it! Glenn. He's a Kiwi."
I'd never previously thought of crazy old rich dude Sir Owen Glenn with anything resembling affection, but I felt uplifted by the realisation that the house on the hill was his family home. A New Zealander owned and occupied that castle on Australian territory. I read up about it; it has four bedrooms, five bathrooms, a 90,000 litre infinity pool, and an acre of tropical garden, including a mango grove.
I knew about that grove. I had helped myself to the low-hanging fruit on one of the trees, and enjoyed my scoff while looking up at the house. I needed to repeat the exercise and pay conscious tribute to the New Zealander who ruled Australia, so I walked to Vale Levu Glenn a couple of days later.
This time there was a ladder against a wall, a towel on the line, and a mug on a windowsill. Was he home? I raided his trees again and scoffed Sir Owen's mangoes in the shade, keeping an eye on the house in case the great man suddenly appeared. I wondered about knocking on the door. But it was nice just to feast on a dozen or so of the juicy, succulent fruit, and behold Glenn's home on the hill. He truly was lord of all he surveyed.
Instead of walking back down the track to boring Musket Cove, I noticed a track heading the opposite direction, through a coconut grove to the other coast. It was a wonderful walk. I saw a jungle myna and a silvereye, and heard a spotted dove. The grove led through a kind of jungle and then into a dry riverbed, which was like a kind of death valley - it was littered with maybe thousands of dead crabs. Strange to walk over their shells towards the silent shore.
There were plovers and godwits feeding on the tide, and I walked around the island back to Plantation Resort. It was thirsty work and I needed a drink. Sean was already at the bar, and asked what I'd like.
Good old Sean. Thanks to Sir Owen's presence on the island, I now looked on Australians with a kind of patronising fondness. They were a lower caste, of modest origins. Their combined wealth wouldn't come anywhere near the value of that one New Zealander basking in his white castle.
I roared, "WOAH SEAN YOU ARE ON FIRE MATE! YOU ARE ON FIRE. SEAN! MATE YOU ARE ON FIRE."
The afternoon sun blazed on the blue lagoon. Our daughters had got their hair braided, and practised handstands in the pool. Life was good, and New Zealand ruled.
CHECKLIST
Getting there: Fiji Airways flies daily from Auckland to Nadi.
Details: For information on planning a holiday to Fiji, go to fiji.travel