After sampling the French capital's traditional tourist spots, head to the hipper places to be in Paris, writes Helen Barlow.
In Paris, tourists inevitably steer towards the Left Bank and obvious monuments like Notre Dame, the Eiffel Tower and Sacre Coeur as well as a boat ride along the Seine.
Yet, when you get the obvious landmarks out of the way, you may like to venture to the area where all the Parisian hipsters flock: around Place de la Republique, the Canal Saint-Martin and the Canal de l'Ourcq (yes, that's Orc).
Recently, I was chuffed to see a UK newspaper designate my nearby street, Rue Amelot, along with the Canal Saint-Martin, as the hippest locales in Paris. This was hardly the case five years ago when the area was very good value for money, although a bit rough. Now, even though it has been gentrified, tourist rentals remain reasonable.
Here are my picks for off-the-beaten track places to check out in Paris:
1:
Get out at Republique metro station probably the most commutable of all Parisian stations. In the Place itself, with its statue of Marianne, the symbol of French liberty, equality and fraternity, there is always a lot of activity including political protests (like the 1.5 million-strong demonstration and march during the Charlie Hebdo crisis) and free concerts. The other night from my nearby flat I could hear Noel Gallagher singing some of his old Oasis anthems for free. No kidding.
2: Rue Amelot. Head down Boulevarde Voltaire and turn right at rue Amelot to check out the slew of bars with happy hours. They're just near the Winter Circus, a permanent fixture housed in an ornate 1852 building and a fabulous place to take the kiddies: 110 rue Amelot, Metro Filles du Calvaires. From November until December 13 there's even a circus on ice.
3:
Walk across the boulevard and pass Rue de Turennes (a great street for men's clothes) to Rue de Bretagne. Once it was the Marais, now it's this street that holds the sceptre as the epicentre of Parisian fashion. Since the opening of the Carrefour du Temple a year ago the area has "exploded", notes Kabyle Arezki, the co-proprietor of popular restaurant Chez Omar.
His older brother, Omar, opened the Algerian eatery 35 years ago and business is booming. A celebrity-fashion hub that caters to the likes of John Galliano, Madonna and Janet Jackson, Chez Omar nonetheless possesses an old-world charm and is inexpensive.
The trendy upstart down the road, Cafe Charlot (corner of Rue Charlot), is not as good for food. But it's invaluable for optic-nerving and soaking up the late night atmosphere. There's a selection of other late night cafes, some with music, in the street as well.
4: Le Marche des Enfants Rouges at 39 Rue de Bretagne is Paris's oldest covered market. It dates back to 1612 and was completely renovated in 2002. Open every day except Monday, it's very busy on weekends and boasts everything from Lebanese to Moroccan and Japanese cuisine at open air and covered tables. The market produce is very fresh with the bio (organic) stall probably the best in the area.
5: The Carreau du Temple at 4 Rue Eugene Spuller. I'd seen fashion shows there in the 1990s when the iron, brick and glass structure was like a dingy barn. How things have changed. Taking its name from the nearby medieval enclosure of the Knights Templar, the Carreau was built in 1863 as a covered market and besides the market is a multi-functional sport, arts and fashion centre under snowflake ply light fixtures by Kiwi designer David Trubridge. It houses a restaurant and is surrounded by other restaurants and cafes, some emphasising vegetarian cuisine, an unusual thing for Paris. There is very little traffic, which makes the outside dining experience all the more pleasurable.
6:
The Canal Saint-Martin, on the other side of Republique. Young Parisians crowd the banks every night in summer so there is hardly a cobblestone without a bottom on it. In these cash-strapped times why pay for a restaurant when you can have a pique-nique overlooking the water amid a dreamy confluence of overhanging bridges reminiscent of the Seine? Several companies run canal cruises as well.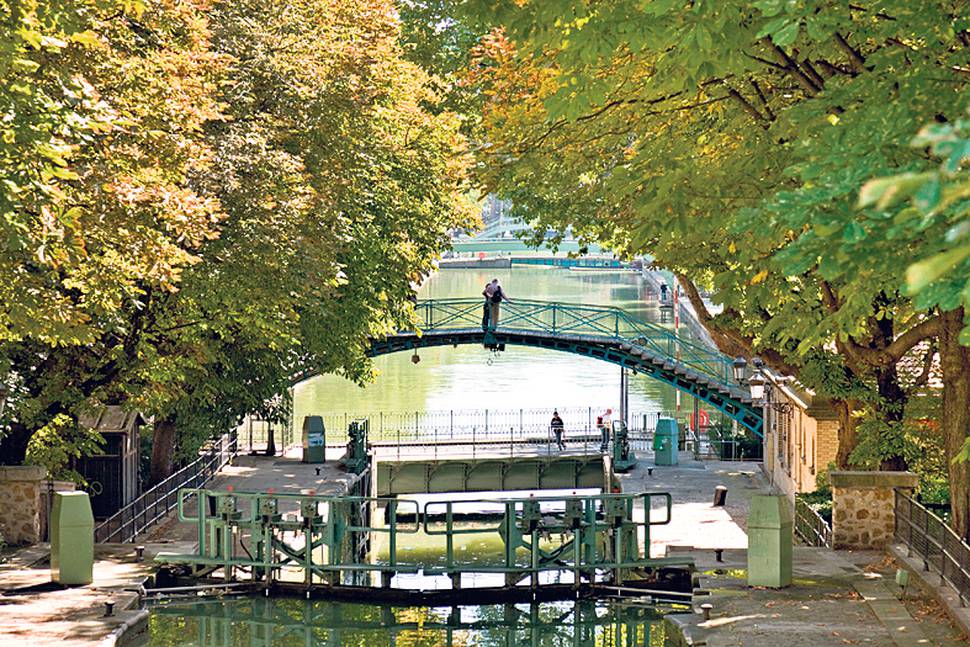 7:
Free music around the Canal. On weekends something is invariably happening, from choirs to drummers, although it's most likely fanfare music, a huge fad in recent years. Drawing on European traditions and playing hooting modern anthems like
I Love Rock N Roll
and the
Hawaii Five-O
theme, the brass bands typically feature colourful large tubas and comprise mostly young students. The best by far has been GrAtKiPoiLs, which roughly translated from French slang is The Itchy Hairs. The other night I came across a fanfare band playing on the most popular bridge (next to the uber-popular cafe Chez Prune) on to which I quickly climbed, only to have a trombone thrust in my face as the bridge heaved to the music. It was like an out of body experience. It's all wonderfully colourful and of course the folk in GrAtKiPoiLs usually wear something pink, or sometimes underwear or pyjamas.
8:
Cafe at the
at 48 bis Quai de Jemmapes.
It's easy to miss and most people do. Yet for €3 you can have a glass of tea (alcohol is available) and sit in one of the most laid-back beautiful environments as the canal pumps outside.
9: The Bassin de la Villette (metro Stalingrad or Jaures) and Canal de l'Ourcq take over from the Canal Saint-Martin as the waterway ventures north via several locks into cheaper locales: the new, new place to be. A Parisian friend was stunned the other night to discover the electric paddle boats and is determined that we rent one. The Bassin is the largest artificial lake in Paris and has a cinema complex with very cheap restaurants overlooking the water. It then narrows to become the Canal de l'Ourcq, with barges featuring restaurants and music as well as old-fashioned dances (balls: you know, the ones with partners) and of course the ever-present picnickers.
10: Next to the Canal de l'Ourcq is Parc de la Villette (metro Porte de Pantin).
It's out in the boondocks in Parisian terms, but the huge arts complex and parklands are booming. There are free outdoor movies in the summer (this year running between July 22 and August 23) have always been a fixture, but the increasing number of free or cheap exhibitions and concerts make it particularly enticing. Crowds of all ages throng towards the low-priced classical concerts at the Philharmonie de Paris, a striking Jean Nouvel-designed aluminium structure that is reminiscent of Frank Gehry's monumental Guggenheim Museum in Bilbao. Costing around three times its initial €130 million budget, La Philharmonie features so-called vineyard-style seating in its main 2400-capacity concert halls, with curved tiers of seats and balconies surrounding the stage so that everyone can have a good view.
If you feel like a drink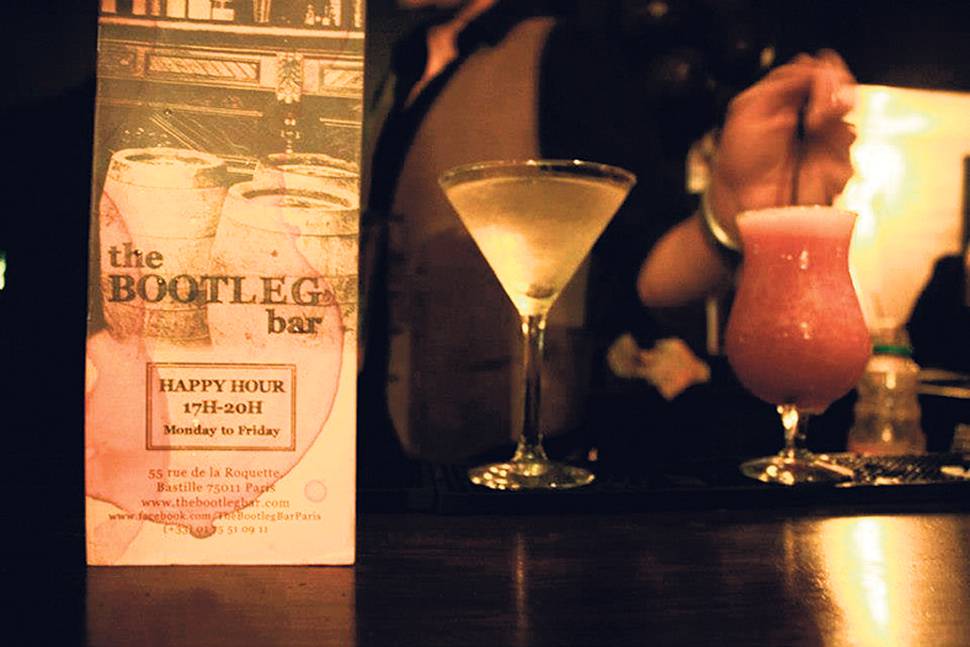 At the end of all this, head to The Bootleg Bar at 55 rue de la Roquette (Metro Voltaire or Bastille) if you feel like a drink and some friendly antipodean company. Sydney expat Damian Tither mixes a mean cocktail and offers advice for tourists there. Happy hours are 5-10pm, live bands Thursday and Friday. Damian and his fellow Aussie expat, Luca, from Adelaide (who's half French) are always keen to let patrons to watch sport there, which is good to know with the Rugby World Cup coming up. It can be hard to watch sporting events on French TV.