Justine Tyerman narrowly avoids being taken in by a holiday accommodation scammer.
The nightmare began six months ago. It was an innocent enough comment at the time but it set in motion a chain of events that either caused me night terrors or deprived me of sleep altogether.
It all started in Sydney where our elder daughter lives. We were farewelling our younger daughter overseas on her big OE so the mood of the weekend was emotional to say the least.
For years we had talked about a family ski holiday in Europe but we had never got around to organising it and once our daughters had grown up, the cost of four airfares seemed prohibitive.
Departing daughter's final words as we said a tearful goodbye at the airport with no fixed plans to get together again as a family were: "Why don't we meet up for a White Christmas in Europe?"
My imagination immediately ran wild. I could visualise it perfectly: the family reunited in a quaint chalet in the alps, sitting around a roaring fire, sipping gluhwein, faces aglow after an exhilarating day's skiing, husky dog sledding or snow shoeing. I could even picture what the place looked like with huge snowflakes drifting down outside and the steam rising from a jacuzzi bubbling away, a few metres from the door.
I managed to convince my husband of the merits of the scheme by pointing out that an overseas family holiday was much cheaper now that both girls had great jobs and were happy to pay their own airfares.
Within a few weeks of searching the internet, I found the place of our dreams at an incredibly reasonable rate and sent the link off to the family, patting myself on the back for having been so clever.
"Good old Mum," I said on their behalf.
The chalet was stunning - huge open fireplace, jacuzzi in the snow, fabulous views of the alps, and plenty of space for a few friends as well. I could even taste the cinnamon sticks in the hot mulled wine.
Then an email popped into my inbox one night while I was dreaming of thick feather duvets and powder snow as light as fluff, suggesting direct payment to an account number outside the confines of the website, to save paying the service fees.
Being wise to scams, I immediately smelt a whole family of rats at play but my heart declared war on my brain, and a fierce pitched battle began.
I badly wanted the chalet to be the real thing and played all sorts of mind games with my rational self in the hope it would come true, aided and abetted by both daughters who were sold on it and had already invited friends to join us in the "mint chalet Mum found in the mountains".
My heart sank to my toes when, a couple of days later, an email arrived from the website operator, warning me the chalet was indeed a hoax and the person I had been communicating with was a known scammer.
No money had changed hands but I was broken-hearted, nonetheless. I regret to say that wasn't the last of the scam attacks. There were two more attempts after that but I was battle-hardened by then.
Chastened, humbled and a whole lot wiser, it was back to square one. But by this stage, rentals had skyrocketed and I was starting to panic. We had already locked in airfares so there was no going back. I sent a few emails off to a variety of websites including a home swap site I had joined a few years ago.
In rides my hero Charles on his white charger, with a solution to all my problems. Charles, a travel consultant with Love Home Swap, introduced me to their new concept of points whereby members can accrue credits by making their homes available to others and then use the credits to book a holiday at another Love Home Swap property.
Points are like a Love Home Swap currency. Instead of swapping homes, which was the original concept, you can use points to pay for your time at another member's house, any time, anywhere in the world.
I had already accrued a healthy number of points so when it came to finding a place to stay, it was just a matter of searching for a property with a vacancy for the dates we were looking for and making contact with the host.
So now we are heading to Anne's beautiful REAL chalet in Switzerland, rent-free, and Anne gets to spend the points she earns from our stay anytime, anywhere in the world.
I could have hugged Charles. He turned my nightmares into sweet dreams.
Anne and I have been corresponding and have even swapped photos of our pets. Love Home Swap guarantees the place exists and handled all the documentation.
The resourceful Charles also helped me with my next mission - finding good accommodation in Paris where we are meeting for a few days before heading to the mountains for Christmas.
In addition to the home swap and points options, Love Home Swap members can elect to rent their properties out, which is an attractive option for hosts during the high season.
Charles put us in touch with Vincent, who owns an elegant penthouse apartment in the heart of St Germain des Près which has he agreed to rent to us at a reasonable rate. The apartment is centrally located on the Seine River with views of Notre-Dame, Ile de la Cité, the Sacré-Coeur and the Louvre.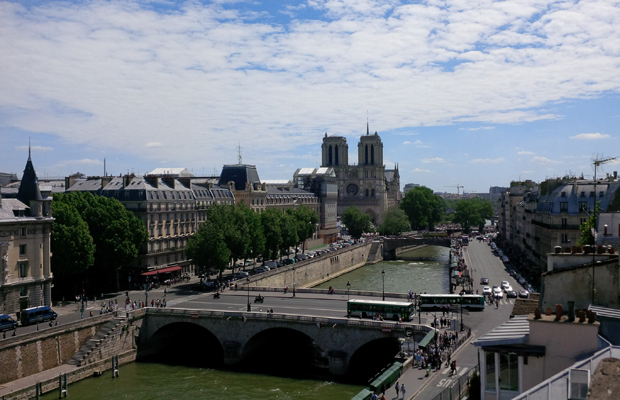 The views from one of the Paris apartments available through Love Home Swap's website. Photo / Supplied
Charles took all the anxiety out of the situation by finding the right place to suit our needs and handling the payment and security procedures.
So now with our accommodation safely locked in I can concentrate on important issues like getting fit for skiing and practising my husky commands.
Love Home Swap co-founder Ben Wosskow says they launched the points system to make it easier for Love Home Swap members to travel to destinations of their choice throughout the year.
"We have been delighted by how it has been received," says Ben.
"It has quickly overtaken traditional home swapping as our most popular way to travel as points allow you to stay at any member's home around the world at any time without having to do a direct swap with them.
"The benefits of travelling this way are clear - you can save a few thousand dollars on the cost of accommodation and enjoy a much more local holiday experience.
"And you don't need to have a mansion to be successful on our site - small and stylish properties in city locations are as much in demand as large and luxurious homes in the country."
CHECKLIST
Further information: See Love Home Swap's website for details on arranging a home exchange.