Sri Lankans revere and celebrate their tumultuous history. As Chris Pritchard learned, they like visitors to enjoy it, too.
"Move one small step to your left," suggests a senior hotel executive.
"Now you're standing exactly where it happened."
The bloodstains disappeared many years ago but I'm assured I'm where the victim knelt when he was executed.
The scene of this murder most foul is now one of Colombo's classiest boutique hotels - in a country where historic lodgings are thick on the ground.
The 10-room Tintagel and others of its ilk are affordable, despite their opulence, because Sri Lanka remains one of Asia's greatest bargains with top-drawer places costing roughly what mid-market hotels charge in much of the region.
What's more, English is an official language and the country (a tipping nation, admittedly) has a well-honed tradition of great service.
Tintagel was a mansion occupied by a prominent family of lawyers and politicians.
This was at a time of growing mutual distrust between the country's Tamil minority and Sinhalese majority. Civil war later erupted - a draining 26-year conflict ending only after government forces defeated Tamil Tiger rebels in 2009.
A teardrop-shaped isle to India's south, Sri Lanka inspired the word "serendipity" - denoting accidental but pleasant discoveries.
After prolonged political violence, the country is once again serendipitous. Tourists from all over are back - and tourism, a key industry like tea production, once again thrives.
The country is rich in attractions: ancient cities' ruins, national parks with roaming elephant herds, beaches edged by resorts and a colonial history encompassing Portuguese, Dutch and more recent British input.
Sri Lankans have noticed visitors' interest in history. As a result, old buildings have been transformed into hotels and down-at-heel lodgings have been spruced up.
Tintagel typifies this trend.
A knock on the sturdy front door of this grand mansion - little different from other homes of Colombo's rich and famous - one late-September day in 1959 propelled this prime ministerial residence into the headlines.
A saffron-robed Buddhist monk was welcomed, bypassing security because of his religious status. The visitor was a genuine monk, but he was also an assassin who reputedly believed Ceylon Prime Minister Solomon Bandaranaike, a fellow Buddhist, wasn't tough enough on Hindu Tamils. He pulled a revolver from under his robes and shot the politician, who was kneeling respectfully.
Bandaranaike died hours later in hospital.
His widow, Sirimavo Bandaranaike, subsequently took over his job - becoming the world's first female prime minister. She continued to live in the house while heading the government.
The couple's daughter, Chandrika Bandaranaike Kumaratunga, who later became Sri Lanka's president, also lived in Tintagel.
The mansion later betrayed signs of neglect but, three years ago, it underwent total refurbishment to be reborn as a stylish boutique hotel - still called Tintagel - with prominent Sri Lankan designer Shanth Fernando at the helm.
Fernando spruced up the hotel with hi-tech innards and a showpiece restaurant but retained Tintagel's historical significance. Photographs of important moments adorn walls and a library houses the Bandaranaikes' extensive book collection.
Colombo is also home to the far larger Galle Face, one of Asia's grand old hotels, which opened in 1864. The 145-room property is run by Sanjeev Gardiner, who took over from his late father, a delightfully eccentric millionaire.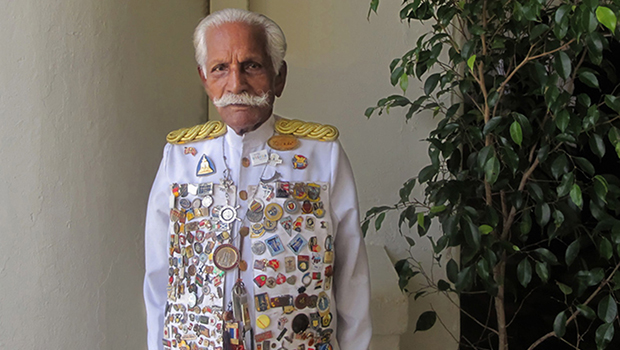 K Chattu Kuttan, doorman at Galle Face Hotel. Photo / Facebook
Cyril Gardiner was passionately opposed to smoking and decried copious consumption of alcohol. Anti-smoking exhortations dotted public areas. Discounts were offered to non-smokers. Cocktail service was deliberately slow.
Change came when Sanjeev took over. History and modernity were blended. A formerly derelict wing became a successful business-oriented hotel within a hotel.
However, many foreign guests prefer the "old" Classic Wing with creaking floorboards and oversized rooms (some named after royalty, politicians and celebrities who have stayed) from which to watch the Indian Ocean crashing relentlessly against a rocky perimeter.
Former guests range from pioneering cosmonaut Yuri Gagarin to Prince Philip. Indeed, the hotel's own museum in the "new" Regency Wing exhibits - among other memorabilia - a car that belonged to Prince Philip when he was briefly stationed in Sri Lanka (then called Ceylon) during World War II.
Leading science fiction author Sir Arthur C. Clarke, of 2001: A Space Odyssey fame, wrote part of 3001: The Final Odyssey, while staying at the Galle Face.
The hotel, renowned for high society weddings and much photographed by tourists, is Colombo's hottest spot for cocktails at sunset - and service these days is swift.
Beyond Colombo, historic buildings have become important as modestly priced lap-of-luxury accommodation.
The home-grown Jetwing chain, for instance, has upgraded St Andrew's Hotel in tea-country Nuwara Eliya (which also boasts several other antique-filled properties).
In Kandy, Sri Lanka's temple-rich number-two city, Queen's Hotel - formerly a governor's home and built more than 160 years ago - has had a facelift.

The Queen's Hotel in Kandy. Photo / Facebook
Another tastefully restored property, overlooking tea plantations, is Jetwing's century-old and antique-studded Warwick Gardens.
Similarly opulent is a former planter's mansion: called The Lavender House, it was built in the 1890s.
Owners James and Gabrielle Whight, originally from Melbourne, also run Colombo's Cricket Club Cafe. In a colonial-era villa, the restaurant-bar is a popular hang-out for visiting cricketers.
"Sri Lankans really make the most of their historic buildings," Gabrielle tells me as she shows me through The Lavender House.
CHECKLIST
Getting there: Singapore Airlines has daily flights from Auckland to Colombo via Singapore. United Travel has a range of options for group and individual travel through Sri Lanka.
The writer was a guest of Air Asia, Sri Lankan Airlines, Jetwing Hotels and Galle Face Hotel.
- AAP