John Summers travels to a city devoted to Maoism - a place where Stalin is revered as a hero of the people.
A street busy with hawker stalls, littered with plastic bags and dropped kebabs has motorcycle rickshaws rattling up and down. Someone on an e-bike zips through the slight space between my partner and I with a too-late buzz of the horn. This is the town of Linying. So far, so China.
But, then, everything changes. We go through Chaoyang Gate, a traditional portal of brick and brightly painted wood, into a vast concrete square that is spotlessly clean. Not a hawker in sight. From there, a tree-lined boulevard leads to a 9m-high white marble Mao, guarded on either side by women in military uniform.
There are a lot of red flags, portraits of Marx, Engels, Lenin and Stalin. Loudspeakers blare propaganda and an enormous rainbow arch is a final reminder that socialist paradise is the theme here. We've entered Nanjiecun, China's last communist collective.
Nanjiecun collectivised just as the rest of the country was dismantling the collective farms and villages of Mao Zedong's era and moving toward capitalism.
The town tells an alternative story to that of China's breakneck economic growth and rising consumerism, one of nostalgia for those days of Mao suits, Marxism and austerity.
Once a centre of power - it has a museum of relics to prove it - Henan province now languishes as one of China's poorest, out of step with the fast-developing, increasingly affluent east coast.
We strolled up and down Nanjiecun's tidy grid, past parks, schools and uniform rows of workers' apartments. We saw a couple of supermarkets, plots of wheat, botanic gardens and a natatorium which, as far as I could tell, was a public swimming pool. Mostly, we saw factories. Several are dedicated to producing beer, chocolates and noodles.
Workers reportedly are given healthcare, food and even furniture plus wages for their labour. Their Maoist philosophy also guarantees food safety (a major issue in China today), said the town's party secretary in a 2011 interview with state-owned tabloid Global Times. However, he conceded there had been "trivial accidents, like exploding beer bottles".
There are no beggars in Najiecun and no one tried to sell me a stolen cellphone or a fake Rolex. No one tried very hard to sell us anything. The military uniformed woman at a snack stall giggled when I went to buy a bottle of water. And it was so much quieter. Where were the megaphone-delivered sales pitches and great, hawking spits? With few cars, I didn't hear the usual barrage of leaned-on horns and crossing the street was no longer a death-defying act.
It was eerie, this holiday from China in an idealised version of its past. But, after several months living in a boisterous Chinese city, we found it strangely relaxing.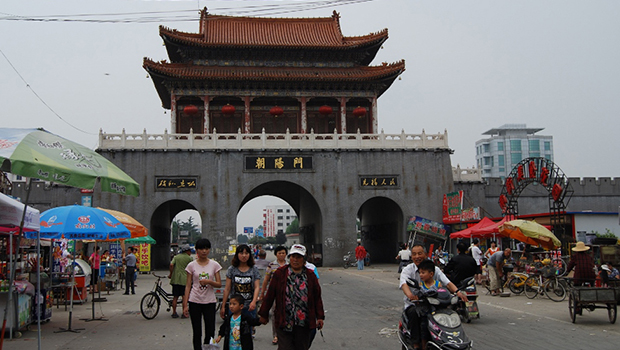 Linying looking back through Chaoyang Gate to Nanjiecun, where 20th-century Communist austerity is preserved. Photo / John Summers
This orderly contrast to the rest of the country is an asset in Nanjiecun's recent efforts to lure domestic tourists. It touts itself as a socialist theme park of sorts.
We spotted two groups being whizzed around in golf carts, stopping by the square for photos before heading to a sightseeing park of replica communist landmarks with its full scale copy of the Chairman's childhood home and an imitation of the pagoda at Yan'an, the Chinese Communist Party's wartime headquarters. Few of these visitors were staying at the town's one hotel, a white-tiled monster on a corner of East is Red Square, where staff outnumbered guests four to one.
The locals we met looked happy. The wheat plots outside town were golden. But in a place where plastic leaves are glued to the banyan in the botanic gardens, it would be a mistake to believe everything is as it seems. Reports of heavy debt and corruption have seeped out. The place is allegedly bankrolled by the Agricultural Bank of China. As we left, we got a hint of how careful Nanjiecun is in its interactions with the outside world.
While breakfasting in the hotel, we had a visit from two police officers. They handed over a sheet printed with English phrases: "Hello we are Nanjiecun Police. What is your purpose for being here? Where are you from? Where do you go to?"
We had already registered our visa details and had our passports photocopied by the hotel, a requirement for foreigners in China although one that mostly felt like a bit of a rubber stamp. Not here. Our two new friends put our forms on the table so we could add more detail about our plans and, once we had handed over our passports, they took notes.
The woman pointed to a sentence on their sheet of paper, "Do you have two pictures?" Did they want more passport photos? My partner told her, in Chinese, that we didn't have them. "Sorry," the man said.
Eventually they seemed satisfied we posed no threat, and ambled back to their car, leaving us to our rice porridge, baffled and more curious about this strange town north of the Chaoyang Gate.
CHECKLIST
Getting there: China Southern Airlines connects from Auckland to Zhengzhou Xinzheng International Airport in Henan province. From there, local buses go to Linying.