A great boys' trip up north is about golf and sleep not babes and beach for family man Rob Cox.
The thought of a long weekend away in a campervan with old mates Mark, Mono and Jerry would normally repulse me. But the four of us headed to the Bay of Islands together for the sake of our health and happiness. No joke: studies show an annual "Hoffsite" (Husbands Offsite) is crucial for any man with a mortgage, wife and kids.
Apparently the lads and I would:
• Increase life expectancy (just getting sleep would help that);
• Enjoy a supportive, nurturing and safe environment for us to express our feelings (this didn't happen);
• Feel more attracted to our partners and possibly reduce the risk of erectile dysfunction (probably best to focus on points 1 and 2).
I didn't mention any of this to the lads as we headed up the motorway. I felt that conversation might result in them hurling me out of our campervan somewhere over the Brynderwyns.
Our first mission was to get to Kerikeri for a round of golf at Kauri Cliffs. Halfway there, we had our first casualty. Mono had been talking shop on his cellphone in the back of the campervan for a good hour and ended up getting sick and ruining a perfectly good bag of chips. We made it to our destination a tad late.
Teeing off on those cliff holes is spectacular. Since it was a lads' trip, it became bloody competitive. The course has its challenges: the dreaded ninth hole had all four teeing off twice after failing to make the fairway (to be fair, it was on the other side of the valley). I don't recommend driving golf carts in the dark on those cliffs. Nearly lost Jerry over the edge at one point.
We were eventually guided back to the clubhouse high up on the hill and made the most of their facilities. It's pretty flash - not sure if we were dressed appropriately - then headed for Paihia.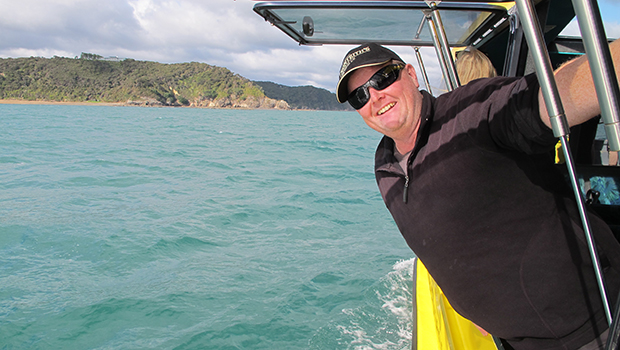 Male bonding in the Bay of Islands for writer Rob Cox and mate Mark Shaw. Photo / Rob Cox
A good dose of "I miss my family" hits hard when you wake in a campervan with three stinking blokes moaning about getting no sleep and asking what you've organised for their breakfast. After verbal sparring we investigated Beachside Holiday Park in daylight for the first time. It's in a little bay away from the town with stunning views and all the facilities any camper could wish for.
The owner, Dusty, told me that during the Rugby World Cup, the place was full of vans with six French or English blokes in each. After six weeks of being packed out, it took two months to clean the place before he could reopen.
We couldn't chat for too long because our shuttle arrived to take us dolphin-watching with Explore. It's a fantastic way to see the bay, the Hole in the Rock and, if you're lucky, swim with dolphins. We found a pod that entertained us for 15 minutes but, possibly because there were babies around, we couldn't dive with them. Okay, it was also freezing and my mates threatened to throw burley bombs either side of me to attract sharks.
The cruise takes in many of the islands and their stories. It's claimed that when Captain Cook sailed in here almost 250 years ago, he intimidated the residents of one island, standing on the beach, by firing a cannon into the slopes behind them. A year or so ago, one of the fortunate people who owns property on these exclusive islands was building a retaining wall and dug up a cannonball.
After a lovely afternoon gazing at the scenery and watching Jerry nearly get swept over the bow by a freak wave, we landed at Russell for light refreshments at the Duke of Marlborough and every other pub in the town. Four or five hours of light refreshments later, we caught the ferry back to Paihia, feeling peckish.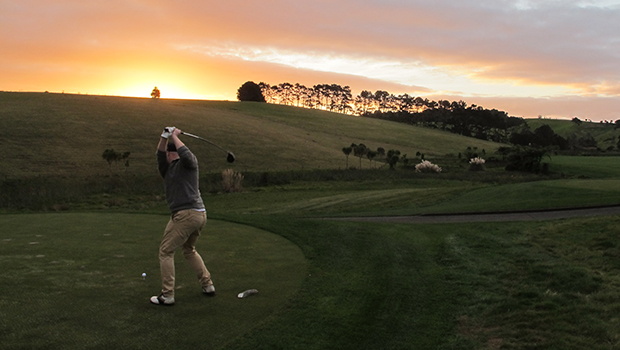 A successful weekend away includes a round of golf. Photo / Rob Cox
Fortunately we didn't have far to walk: 35 Degrees South Aquarium Restaurant & Bar is right on the pier. Inside, the aquarium is the size of a small building; my kids would have loved it (shame). Outside, the deck overlooks the bay. The meals were huge; combined with earlier refreshments, we agreed to retire hurt.
Next day, another early start had us back on the wharf at the crack of dawn (well, 10am) to fish with Spot X Charters. Mono didn't like his chances - he hasn't got the best sea legs and had already lost his lunch just driving up in the van - so he nipped into the pharmacy and bought a couple of Paihia Bombers. These sea sickness pills are magical. Mark, Jerry and I enjoyed the afternoon without fearing another Eta Ripples disaster.
Captain Rob took us to the head of the bay, set us up with rods and bait, put down the anchor and let us rip into it. Mark is the fisherman among us, Jerry is famous for not catching a thing and moaning about it like it's our fault, and I am pretty much useless.
So when I latched on to something that refused to be brought to the surface and headed out to sea with me clinging to the rod for fear of being pulled into the water, things started getting interesting.
Captain Rob told me I'd probably landed a shark, which is when I started to panic. The lads began hurling abuse because they were told to reel in their lines. I threw myself around the boat in a fight to the death with Jaws or something even bigger.
Rob pointed out that if I didn't put the rod between my legs and pull, my shoulder would probably snap off. For the first time during the weekend, it truly felt as if I was on the verge of a supportive, nurturing and safe environment as my mates let me know that it looked much worse than it probably felt, and took photos.
Fifteen more minutes and I had landed my first hammerhead shark. Unfortunately we had to bring it on to the boat to get the hook out of its mouth. The bad part was me trying to lift up this beautiful creature to get it back in the water: I accidentally dropped its head on the floor as it thrashed about. Captain Rob shook his head ... bloody Aucklanders.
Long story short, Jaws swam off and the team downed lines again. Mono and Mark cleaned up with snapper and trevally, I had my shark tale ... and Jerry caught nothing again.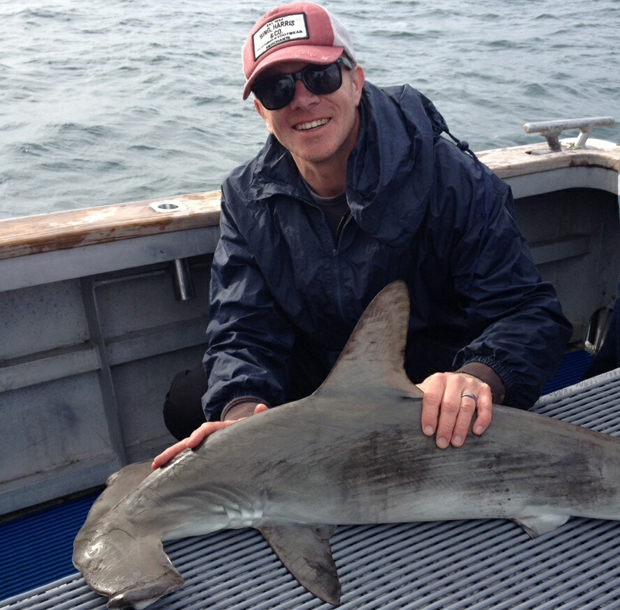 Rob lands a hammerhead shark. Photo / Rob Cox
We feasted in the campground that night. Mark cooked freshly crumbed snapper with lemon and pepper wrapped in a slice of bread. With a few cold beers, best meal ever.
We headed back home next day. I was shattered and so was my shoulder, as predicted by Captain Rob. I'm not convinced anything I did increased my life expectancy although it was great to get some sleep.
I wouldn't say the lads were altogether supportive of one another or expressed any feelings other than the joy of watching one get maimed by a golf ball. I didn't need to worry about feeling more attracted to my wife because my mates are as ugly as sin.
I can say I'd do the trip again - any chance to spend time with those misfits is a gift- so the Hoffsite will become an annual event, and there will be constant moaning from Jerry, Mono will lose his lunch again and Mark will be forced to cook every meal.
But that's why I'd go. Lifelong mates are hard to find ... and impossible to get rid of.
CHECKLIST
Accommodation: Hire a Maui camper and stay at Paihia's Beachside Holiday Park.
What to do:
• Go golfing at Kauri Cliffs
• Take a cruise to the Hole in the Rock or go dolphin spotting with Explore.
• Dine at Paihia's 35 Degrees South Aquarium Restaurant & Bar.
• Head out fishing with Spot X.
• For a real treat, check out Bay of Islands Cruise & Kayak's Night Safari tour.
Further information: See visitboi.co.nz.
The writer travelled with assistance from Bay of Islands Destination Marketing Group and Maui.