A dragon's tail sideswiped me as I was standing inside the Taoist temple among hundreds of zealous worshippers with their offerings to the Goddess of the Sea, my eyes stinging and streaming from pungent incense smoke and my ears ringing from the sound of firecrackers and clashing cymbals.
It was culture shock of the first degree and it left me momentarily stunned, like so many other extraordinary experiences I encountered in Taiwan.
In this densely populated, high-tech, entrepreneurial country of 23.3 million, it took me by surprise to discover there were many who prayed to the image of a golden goddess in a temple topped with green and purple dragons.
The experience forced me to examine my own Western Christian upbringing and realise that our religious practices must seem as strange to them as theirs are to us, a salutary lesson at the beginning of my six days in the country.
Fascination soon displaced any sense of unease as I was swept up in the vibrant, friendly, festive Chinese New Year parade under way at Tien-Ho Temple, literally the Temple of the Empress of Heaven.
The brightly coloured building was constructed in Lu-Kang, Chang-hua County in 1725 under orders from a Ching dynasty emperor to honour Matsu, Goddess of the Sea and protector of fishermen.
Huge statues of deities — some with fearsome expressions — were arriving from other temples, borne aloft by strong men inside the hollowed-out figures.
They had all come to pay homage to Matsu, Taiwan's most famous and popular goddess, announced by an ear-splitting cacophony from a firecracker machine.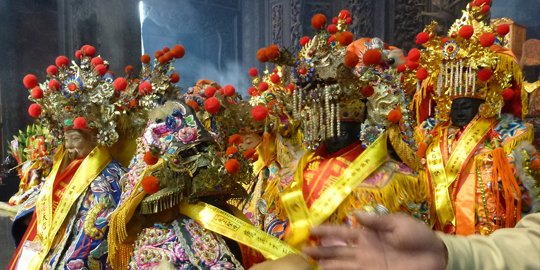 Signed ribbons at Tien-Ho Temple. Photo / Justine Tyerman
The scene inside the temple was frenetic, with hundreds of smaller statues from surrounding temples being presented at the altar for blessings by way of immersion in incense smoke.
A signed ribbon was then tied around the image to verify it had been blessed.
Our Taiwanese guide, the delightful Francis Hu (a former colonel and military attache in the Taiwanese army), explained this was a great money earner for the host temple as each blessing had to be paid for by officials from the visiting temple.
You would not want to tangle with Matsu's two guardians that stand either side of her — the figures, one gifted with far-sight, "Thousand Miles Eye", and the other with acute hearing, "With-the-Wind Ear", are ever-alert and warn the goddess of approaching danger.
Dragons seemed to follow me around that day - in the evening I found myself in a maze of dazzling shapes and colours at the Taiwan Lantern Festival, the grand finale of the Chinese New Year celebrations.
A bizarre medley of The Unicorn Song and Puff the Magic Dragon was playing inside my head as I wandered around the thousands of brightly-lit horned and winged horses, fire-breathing dragons, butterflies, peacocks, dinosaurs, sea creatures, birds, cartoon characters and even a few green alligators and long-necked geese at this year's festival in Zhongxing New Village, Nantou County.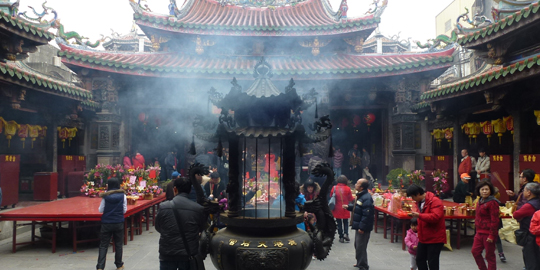 Tien-Ho Temple. Photo / Justine Tyerman
The modern, government-funded version of an ancient festival celebrating the coming of spring and the end of the Chinese New Year is a fusion of many talents and passions of the Taiwanese - their technological wizardry, love of brilliant colour and obsession with cartoon and fantasy characters.
The climax of festivities in 2014, the Year of the Horse, was the lighting of the massive 23m high, 45-tonne "Lucky Horse Prance" lantern amid spectacular fireworks.
The rearing stallion rotated on his pedestal, pulsating with 200,000 brilliantly-coloured LED lights, and cheered by a crowd of 77,000.
Francis said the centrepiece lantern was inspired by a famous historical stallion, Yanqi Horse, and was "prancing full of energy, and galloping toward Yushan, the highest peak in Taiwan".
The lantern festival used to last 45 days or more but is now packaged into a week to 10 days of frenzied activity.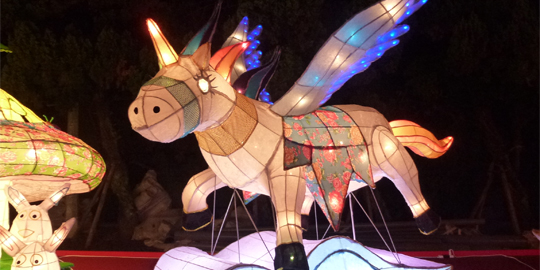 A unicorn lantern. Photo / Justine Tyerman
The Taiwan Tourism Bureau took ownership of the festival 25 years ago, breathing new life into the flagging tradition, transforming it into one of the world's top festivals, according to rankings by Discovery Channel.
Nantou County worked for six years for the right to hold the event and this year it attracted 7.3 million visitors from February 14 to 23.
It is hotly contested nationwide and a huge money spinner for the host city.
The lanterns, displayed in a vast outdoor arena, were created by businesses, temples, schools, community groups and government departments.
There were more than 30 different section, with areas devoted to traditional, historical, folklore, religious, aboriginal, fantasy and competitive categories, but the most eye-catching were the gorgeous dragons and peacocks.
This year, thousands of gifts were handed out to overseas visitors so I left the festival with the pattern pieces to construct two yellow ducks.
I was secretly hoping for a unicorn ... or perhaps a dragon.
CHECKLIST
Getting there: China Airlines flies to Taipei direct seven days a week, with a refuelling stop in Sydney. From Taipei's domestic airport, Songshan, handily located in the city, there are plenty of daily flights to locations throughout the country.
Details: Next year's Lantern Festival runs from March 5-15, at the THSR Taichung Station, Taichung Park and Fengyuan District, in Taichung City.
Further information: See eng.taiwan.net.tw/.
Justine Tyerman travelled as a guest of the Taiwan Tourism Bureau and China Airlines.