in California is one of the most spectacular wilderness spots in the United States but it's also a great jumping-off spot from which to explore some lesser-known Californian gems. Here are five places you might like to visit either side of your Yosemite experience.
Sequoia National Park
A tourist is dwarfed by the mighty General Sherman sequoia. Photo / Thinkstock
About three hours' drive south of Yosemite you'll find the largest tree, by volume, on Earth. The General Sherman sequoia is by no means an anomaly here, though — five of the planet's biggest trees can be found in the park's Giant Forest Grove. Once you've done your share of gawping skyward, you can get a view of the forest from above by climbing 400m to the top of Moro Rock, a huge granite dome that rears above the park. Steps are cut into the rockface and there are welcome handrails to cling on to as you approach the summit.
Three Rivers
This quiet wee town just outside Sequoia National Park is a great place to overnight while you're in the area, or to relax and refuel for a few days before continuing your road trip.
Look past the shabby road sign and try Lake Elowin Resort for a family friendly stay in rustic cabins dotted around gently landscaped grounds. A man-made lake for guests to swim or canoe in sits at the bottom of the garden and, if you care to strike up a conversation, owner Milton will regale you with brilliant tales of his former life in the music business.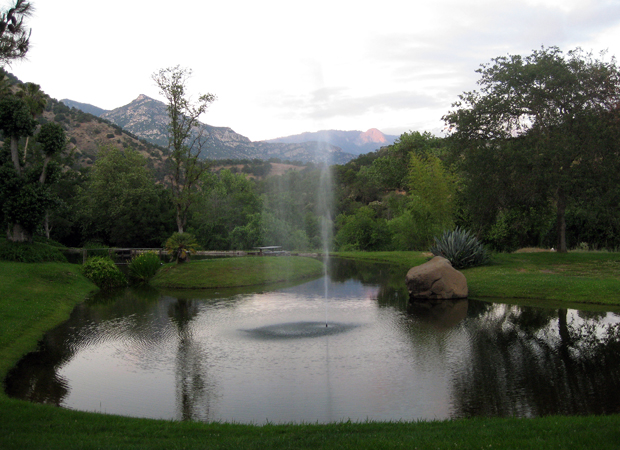 Dusk at tranquil Lake Elowin Resort in Three Rivers. Photo / Eveline Harvey
Head over to the We Three Bakery on the main road for a leisurely breakfast under the big oak on the patio before taking a dip at nearby Lake Kaweah or rafting on the Kaweah River. As evening approaches, nab a table on the back deck of the River View Restaurant & Lounge for a bite to eat and a yarn with the locals.
Mono Lake
Just to the east of Yosemite lies this unusual lake, the edges of which are dotted with calcium carbonate towers known as tufa columns. Looking like the last sentinels of an eroded landscape, these stalagmite-like growths are created by minerals bubbling up from freshwater springs beneath the lake's surface.
A photographer's dream at sunrise, Mono Lake and its islands are also important from an ecological perspective as the main breeding and nesting area for California's seagulls.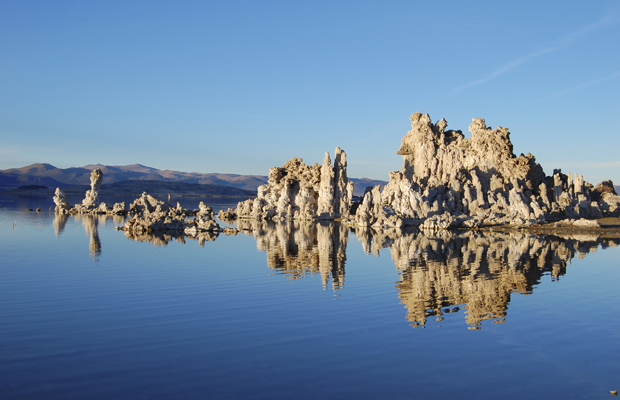 Tufa columns stand starkly against the blue backdrop of Mono Lake and the Californian sky. Photo / Thinkstock
If all the driving around at altitude is making you feel a bit funny (it's higher than 2000m in these parts) stop in at the delightfully-named Whoa Nellie Deli at the service station in nearby Lee Vining for some great food.
Bodie State Historic Park
This desolate place is one of California's most incredible former mining settlements.
The discovery of gold in the area in 1859 sparked a frenzy that saw the windswept desert plateau's population eventually reach 10,000. Notorious for its lawlessness, even by the standards of mining towns, tales of the "Bad Man of Bodie" circulated far and wide in the town's heyday.
Photos: Bodie State Historic Park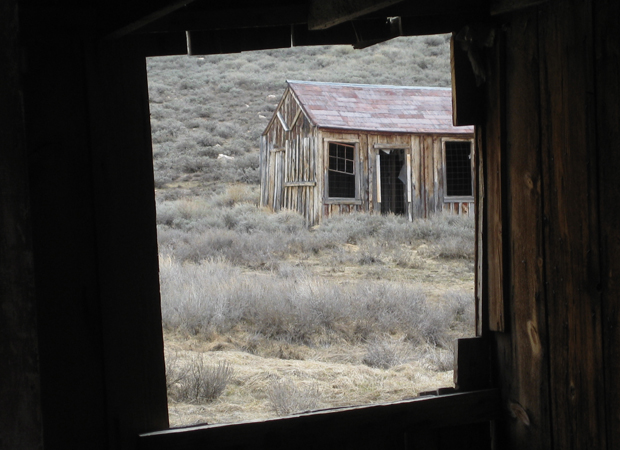 A deserted and derelict miner's cottage at Bodie. Photo / Eveline Harvey
Sitting about 2500m above sea level, it's a fascinating but bleak place even in the height of summer and must be more so in winter, when enormous drifts of snow can settle. Now a ghost town in the truest sense of the term, Bodie's buildings have been left just as they were when finally abandoned by the miners.
Mammoth Lakes
If it's an active holiday you're after, the town of Mammoth Lakes will tick all the boxes.
In winter and spring there's skiing and snowboarding aplenty on the heights of Mammoth Mountain, while fans of mountain biking, hiking, fishing and rock-climbing will be in seventh heaven once the snow starts to melt.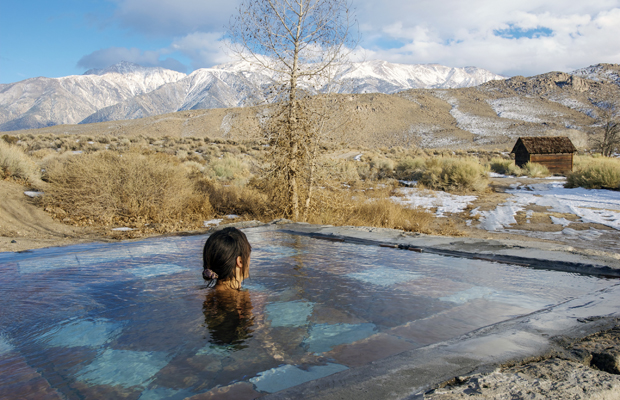 The Eastern Sierra is riddled with picturesque hot spring bathing spots. Photo / Thinkstock
Drive the nearby June Lake Loop to find more pristine areas for outdoor adventures and jaw-dropping scenery, or head to the geological marvel that is the basalt columns of the Devils Postpile National Monument (accessible from June to October depending on the weather).
Looking to soothe tired muscles after a long day of exertion? Get yourself to one of the many natural hot springs in the area for a soak. Ask a local for tips on the best ones to visit.
PLAN YOUR ROAD TRIP
To book your USA road trip: See House of Travel.
Further information: See visittheusa.com.
CHECKLIST
Need to know: Mono Lake, Bodie and Mammoth Lakes are on the eastern side of Yosemite. Unless you're visiting when the Tioga Road (Highway 120) through the national park to Lee Vining is open (usually May - September, depending on snowfall), you'll need to drive around the highest parts of the Sierra Nevada mountain range - a long trip either to the north or the south.
Getting there: Air New Zealand flies to the Californian cities of San Francisco and Los Angeles. From there, your best bet to see the Sierras is to hire a car and self-drive, though Greyhound and Amtrak service some of the destinations (seasonal restrictions may apply). It's also possible to fly to Mammoth Lakes from San Francisco or Los Angeles with Alaska Airlines and United Airlines respectively.