Time is running out to meet our biggest cousin, writes Sandy Kilgour
If meeting mountain gorillas is on your bucket list, do it now. There are only 880 left; and in just two places on Earth: Rwanda and Uganda.
Travellers choosing Rwanda help the tiny country's growing tourism sector, which generated US$294 million ($374 million) in 2013 (up 374 per cent from $62 million in 2000). The Government invests five per cent of profit from national parks into local communities for roads, schools and other projects.
Although many will remember the East African nation only for the genocide of an estimated million ethnic Tutsi people, that tragedy was two decades ago. The new Rwanda is safe, friendly and progressive. Two facts: it has banned plastic bags; it has more women in government than any other country.
Driving around the capital, Kigali, the visitor feels the locals' pride in their clean, palm-framed streets and roundabouts with manicured gardens and fountains. Notice, too, trendy upmarket suburbs sandwiched between more traditional neighbourhoods of mud-and-stick houses.
We thought our guide Bram was joking when he ordered a 4.30am pick up for the two-hour drive to the mountain gorilla base camp. He wasn't, and our hotel had a baked picnic ready by 4.15am. (Note to self and others: spend a whole day in Kigali and chill out rather than rushing.)
We drove uphill in heavy fog. Best to just close your eyes on these occasions, although I was fascinated to watch a steady procession of locals walking to the markets with their heads piled high with whatever produce they had to sell. Sometimes up to 50kg was carried on a single woman's head, and very young children were also working.
We climbed to 2500m above sea level to the gorilla HQ base camp and joined 80 more gorilla trekkers at 7am. Only eight people and two guides are permitted in each of the groups that meet one of the 10 gorilla families, for one hour each day.
The trek started with a show from the Intore dancers, a lively local cultural group with beating drums, lion mane-clad dancers, musicians and narrative story telling.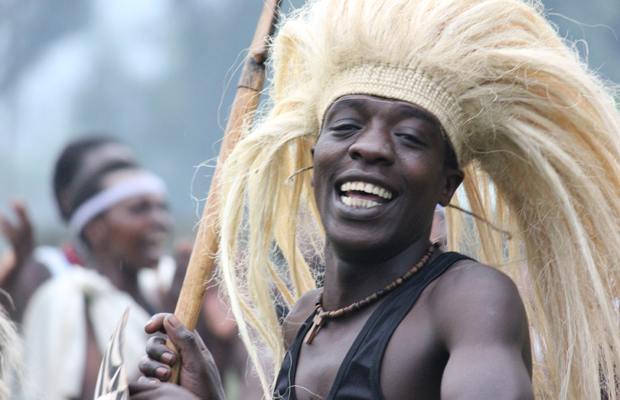 The Intore dancers entertain visitors to Rwanda's Volcanoes National Park. Photo / Sandy Kilgour
We were allocated to meet the Hirwa (lucky ones) gorilla family group. Our party included a young Mexican couple, a family of three from Peru, a Hungarian woman and we two Kiwis. As well as the two guides, we were joined by two trackers, two guards and a hired porter each. Many of the porters are former poachers; helping change their lives is just one of the many ways visitors can contribute to saving the gorillas.
We set off, passed some of the most manicured vegetable gardens I have ever seen and then ... "Welcome to the jungle", said our energetic guide Bernice.
She meant it, too — for what felt like hours we climbed behind the trackers slashing the undergrowth ahead. The porters helped us over any obstacles and pointed out dangers like poison ivy. What felt like miles was in fact only 600m.
Just as they predicted, the effort of travelling halfway across the globe was instantly forgotten as we turned a corner in the forest to be standing no more than seven metres from 16 mountain gorillas.
The only time I felt fear was when one of the Mexicans startled the gorillas by waving his GoPro camera on a stick. I was scared that after all that work, we would not get to see them as they nearly scattered into the dense bush. Luckily, they quickly calmed and returned to grooming and resting after a morning feed of their favourite cane and gum trees.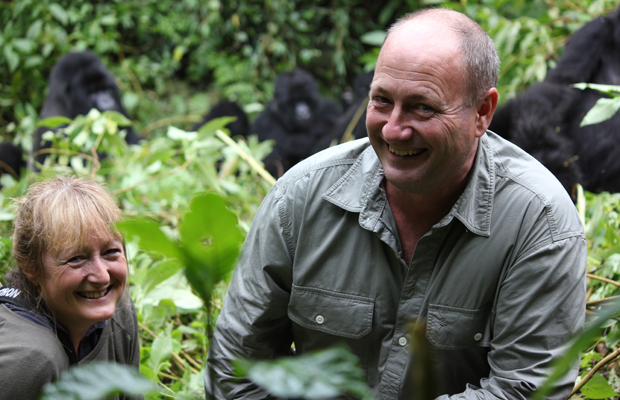 Sandy Kilgour (left) and Jason Parmenter crouch in the jungle just metres from the Hirwa mountain gorilla family. Photo / Sandy Kilgour
The thing that struck me is how individual each is, and how similar to us they are. With 97 per cent of the same genes as humans, the connection between our species is instant. There is something about their eyes that is so captivating it brought tears to my eyes. Each character in the family can be identified by their unique nose.
One of the most majestic is the 230kg-plus silverback Munyinya. He is one of the three largest silverback, or adult male, gorillas in the world.
While he has full command and respect as head of the family, Munyinya also has a uniquely parental role. When one of the boys became orphaned, Munyinya also took on the maternal role of carrying and caring for the orphan. He is the only male known to behave like this.
The guides had briefed us not to stare directly at the silverback for too long but it was hard not to — until he started that whole chest-beating thing that shook us to the core!
And when I looked away from him, I spotted a mother with her two-month-old baby, just two metres from me. She was cuddling him and could not stop kissing her blissed-out infant.
It was one of the most heart-wrenching moments I have experienced.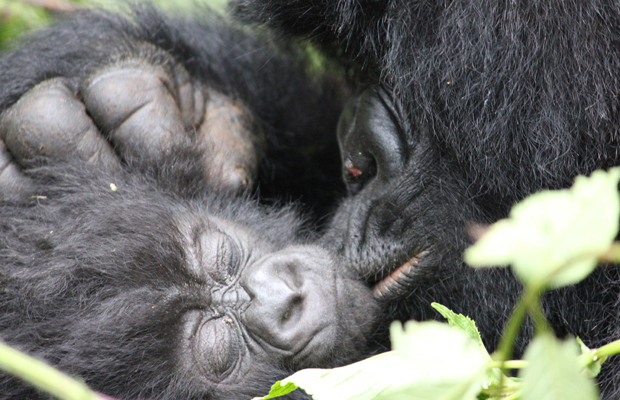 A mountain gorilla mother kisses her two-month-old baby son. Photo / Sandy Kilgour
Sadly, our hour was up. We said goodbye and headed downhill. At base camp we received a certificate thanking us for our contribution to conserving the critically endangered mountain gorillas. But really we should have been thanking them for being the hardworking and dedicated guardians of these most precious of creatures.
The drive back to Kigali was much nicer in the sunshine, past terraced gardens and happy crowds heading to church wearing their Sunday best, some carrying peace baskets for friends.
Who wouldn't want to be a Muzunga (white person) in the mist?
CHECKLIST
Top tips:
• Plan yourself — it is so much fun.
• Find a travel agent who specialises in Africa and give them a detailed brief.
• Select a local brand and company that matches your values and budget.
• Go for as long as you can and go as many times as you can (I wish I had gone twice to be honest).
Getting there:
Thai Airways flies to Kigali via Bangkok and Addis Ababa.
South African Airways flies to Kigali via Perth and Johannesburg.