The New Zealand dollar is heading up against the Australian currency and one expert says parity is on the cards.
Tonight the kiwi closed at 96.16 Australian cents up from 96c on Wednesday.
Tim Kelleher, head of institutional FX sales NZ at ASB Institutional said the kiwi was heading towards the 97c-to 98c range as the Australian dollar, was weakened by hedge trading and weak Chinese economic data.
He said parity with the Aussie was a possibility.
"I certainly wouldn't discount it," said Kelleher. "If China is performing as badly as people think it is and there is a run on the currencies the Aussie dollar will come under greater pressure than the kiwi dollar.
The kiwi dollar would fall also but because of Australia's even closer economic ties to China, the fall would not be as fast or as far.
"Let's see what happens in the New year. It all ties into that first quarter being quite pivotal."
The last time the New Zealand dollar came close to parity was in April 2015 when it climbed as high as 99.8 Australian cents.
Australia is New Zealand's biggest trading partner and exporters of more than $12 billion in goods and services would be harmed by a strong kiwi. New Zealanders taking holidays in Australia - the number one destination for travellers - would benefit from spending money going further.
Kelleher said there were rumours overnight on Wednesday that the Chinese yuan could be devalued and uncertainty about the impact of incoming US president Donald Trump on the world economy was also bringing volatility into currency markets.
And last Friday China's President Xi Jinping told a meeting of the Communist Party's financial and economic leading group on Friday that the country may forego its 6.5 percent economic growth objective due to concerns about rising debt and an uncertain outlook for Asia's largest economy.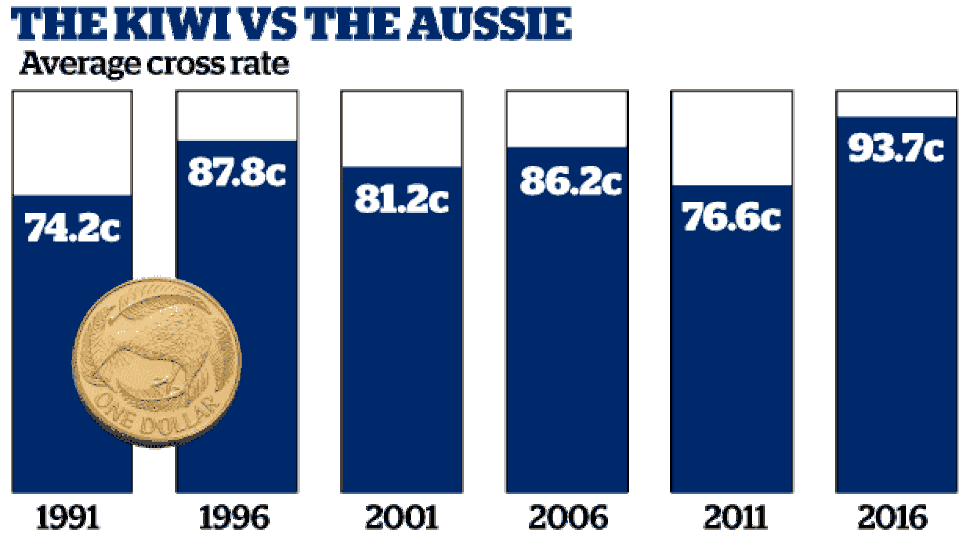 Kelleher said Trump's inflationary domestic policies and rising interest rates had underpinned the greenback's strength over the last month.
"In the greater scheme of things I think we'll see that dollar strength continue at least into the New Year until we see what Trump is up to."
The kiwi dollar was now trading below 70 United States cents and there was a chance of it falling to around 65c in the first quarter of next year, he said.
The kiwi dipped briefly yesterday after a 5.5 magnitude earthquake struck near Seddon in the upper South Island that was felt strongly in Wellington.
However, the kiwi retained recent strength against the euro, which is under pressure from weak poll numbers for Germany's chancellor Angela Merkel and the greenback's rise.
The New Zealand currency increased to 66.33 euro cents from 66.04 cents yesterday and gained to 56.55 British pence from 56.26 pence.
Earlier this month a survey revealed New Zealand businesses are not expecting much change in the currency's value in the coming year.
The quarterly ASB Kiwi Dollar Barometer revealed businesses trading internationally expect the New Zealand dollar to trade just below 70 US c in 12 months.
Although that outlook hasn't changed significantly from last quarter all firms with sales turnover greater than $150 million were expecting greater foreign exchange exposure in the next year.