At least five people are dead after a gunman opened fire at a SunTrust bank in Sebring, Florida, authorities said.
The ordeal began around 12:30pm (local time), when a man contacted emergency dispatchers to report he had fired shots inside the bank, according to the Highlands County Sheriff's Office.
When authorities arrived, they established a perimeter and attempted to negotiate with the gunman from outside the bank, the sheriff's office said.
"After negotiations to try to get the barricaded subject to exit the bank were not successful, the HCSO SWAT team entered the bank and continued the negotiations," the sheriff's office said.
The suspect, later identified as 21-year-old Zephen Xaver of Sebring, eventually surrendered, authorities said.
Xaver - wearing glasses, a light-coloured shirt and cargo shorts - was handcuffed and led into the back of a police car after sundown, according to video published by ABC Action News.
When police entered the bank, they discovered "at least five victims - people who were senselessly murdered as a result of [the gunman's] act in this bank," Sebring Police Chief Karl Hoglund said.
Hoglund did not elaborate on whether others were wounded.
"Today's been a tragic day in our community," Hoglund said. "We've suffered significant loss at the hands of a senseless criminal doing a senseless crime."
Hoglund said police had not finished identifying the victims or notifying their families.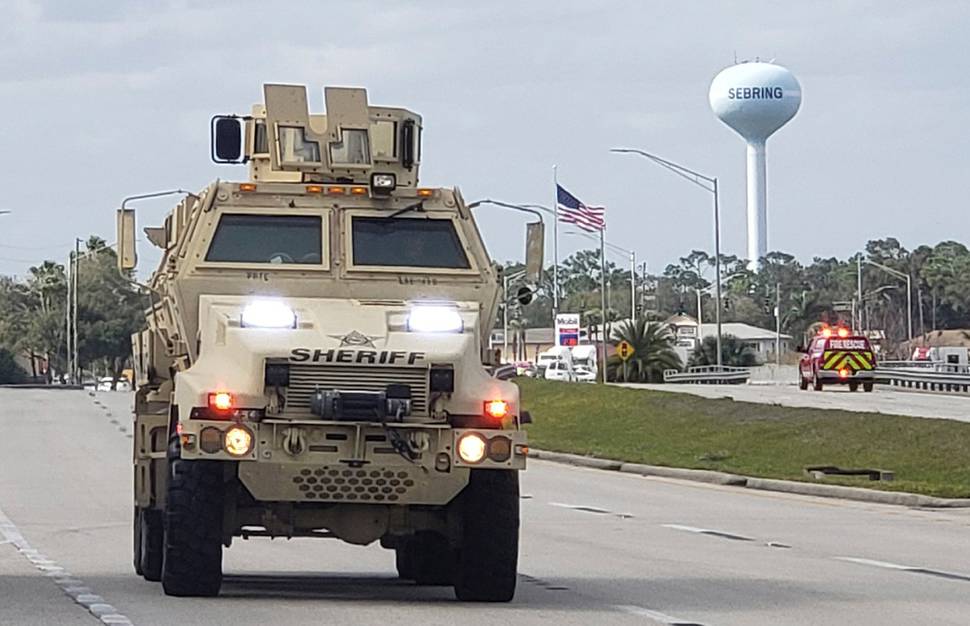 He and other officials did not take questions or offer possible motives for the shooting.
The Florida Department of Corrections confirmed late Wednesday that Xaver had been hired last November as a correctional officer trainee at the Avon Park Correctional Institution, about 24km northeast of Sebring.
Xaver resigned from that job on January 9, the department noted.
"He had no discipline while employed with the department," Florida corrections department spokesman Patrick Manderfield said.
"Obviously, this is an individual who needs to face very swift and exacting justice," Governor Ron DeSantis, R, said of the gunman.
Authorities said another news conference is planned for Thursday morning.
The incident threw Sebring, a central Florida city about 130km south of Orlando, into a frenzy, closing part of US Highway 29 for much of the afternoon. A nearby kindergarten and elementary school were temporarily placed on lockdown as well, WFLA News Channel 8 reported.
Throughout the day, aerial footage from a news station showed several police cars surrounding the bank, where the entrance was mangled and shattered.
Earlier Wednesday, authorities had directed co-workers and relatives of anyone who was at the bank to go to a nearby hotel.
"ONLY co-workers and family members please," the sheriff's office said.
Representatives for SunTrust Bank did not answer questions and said they were "deeply saddened" by the shooting at the Sebring branch.
"We are working with officials and dedicating ourselves to fully addressing the needs of all the individuals and families involved," SunTrust CEO Bill Rogers said in a statement. "Our entire team mourns this terrible loss."
The bloodshed in Sebring was the latest mass shooting in Florida, where shooting rampages have cut down students, travelers and clubgoers in recent years.
The Sebring shooting occurred just weeks before the first anniversary of the Parkland massacre, which saw 17 students and staff killed in a high school on Valentine's Day in 2018. In January 2017, a traveller flew to the Fort Lauderdale airport and then shot and killed five people in the baggage claim area.
In June of that same year, police said a disgruntled ex-employee returned to an Orlando factory after being fired and gunned down five former colleagues. A year earlier, a gunman who pledged allegiance to the Islamic State killed 49 people in Orlando's Pulse nightclub.