The showdown is on, with Julie Bishop and Scott Morrison ready to run against Peter Dutton for the Liberal leadership and Malcolm Turnbull all but certain to call a spill at midday.
A senior Liberal source told news.com.au the Deputy Prime Minister would throw her hat in the ring, and the Treasurer is also set to compete in what is shaping up to be a three-horse race.
Mr Dutton's petition reportedly needs just one more signature to reach the 43 needed to force Mr Turnbull to call a party room meeting. The embattled Prime Minister said he would do so at 12pm if a letter requesting a spill, signed by a majority of MPs, was presented to him.
He said he would not stand as a candidate, and would resign both as Prime Minister and as a Member of Parliament.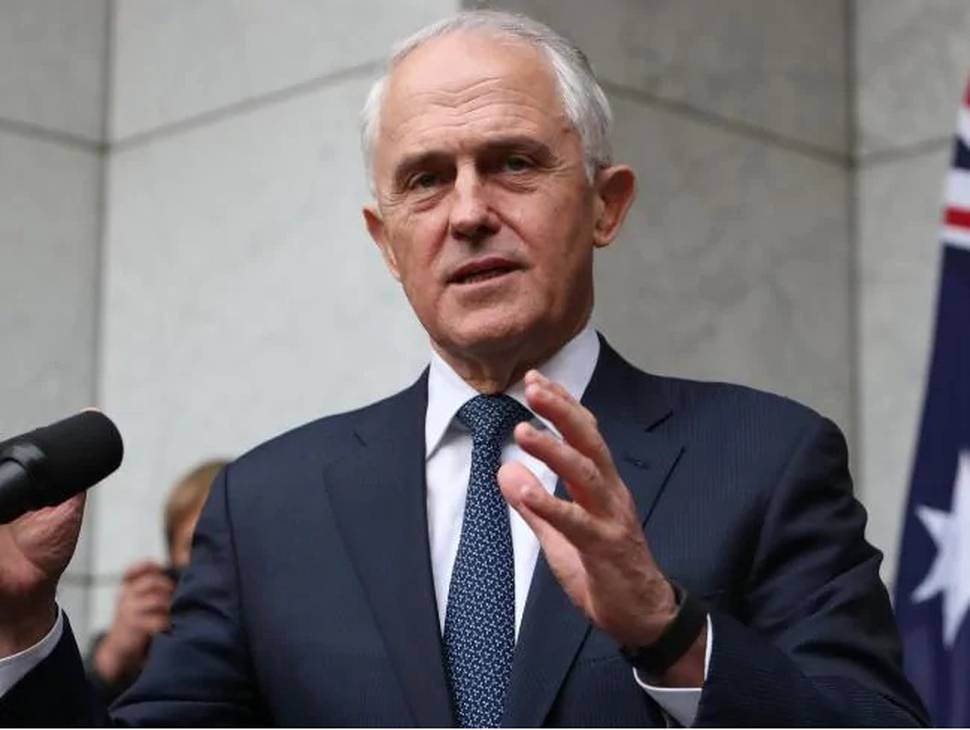 "I will treat that as a vote of no confidence," said Mr Turnbull, who yesterday faced a mass exodus of ministers.
Ms Bishop was reportedly working the phones overnight, pitching to her colleagues that she is the leader who could win the most seats for the party. The longtime second-in-command told MPs she won't be "another man's deputy", according to The Australian.
The Foreign Minister's partner David Panton told the Herald Sun at Myer's runway show last night that she would win the contest. "You've heard it straight from the horse's mouth — by tomorrow at lunchtime, Julie Bishop will definitely be Prime Minister," he said.
Asked whether he would be "the first man", he replied: "Just call me David."
Mr Dutton released a second legal letter saying he is eligible to sit in Parliament as he faces questions over his wife's Government-subsidised childcare business.
Public sentiment towards Australia's leaders is at a low, with Greens leader Richard Di Natale tapping into the unhappiness when he told them: "Hang your heads in shame."
Three- way contest
Bill Shorten has long trailed Mr Turnbull in popularity, even as Labor soared in the polls, but would be the nation's preferred prime minister if Mr Dutton were Liberal leader, according to a Roy Morgan poll.
A Reachtel poll found 55 per cent of voters would be less likely to vote Liberal if the former home affairs minister were in the top job.
Senator Mathias Cormann's resignation yesterday was called "the death knell" for Mr Turnbull.
The Finance Minister said he believed Mr Dutton was the best person to lead the Coalition to election victory, but when asked why, he ducked the question. "I'm not here to run a campaign for Peter Dutton," he said.
Ms Bishop was working the phones yesterday evening, and had called more than a dozen MPs canvassing support by 7pm, Guardian Australia reported. But moderate Liberals said Mr Morrison so far had better numbers than the Deputy PM.
Ms Bishop earlier promised loyalty to Mr Turnbull but has come under increased pressure from colleagues to run.
A News Corp Australia online poll showed Ms Bishop was the preferred Liberal leader among readers with 34 per cent of votes, followed by Mr Turnbull at 30 per cent, Tony Abbott at 17 per cent and Peter Dutton at 10 per cent.
But despite her popularity, the path to leadership will not be easy. In a piece for news.com.au, Chris Urquhart noted that her moderate position, the questioning of her loyalty and the fact she lives in Western Australia — when marginal seats need to be won on the other side of the country — were major hurdles.
Potential deputies include Josh Frydenberg and Steve Ciobo, with reports Greg Hunt could stand as Mr Dutton's deputy.
Mr Abbott denied reports he will stand.
Mr Turnbull refused to say whether he would ask his supporters to back Mr Morrison.
In a blistering news conference, the PM said Australians would be "rightly appalled" at events in Parliament and "crying out" for an election. "I have never given in to bullies, but you can imagine the pressure it's put people under," he said.
'You've forgotten everyone but yourselves'
Mr Shorten has largely remained quiet as the Liberals implode, but other Labor members lashed out at the Government.
"They're not conservatives, they are vandals," said deputy opposition leader Tanya Plibersek in Parliament. "Today is the funeral of the modern Liberal Party."

Penny Wong told the Liberals they had "forgotten every Australian but yourselves. You've forgotten everyone but yourselves."
Nationals MP Darren Chester tweeted: "Australia. We owe you an apology. I'm sorry. You deserve better than many of the things our Federal Parliament has served up to you for the past 10 years. Believe me: there's a lot of good people on both sides of the chamber and we can do better. Don't give up."
Turnbull supporter Craig Laundy told Leigh Sales "modern politics is broken and it needs to be fixed", while Liberal MP Tim Wilson called the petition a "suicide note" for the party.
His colleague Karen Andrews told reporters just one signature was needed, adding: "I will not stand by after having Parliament adjourned today to have this matter not concluded tomorrow."
She said she would not necessarily back Mr Dutton.
ACT Senator Zed Seselja said there were more than 40 signatures, telling the ABC it would be "extraordinary and I would say untenable" to leave Canberra for a fortnight "without having resolved this issue in the party room."

The NT News published a powerful front page with the headline "HANG YOUR HEADS IN SHAME", calling events in Canberra "nothing short of disgraceful".
It echoed Mr Di Natale's speech yesterday, in which he called the instability a "spectacle" and a "disgrace", when Australians were battling homelessness or struggling to afford medical bills or an education.
"You should be ashamed of yourselves," he shouted across the Senate floor.
"You are so focused on yourselves that you have forgotten what the country has elected you to do, and that is to govern for them, not for you.
"You don't deserve to govern. You deserve to be turfed out. That's what you deserve."

Julia Gillard also weighed in, saying she could "understand why people would want to go and live in New Zealand given the leadership of the current Prime Minister".