Amanda Knox is charging up to £7,000 (NZD $13,512) to give speeches about the Meredith Kercher murder case.
The American dubbed Foxy Knoxy has embarked on the lecture circuit to talk about how she was cleared twice for the 2007 death.
Miss Kercher, 21, an exchange student from Coulsdon, Surrey, had her throat cut at the apartment in Perugia, Italy, she shared with Knox, reports Daily Mail.
Now the American, 30, has signed with an agency and has appeared several times on the U.S. college circuit, charging up to £7,000, plus expenses.
On Wednesday she told an audience at Roanoke College, Virginia, that she had been cast as a "she-devil".
"I believed that didn't matter because only truth mattered," Knox told the audience at the college on Wednesday night.
"The nonsense spattered about me didn't matter. I thought it just showed that it was a weak case. I still believed there was a light at the end of the tunnel because the truth mattered," The Roanoke Times quoted her as saying.
The former prison inmate also addressed the notorious incident when she and her boyfriend, Raffaele Sollecito, were captured on camera kissing.
"I didn't think ultimately that this would matter in a courtroom." she said "I didn't see that train coming my way, because it never in my wildest nightmares occurred to me that I could be wrongfully convicted.
"When the prosecution and media crafted their story, they created this doppelganger version of me to fit that story.
"Foxy Knoxy, she was the blank slate to which everyone could project their fears, their judgment and their uncertainties. People really liked those stories: the "man eater," the "she-devil." And they convicted her.
"If I've learned anything, you can't uncover the truth by ignoring the messy reality, and the messy reality of our justice system is that it was filled by and implemented by flawed but mostly well-intentioned people.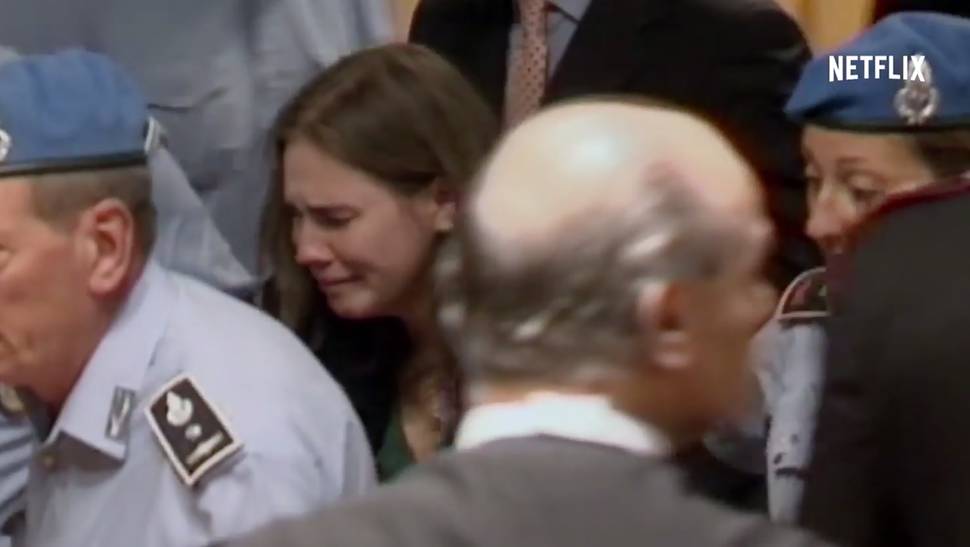 "I want to do better. I want to acknowledge the truth. Because the question isn't whether something bad is ever going to happen to you, it's what you're going to do with it."
The Roanoke Times said that she "choked back emotions several times as she recounted her story from more than a decade ago when she was an American student studying in Italy and found herself in the international spotlight after she was accused of killing her roommate in a case that inspired gutter headlines"
It described her talk as a "sober take on the sensational tabloid coverage of her eight-year battle with the Italian legal system and the truth-seeking process that she clung to until Italy's highest court overturned the murder conviction of Knox and her boyfriend in 2015, ending the courtroom drama over the killing of British student Meredith Kercher".
But the cleared killer's decision to enter the lecture circuit has not been well-received by Frencesco Maresca, the Kercher family's lawyer.
"Knox should think about her life without continuing to return to this sad affair from which she has been the only one to profit, both in terms of fame and money."
Knox and Kercher were studying abroad in Perugia, Italy on November 1, 2007 when Kercher was found stabbed to death in their apartment after a sex game had apparently gone wrong.
Knox, from Seattle, Washington, and her Italian boyfriend Raffaele Sollecito, were originally convicted in Kercher's death but they were acquitted three years later when their defense team proved that there wasn't enough evidence to connect them to the crime.
Rudy Guede was also tried in a separate trial and found guilty of Kercher's murder. He remains imprisoned.