A Burger King manager in Ohio berated a customer in Ohio because she was taking too long to order last week.
Lizzie Ramsey - along with her husband Cody, his co-worker, and his 11 and 12-year-old brothers - had gone through the drive through near Newark, Ohio on Wednesday morning.
As Ramsey finished each separate person's order, she claims that a woman would interrupt her and tell her the total price, the Daily Mail reports.
She added that the fast-food worker also instructed her to 'hurry up' even though the was the only vehicle in the drive thru at the time.
The expectant mother walked into the Burger King hoping to complain to the manager.
"We wanted to let the manager know how the lady on the microphone was acting," she said to WSYX.
But Ramsey and her family would soon be shocked to find out that the person being so disrespectful to them was allegedly the manager of the restaurant.
In a video posted on Facebook, Ramsey can be heard going back and forth with the manager in the store, who can be heard screaming and cussing at the customers.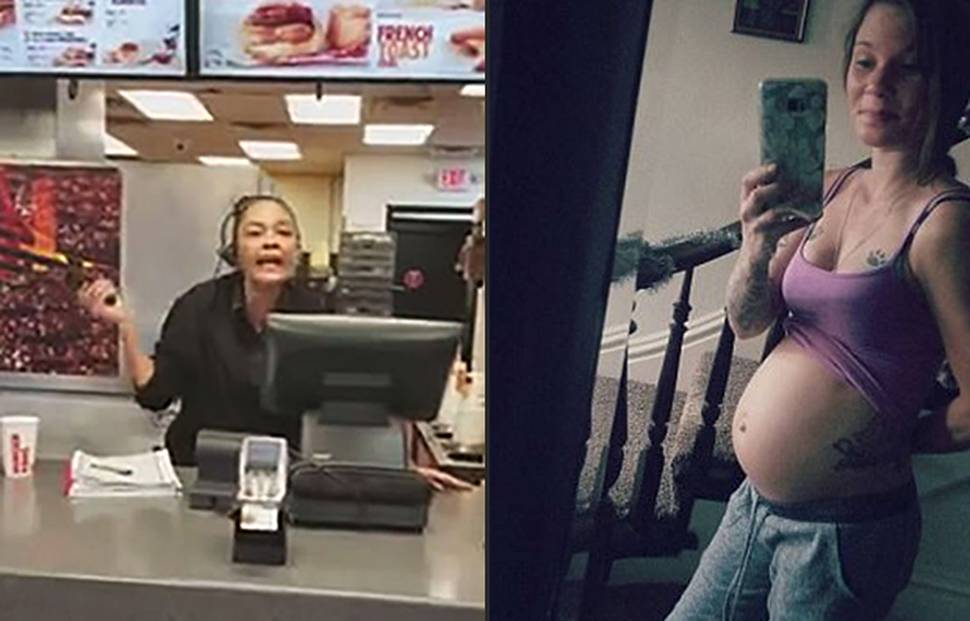 The manager repeatedly tells Ramsey that she should have ordered faster and demands that she leaves the store, threatening to call the cop.
While this is happening, Ramsey asserts that their shouldn't be a time limit when ordering food and her husband threatens to call the corporate office.
The angered manager tells the group to "get the f**k out", and Ramsey informs her that she is recording the whole ordeal and is pregnant.
The video has more than 364,000 views on Facebook and many who are in the area claim that the behavior isn't all too new from that particular staff.
"When we uploaded the video, people saw it and said 'we had the same experience with the same person at the same store,'' Cody told WSYX.
Corporate has since apologized for the incident and sent the family a gift card for their troubles.
And while a representative for the Ocedon Restaurant Group, which manages the Burger King, shared that the issue was "handled" it is unknown whether the woman was fired or not.
"I believe she should be fired," Ramsey said.
"You don't treat customers like that."