Donald Trump was advised to avoid personally attacking North Korean dictator Kim Jong-un during his maiden address to the United Nations, it has been revealed.
The President lashed out at Kim Jong-un during the speech last week, mocking him by labelling him "Rocket Man".
However, according to the Los Angeles Times, Trump's description of Kim was not in the draft of the UN Assembly speech which was vetted the day before he delievered it.
Trump's warning that Kim was on "a suicide mission" along with his threat to "totally destroy" North Korea was also not the draft speech, two US officials told the LA Times's Brian Bennett.
Senior aides cautioned Trump against attacking Kim fearing it would only escalate tensions and damage any chance of a peaceful resolution to the current crisis.
The dramatic speech did not go down well with North Korea with the secretive nation lashing out at Mr Trump and warning the US would pay.
Foreign Minister Ri Yong-ho branded Trump "a mentally deranged person full of megalomania" and said a strike against the US mainland was "inevitable" at the UN.
Speaking just hours after US war planes flew the closest they have been to the DRPK (Democratic People's Republic of Korea) this century in a show of force by the Pentagon, Ri said: "none other than Trump himself is on a suicide mission.
The B-1B Lancer bombers and F-15 fighter escorts were in international airspace over waters east of North Korea.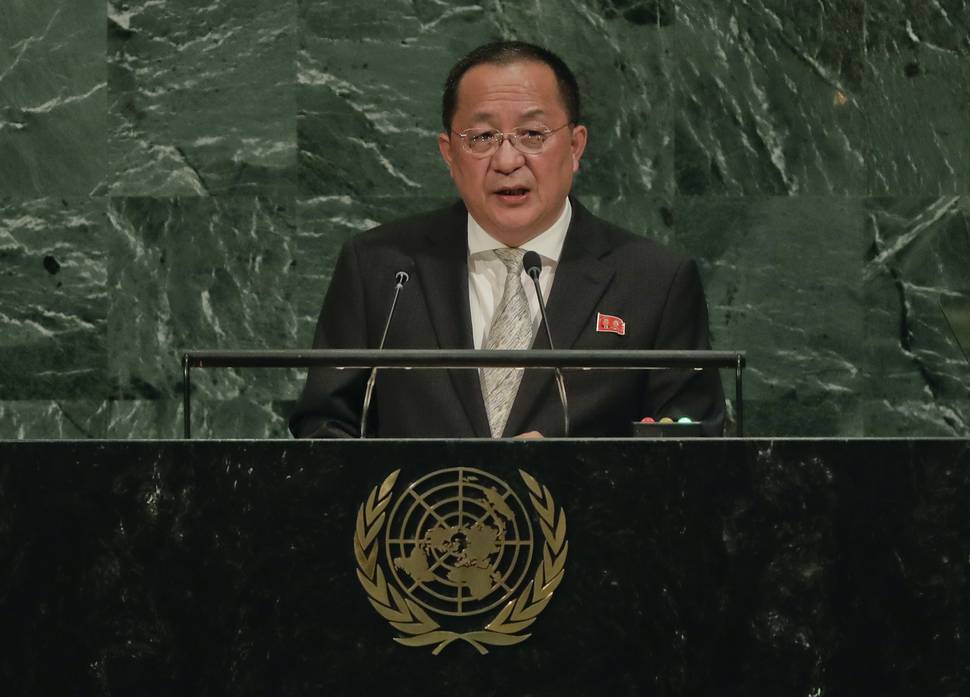 Ri also warned Trump's insults made "our rocket's visit to the entire US mainland inevitable all the more".
"It is only a forlorn hope to consider any chance that the DPRK would be shaken an inch or change its stance due to the harsher sanctions by the hostile forces."
Trump called the North Korean leader a "madman" on Friday, a day after Kim dubbed him a "mentally deranged US dotard."
The North also threatened to test a hydrogen bomb over the Pacific.
Propoganda war fires up
Meanwhile North Korea on Sunday released new propaganda footage of a US bomber and a supercarrier under attack which was released just hours after the US and Japanese air forces conducted their joint air exercise.
State-owned propaganda site, DPRK Today released the video after the B-IB Lancer bombers were deployed from Andersen Air Force Base in Guam, South Korea's Yonhap news agency reported.
The bombers were jointed by US Air Force F-15C Eagle fighter escorts which flew from Okinawa, Japan.
In the video, Trump is seen speaking at the celebration of the US Air Force's 70th Anniversary at Joint Base Andrews and is portrayed as "a mad man."
The North's Pukguksong-2 missile, a medium-range ballistic missile, is then seen launching toward a B-1B and a F-35, before being engulfed in computer-generated fire.
The video also shows a North Korean submarine-launch missile strikes against the USS Carl Vinson.
According to Yonhap, the subtitle of the film reads: "Should F-35, B-1B and the Carl Vinson lead the US attack, they will head to the grave in that order."
Russia steps in
Trump continued his attack on the North Korean regime with verbal threats repeating his name calling over Twitter and warned the country won't be around much longer.
Russian Foreign Minister Sergei Lavrov stressed that a softer approach was needed to defuse the crisis which would only get worse unless the rhetoric stopped.
Lavrov told Russia's NTV television in an interview that aired yesterday that only "caresses, suggestion and persuasion" will work.
If the US does not ease up, he said, "we could drop into a very unpredictable nosedive and tens if not hundreds of thousands of innocent citizens of South Korea but also North Korea, of course, and Japan will suffer - and Russia and China are nearby."
Lavrov also said the United States would not take military action against North Korea because "they know for sure that it has nuclear bombs."
"I'm not defending North Korea. I'm just saying that almost everyone agrees with such an analysis," he said.