It was a chilling prediction issued as part of a propaganda video intended to fuel hatred between Muslims and the West.
Now jihadis claim the words of American born al-Qaeda leader Anwar al-Awlaki are coming true - and it's all thanks to Donald Trump.
In a video filmed in Yemen the year before his death and prior to the September 11 terror attacks, al-Awlaki warned the war between Muslims and the West was escalating.
"You cannot count on the message of solidarity you may get from a civic group or a political party, or the word of support you hear from a kind neighbour or a nice co-worker," he said in the video cited by the New York Times.
"The West will eventually turn against its Muslim citizens."
Trump on Friday issued an executive order barring citizens of seven majority-Muslim countries - Iraq, Iran, Syria, Sudan, Somalia, Libya and Yemen - from entering the US for at least 90 days.
The President also imposed a 120-day suspension on the US refugee programme and blocked Syrians from entering the US indefinitely.
The order has sparked backlash across the United States as well as global condemnation with German Chancellor Angela Merkel telling Trump that the fight against terrorism was no excuse for banning refugees or people from Muslim-majority countries from entering America.
But jihadis online are using the development as a cause for celebration, with some calling it a "blessed ban" and others claiming it will help their recruiting cause, the Washington Post reported.
Other posters wrote it proves the "west hates Muslims" prediction made by al-Awlaki, who was killed in Yemen in September 2011 in a US drone strike ordered by former US President Barack Obama.
His son, Abdulrahman al-Awlaki, a 16-year-old American citizen, was killed in a drone strike two weeks later. And on January 29, 2017, Al-Awlaki's 8-year old daughter, Nora Al-Awlaki, was killed in an attack ordered by Donald Trump.
The terror icon appeared in several videos advocating jihad, or holy war with his main message being that Muslims are under attack and have a duty to carry out attacks on nonbelievers at home.
Several jihadis are using Trump's order, and al-Awlaki's 2010 message, as apparent proof that the west is at war with Islam.
Several social media posts said Trump's order fulfilled the prophecy spelt out by al-Awlaki which said the west would turn against its Muslim citizens.
According to messages posted to pro-Islamic State social media accounts, one post hailed the US president as "the best caller to Islam".
Others predicted the US President would spark a new war in the Middle East.
One post on pro-Islamic State channel social media platform Telegram wrote: "(Islamic State leader Abu Bakr) al-Baghdadi has the right to come out and inform Trump that banning Muslims from entering America is a "blessed ban".
One user said the "Muslim ban" was "the best caller to Islam" and would help bring Muslim Americans to their cause.
However, according to Dr Rodger Shanahan, a research fellow at the Lowy Institute, postings such as these needed to be taken with a grain of salt.
He said propagandists will use any excuse they can to promote their cause and the idea they are at war with the west.
Dr Shanahan told news.com.au he believed such messages were simply preaching to the converted and doubted few people would take them seriously.
He said Isis and al-Qaeda were desperate and would use any propaganda they could to "fill copy" but most people would be able to see their message wasn't true.
"This (order) has been very unpopular and chaotic," Dr Shanahan said.
"But there's been enormous widespread protest which has balanced that. There has been just as much coverage of the law (order) as the protests themselves."
Dr Shanahan said public backlash would show Muslims Trump's order wasn't popular with everyone.
"I don't believe this plays into the hands of Isis, who are on the backfoot, or al-Qaeda who are too busy fighting Isis," he said.
"This isn't a masterstroke of propaganda, it's not a game changer."
Dr Shanahan said jihadis have been saying the west hates Muslims for a long time and their messages were not new.
"Is this executive order ridiculous? Yes. Has it been shambolic? Yes," he said.
"But will it have the intended (propaganda) effect jihadis believe? I doubt it."
The order has not been received well in the countries affected by the ban.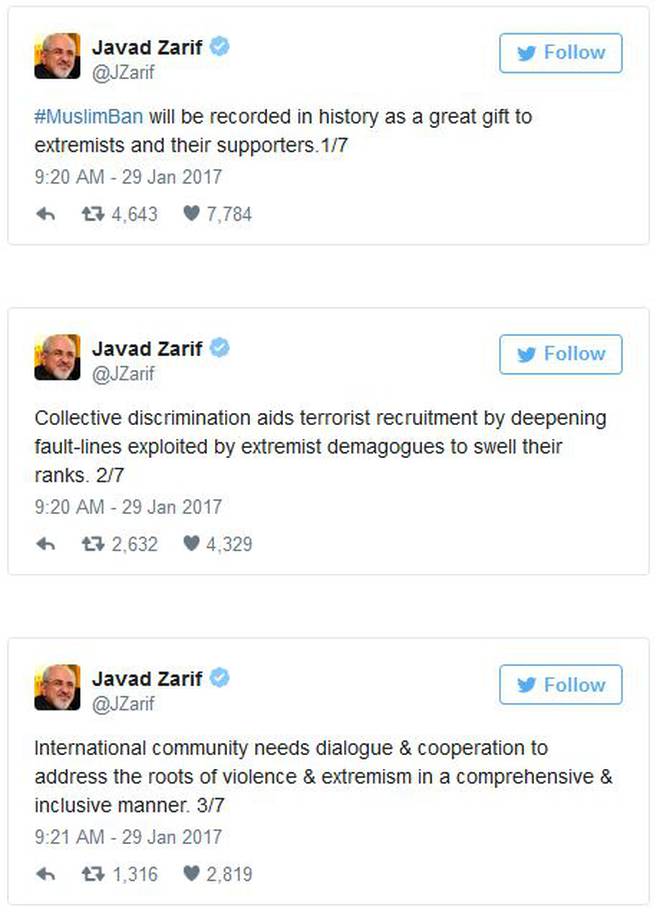 Iran has blasted the order with foreign minister Javad Zarif warning Iran will take similar measures to protect its citizens.
On Twitter Zarif called the move discriminatory and said he believed it would play into the hands of extremists.
Yemen's Houthi rebels, who control the capital Sanaa, released a statement, saying: "All attempts to classify Yemen and its citizens as a probable source for terrorism and extremism is illegal and illegitimate," the Associated Press reported.