This is the disturbing moment a hotel manager giving a TV interview is utterly unfazed by an avalanche crashing down behind him and burying guests.
In the chilling video clip the man is talking to the camera about how brilliant his resort and barely bats at eyelid at the drama behind him. Moments later panicked guests can be seen desperately trying to dig out their loved ones from the snow.
The manager, who is being interviewed at the Turkish ski resort of Kartepe for local television, says: "The heavy snow had much effect. Those who like snow, skiing are coming here."
Then as a huge cloud of heavy snow cascades down the mountain he simply turns, waves generally in the direction and continues: "As you see an avalanche comes from higher up. You caught an avalanche on tape."
He smiles and adds: "People are very happy. And we try to host our guests as best as we can do."
In a terrifying juxtaposition the next clip shows wailing and panic-stricken skiers urgently digging at the snow with their hands to try and unearth those buried beneath.
Some even use their skis and poles as digging tools (which many viewers have criticised as being a dangerous method).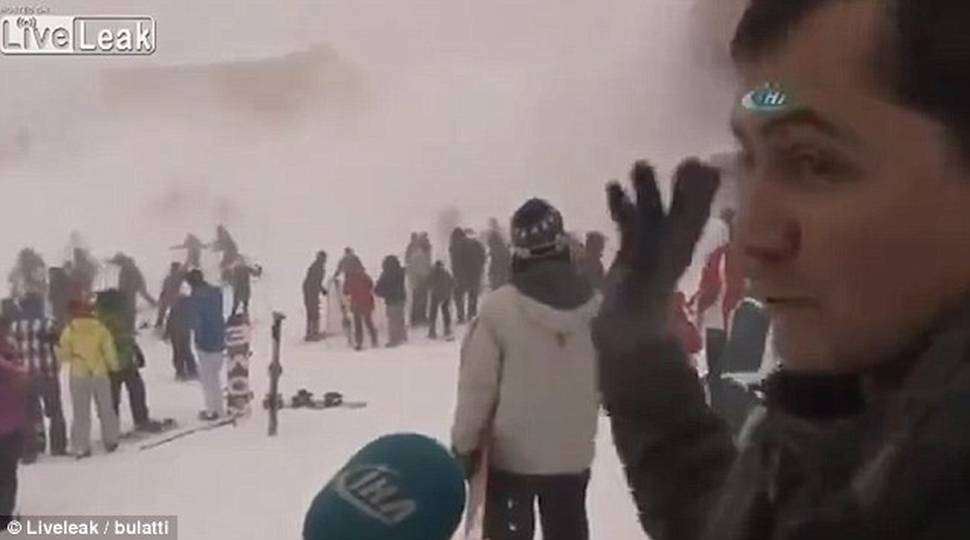 At one point they are successful in their efforts and someone can be seen being dragged from the snow as their head and arms break free.
As the video comes to an end a giant snow plough arrives on the scene to help.
Fortunately, according to local media there was no casualty or loss of life during the avalanche which took place on December 29.